Cosplayer kimu
> Costume of Fai D. Flowright / Yuui (Tsubasa: Reservoir Chronicle)
Most Recent Photo

Series

Character

Year Completed:

2013

Construction Difficulty:

Wig styled by

Awards

Honorable Mention Group Craftsmanship as part of a skit group with Inoli, Tenkage and Shokora at Fanime 2013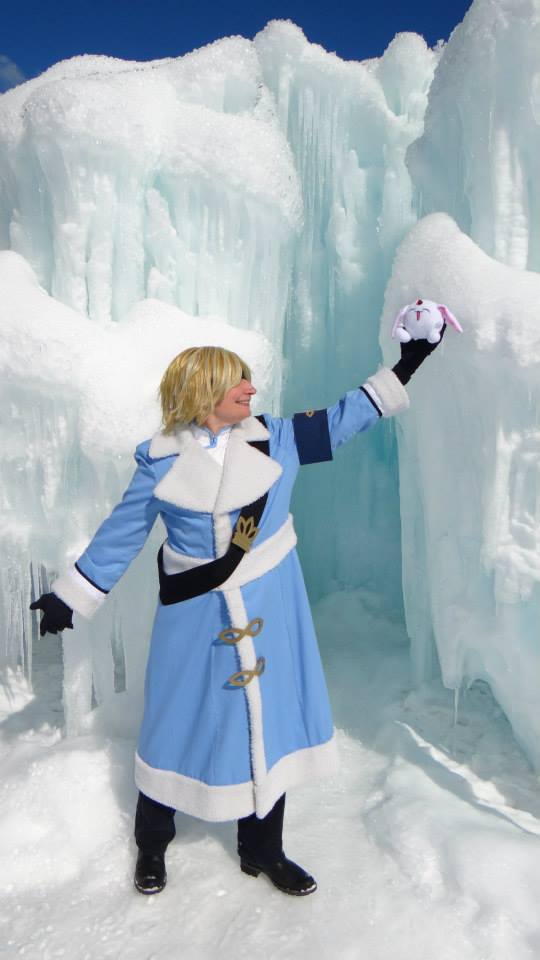 About this Costume
Construction Details:

The blue coat was customized from a double-breasted coat pattern. The fabric was a cotton twill with Bemberg for the lining. I used fake sheep shearling for the trim.


The white shirt started from the Folkwear Chinese jacket pattern but also based off a shadbelly dressage coat to customize it for the set-in sleeves and tails. The fabric was a cotton sateen with the lining a light-weight cotton to make it less see-through and provide a little structure for the tails. I made the blue bias trim for the edges, and mitered or custom-shaped corners as appropriate. As usual for me, I machine-sewed the first edge down, then hand-sewed everything closed on the inside.


I made the pants from a black sateen, using a pants pattern and tailoring it where needed.


For the buckles, I made molds of originals cut out of thick fun foam, then did resin casting. Where needed for closures, I used snaps.


The sash and the armband was cotton sewn over interfacing. For the gold celtic knot on the armband, I used HeatnBond to secure the heavy-weight satin design, and then couched gold perle cotton around the edges to provide more contrast. The armband also attached to the coat with snaps on the inner side of the sleeve.





If I can track down the wig information, I will update that. Inoli styled a wig of that was a darker color with lighter blond-colored wefts sewn on top to provide contrast. Then trimmed and styled into the low ponytail.

Personal Thoughts:

I have really enjoyed cosplaying Fai. (Although I prefer the Flourite spelling on the name because the manga specified the stone as a reference.) The version I made is more often worn as "vampire" Fai after the Acid Tokyo arc.
Add a Comment