About This Event
Convention

Event Date

04/22/2011

Volunteer Access

This event is finished, no volunteers needed.

Series Linked: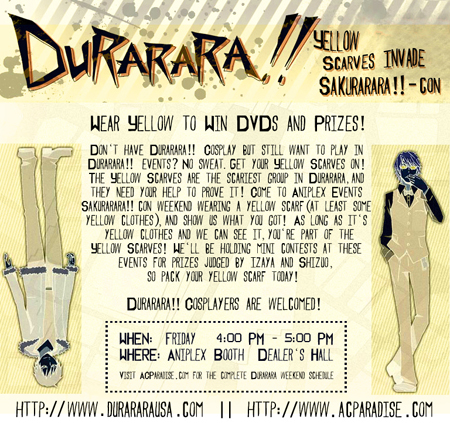 Description: We're promoting all sorts of Aniplex activities all weekend long that we're calling it SAKURARARA!!-con.

FRIDAY: April 22nd,
4:00 PM DURARARA GATHERING!!
Location: Aniplex Booth
Durarara!! cosplayers are invited to take part in the official Aniplex DRRR!! Gathering at Sakurarara!! con. We'll be taking photos too!
What? Don't have a DRRR costume? Then participate in our YELLOW SCARVES RECRUITMENT:
For those DRRR fans that don't have a costume but still want to play, join the YELLOW SCARVES.
EVERYONE that wears a DRRR! costume or a YELLOW clothes that comes to the Gathering will get an exclusive SAKURARARA!!-con DURARARA!! bag featuring IZAYA and shizuo (that's the current plan anyway). In addition we'll be holding all sorts of mini contests during the gathering for other DRRR!! related swag. (first come first served so be ON TIME)

Saturday 4/23/11
Aniplex Industry Panel
1:00 PM Panel Room 6 613-614
Come see what's new to come to dazzle the Aniplex stage! XD XD XD

Official Aniplex DURARARA!! Panel
4:30 PM Panel Room 5 611-612
Bring your Yellow scarves and costumes to support Durarara!! at the Official Aniplex sponsored panel and get the latest news about DRRR!! We'll have some other contests there too!

For more details:
http://acparadise.livejournal.com/127868.html
Location: Exhibition Hall
Recent Videos
The following videos have been linked to this event.