About This Event
Event Date

04/27/2013

Volunteer Access

This event is finished, no volunteers needed.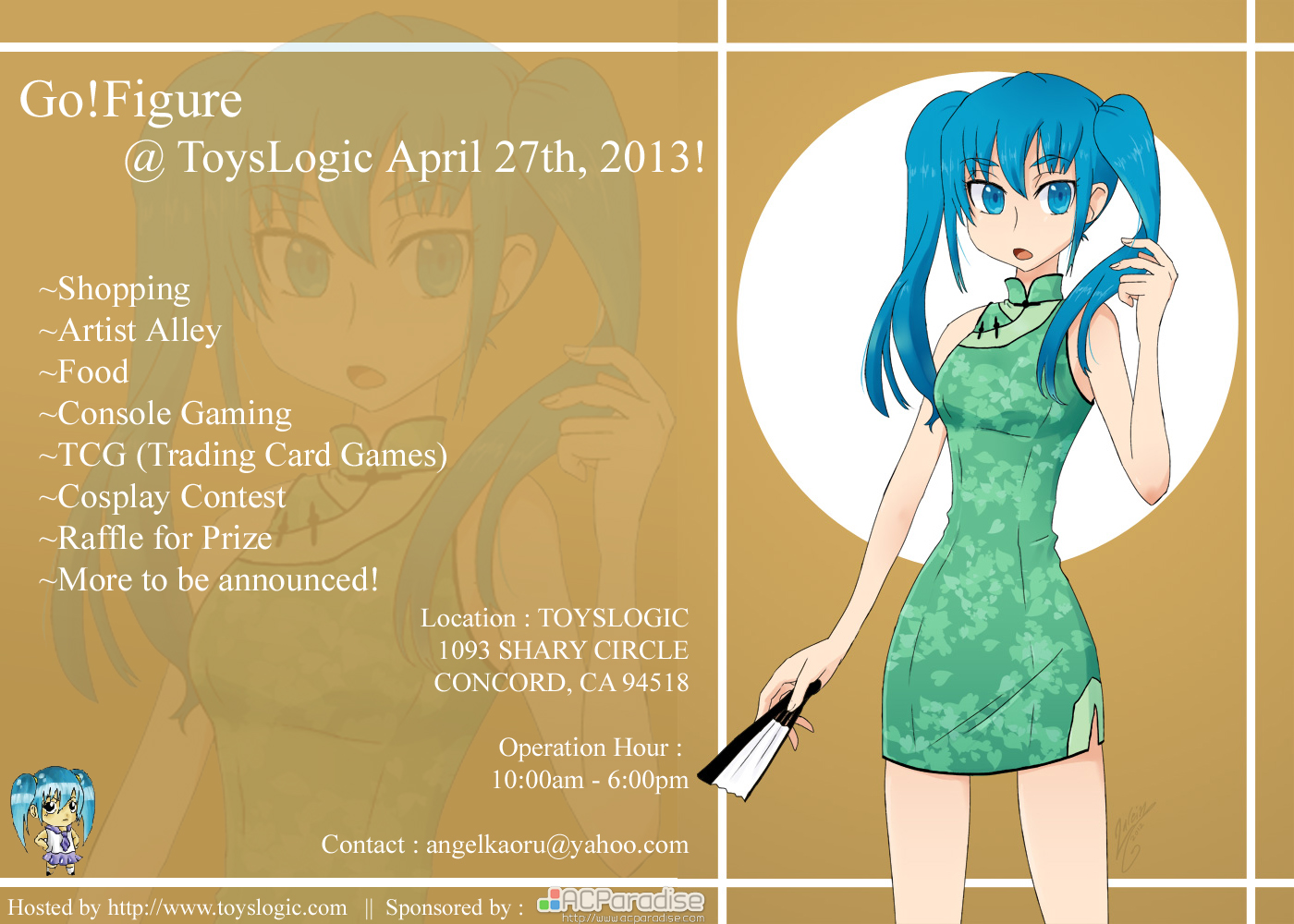 Description: Saturday April 27, 2013 : 10:00AM - 6:00PM

This is a FREE EVENT!

This time ToysLogic will be holding another event at their warehouse in April! Inviting all bay area friends and families to join for a weekend to mingle with other anime fans.

Add yourself to the event easily by pressing the Join Event button at the top! It's very important that you add yourself! Don't be lazy about it.


||EVENT INCLUDES||

SHOPPING:
- Come by to shop or browse through all your favorite anime products and merchandise.

MINI DEAL n SALES :
- Following traditional style in Japan where fans bring in their collection to sell in a clear box at a store with other fan's collection. And you don't have to do the selling yourself! Go!Figure will present you a similar chance but with modified rules to fit a more fair standard because there will be no charge to renting a space. However this will be first come first serve. Anyone who comes later will be on a wait list.

- You will be only allowed to place 5 items out on the table to sell. So you should choose wisely what you think will have the highest chance of selling to place on display. Anything that can't fit on the table space/shelf provided can't be sold. (ex wallscrolls, oversized boxes..) Approx. 12'inches x 24'inches
- You are free to check back anytime to see if your items have sold and retrieve your money.
- Limited space, so if you can't get a spot, you can either wait list for someone to close their spot on the table or wait for someone to sell out. This is only if all the spots are filled up. (We are willing to hold your items at the table to display for you, but we won't be liable for any lost items.)
- BOOTLEG NOT ALLOWED.
- Selling out of this booth is not allowed at the event. This is something very small and simple, it's not meant to be a full Swap Meet / Flee Market.
- We only accept items related to Anime/Manga. No fanmade items, or things related to comics/movies etc.

COSPLAY GUEST JUDGES :
CherryTeaGirl http://www.acparadise.com/loves/cherryteagirl
Kitty Princess Kie http://www.acparadise.com/loves/kittyprincesskie
Chira http://www.acparadise.com/loves/chira


COSPLAY CONTEST:
- Feel free to come dressed in cosplay and enter our COSPLAY CONTEST!

- Anime, Manga, and Asian Popular Culture (including video games) related only, so it is expected that all costume entries will be related to this theme. Entries that don?t fall into these categories will not be eligible for this contest. (Examples: Harry Potter, Star Trek, Lord of the Rings)

- Please be aware if you are participating in the contest. Your costume must be made by you or someone present. If you are caught lying, you will be disqualified from participating.

- Prizes will be given out for 1st, 2nd, and 3rd places (will vary depending on number of entrants).

- If you do not craft costumes, you are still free to enter the contest with opting out craftsmanship judging. You will be entered instead as a contender for the Best Character Portrayal. But you must be prepared to give us your best impression of your character!

THEME OF COSPLAY :
- Not into competition? Want to just join in the fun of cosplay? Well, Theme of Cosplay is just for you! Everyone who appears a themed costume will be eligible to be awarded with a special prize.

The theme of this event will be...

"CARD GAMES"

Any cosplay from anime, manga, videogames that have a character which is part of CARD GAMES will be eligible.

(No original characters will be eligible for theme of cosplay.)

CONSOLE GAMING:
- Console Gaming will be provided at the event. Playstation 3 & Wii will be present for gaming. If you have a 3DS we highly suggest you to bring your own to meet other Go!Figure Miis.

TRADING CARD GAMES :
- Inviting everyone to bring their decks whether it's Weiss, Yu-gi-oh! or Cardfight Vanguard! We'll have a section just for you! Depending on demand we might even throw in a tournament, are you ready to Duel?

RANDOM DRAWING TO WIN A PRIZE:
- Random Drawing at 4pm.

More details to come! Please feel free to invite all your friends and family.

CONTACT:
angelkaoru @ yahoo . com (Please title your email with Toys Logic Event or Go!Figure so it doesn't get marked as spam. Thanks!)
Location: TOYSLOGIC
1093 SHARY CIRCLE
CONCORD, CA 94518
Volunteer Info: Clicking Join Event button means you will be attending the event.
Recent Videos
The following videos have been linked to this event.