Most Recent Photo

Series

Character

Special Variation:

Remake

Year Completed:

2016

Construction Difficulty: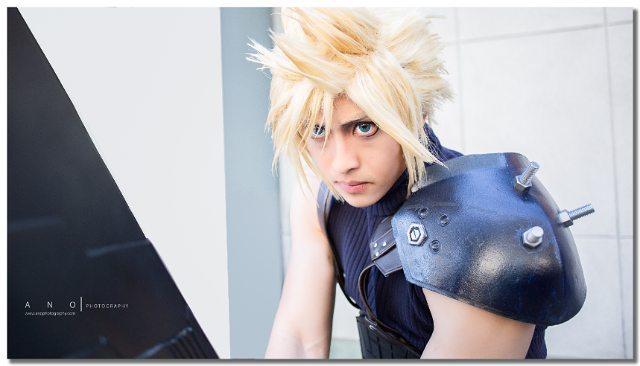 About this Costume
Construction Details:

Very similar to my Zack build especially since this costume extends from a classic Shinra Solider to the Classic Cloud look.

This costume is more of my perfected Soldier outfit. I made the Soldier Emblem by cutting out each detail from craft foam and creating an embossed look (true to the game vs. stitching the emblem).
The Buster Sword's proportion and details were also more faithful to the game and with the experience I racked up since my first Soldier Cosplay as Zack I was able to make this stunning Buster Sword turn heads from across the room at the convention floor (unfortunately, I didn't stick around long because I was busy running around getting my skit ready for the masquerade which was completely worth it because I won) Check out my Instagram or DeviantART Pomjo07 for more details on how the build process went.

Pauldron made using evil ted technique (Check out his video on foam fabrication!!!)
Vambrace was made in three parts because I needed to equip them on stage as easy as posssible. Check out the my skit on ACparadise to see what I am talking about.

Boots were bought from HELLOCosplay, they're a bit big for a typical US size (based off of NIKE, they're 9.5 US feels like a 10 US) but they didn't hurt my feet like my other boots and the material quality, in my opinion, is of considerable quality.

I reluctantly bought a blonde Wig was bought from the FunFactory, a local costume shop in FRESNO. I was a little skeptical of the style and length of the wig when I first purchased the item but when you live in the countryside, what other choice do you have. However, when it came down to styling the wig (my second time styling the wig) I somehow made it look like "cloud's" hair HAHAHA. It is a little short in my opinion. Trimming was done with regular scissors although I did get swindled to buy a trimming comb from Sally's but w/e, live and learn. Spikes were styled with FreezeIT hairspray (i couldn't get a hold of Got2bglue in the countryside...) and tips reinforced with fabric glue. I'm no expert on styling/trimming wigs and thankful that they're plenty of resources out there on the web that helped me pull this wig together.

Make-up LOL first time doing this too. Let's just say I tried hahaha. I promise I will do better next time.
Add a Comment