Most Recent Photo

Series

Character

Year Completed:

2014

Construction Difficulty:

Normal

Costume worn at: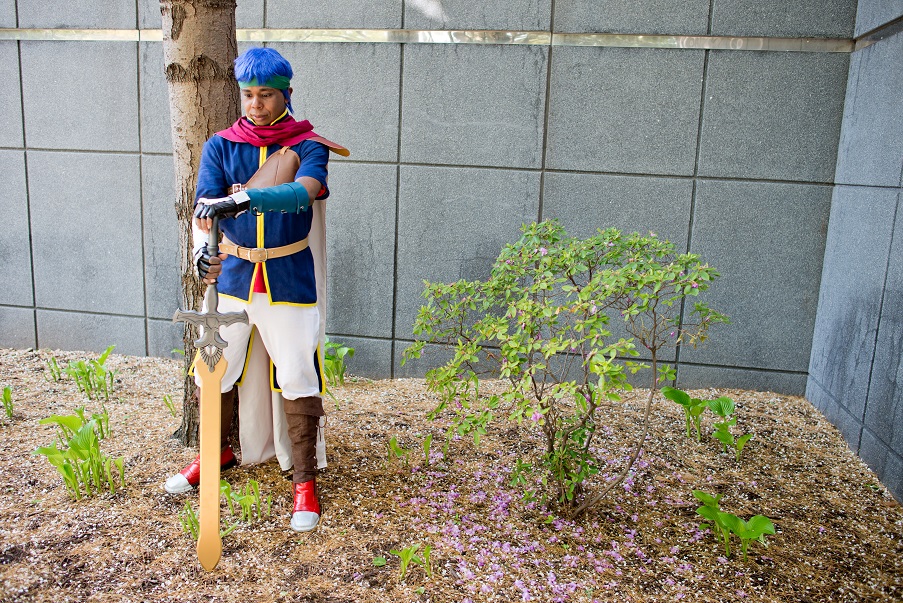 About this Costume
Construction Details:

Shoes: Brought, rough sanded and dye red using Eco Flo Cova color. Added the "steel" toe boot cap by shaping a worbla piece over it, prime, sanded and spray paint silver. Use E6000 glue to glue the ends of it.


Spats: Unstitch some old spats and use that as a pattern. Added interface and fully lined the spats before eyelets were added.


Pants: Use a basic men's dress pants pattern, but shorten the inner thigh seams so it would be more slim fitted.


Red Shirt: Brought at the thrift store for a cheap price.


Blue Shirt: Use Simplicity pattern 5581 (Hawaiian shirt), but shorten the sides and move the sleeve mark line closer to the middle (this makes the shirt more form fitting while keeping the sleeve circumferences from shorten). Interface the collar, added bias tape (thank you youtube videos) and added the two flaps on the back. The zipper was the final touch to complete the shirt.


Belt: Made from scratch by taking the circumference measurement of my waist, cutting and sewing the two pieces together on the wrong side, turning it right side out (my poor fingers) and top stitching. Added the buckle and use rivets to keep it in place. Finally added some mini eyelets.


Chest pouch: Same as belt but add straps to the top. Connects to the shoulder armor via D rings and heavy duty snaps.

Chest armor: Made from Worbla, Prime, sanded and spray painted.



Cape: Made from scratch thanks to AntiAiChan. https://www.youtube.com/watch?v=TBIa24-CPD0


Scarf: Follow a home made infinite scarf pattern. Thank you for the suggestion Pannytheangel (http://www.cosplay.com/member/242313)


Gauntlet: Made from vinyl, eyelets were added.


Gloves: Purchase gloves and modify them. Tutorial is on my deviantart. http://princemercury1.deviantart.com/art/Ike-s-gloves-451244292


Headband: Made from scratch using cheap cotton fabric, sewn together and iron press. there is a design at the ends of the headband (not shown) made from tulips fabric matte paint.


Wig and Sword: Wig purchase on Adra wigs and Sword purchase on ebay.


Personal Thoughts:

Costume is incomplete, but overall I'm proud of it. I wish the shoulder armour turn out better, but I have limited knowledge on making armour overall.
Add a Comment