4/11/19 - We're continuing to fix errors related to the server migration, but we see some people able to upload photos again. If you see a page display an error, you may want to refresh it once or twice, as there seems to be caching enabled on the server side.
Most Recent Photo

Series

Character

Year Completed:

2012

Construction Difficulty:

Normal

Costume worn at: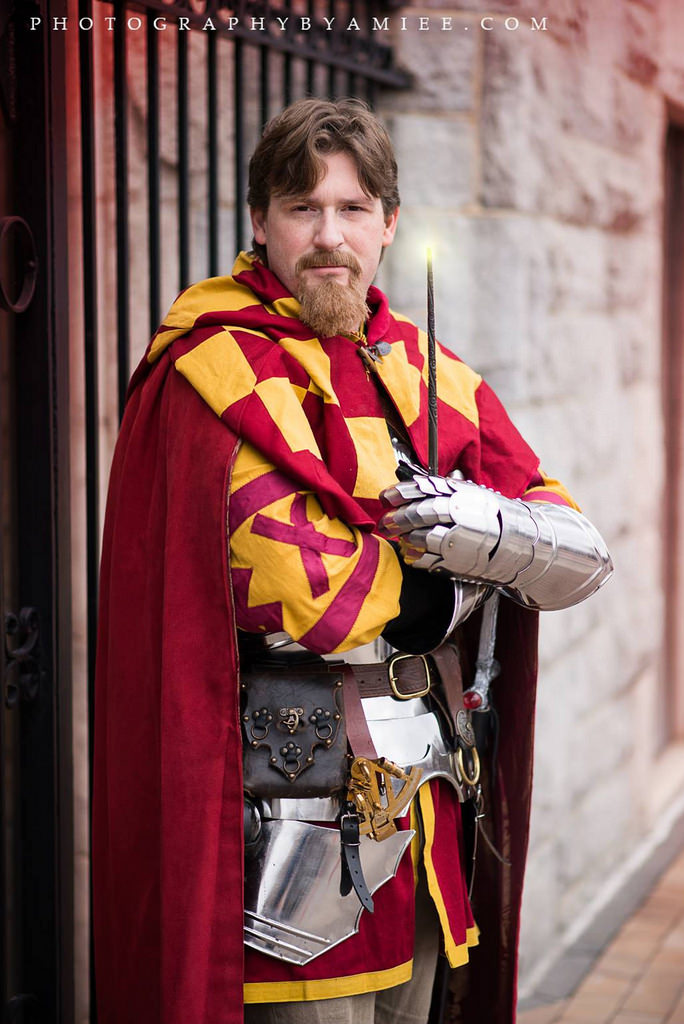 About this Costume
Construction Details:

We all tried to research the same medieval time period for our outfits, but I started out with a Renaissance-era armor chest plate and gauntlets which I found on eBay, as Godric was a warrior. Although the armor was a little more modern than the 14-century style everyone else was doing, I decided that a wizard would be a little ahead of his time technology-wise.

I then went out and picked out a bunch of different maroon and gold fabrics and set to work. I modified a medieval tunic pattern for the top, and the sleeves looked a little plain so I decided to add ancient runes to them with bias tape. The right arm has fighting runes, while the left has defensive ones. I then cut out squares of gold and maroon fabric and top stitched them together to make a checkered sheet of fabric which I made into a hood for the tunic. I then made a cape with upholstery fabric and satin stitched the Gryffindor lion on the back with gold thread. I borrowed the pants and boots and other accessories from my Flynn Rider costume.

Finally, the prop Gryffindor sword which is for sale is not to scale and would have looked like a letter opener next to me, so I made my own. The blade is wood but the hilt I sculpted in clay and made a mold, and then cast the hilt in resin. The gems were also resin cast. Everything was then painted and detailed with rub and buff. The rest of the Founders cosplayers bought their house banners online, but unfortunately Gryffindor was sold out and they aren't made anymore, so I made my own to match theirs.

Personal Thoughts:

My friends were putting together a Hogwarts Founders group, and asked me to be Gryffindor. I'd always wanted an excuse to get an armor chest plate, and this was the perfect opportunity. I also loved being able to design the outfit myself, freeing me up to do what I wanted rather than trying to replicate a design that already existed.
Add a Comment