Most Recent Photo

Series

Character

Year Completed:

N/A

Construction Difficulty:

Costume worn at: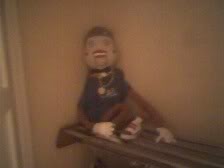 About this Prop
Construction Details:

Cardboard, plaster, rigid-wrap, model magic, and some premade toddler clothing, though I did have to make a few parts of it. (In fact my hat got backordered so I had to run out and find a wrong-colored hat, bleach, and then re-dye it grey, as well as having to modify a few of the other pieces. The orange corduroy "suit" underneath was all handmade. Had considered trying to make him like a real ventriloquist doll with a movable mouth and eyes but decided it was not worth it. Said internet research led to a lot of sites (eBay, Amazon, etc) bombarding me with lots of suggestions I might like filled with creepy dismembered doll parts and tattered dolls people dug out of their basement/attic/etc) Better off that way because it would have made it a bit more complicated as well as even creepier. As it is now I kind of hate having him just lying around the house.

Personal Thoughts:

I actually dislike creepy puppets. Having this around was unnerving sometimes, especially when I would look over and realize he was staring. Roommates at the con made me keep him in the closet. He actually did a few things that made it extra creepy.
Add a Comment