4/11/19 - We're continuing to fix errors related to the server migration, but we see some people able to upload photos again. If you see a page display an error, you may want to refresh it once or twice, as there seems to be caching enabled on the server side.
Most Recent Photo

Series

Character

Item Name

Automail Arm

Year Completed:

N/A

Construction Difficulty:

Very Easy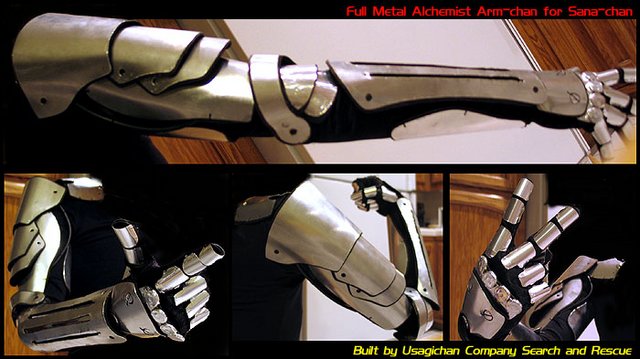 About this Prop
Personal Thoughts:

Made for Sana-chan. Total cost of the arm materials came out to about $35. THIRTY FIVE DOLLARS. This was not a commissioned piece, only did it because Sana-chan is MY HALF-SISTER. hahaha Built within about a week, the armor is hand-cut aluminum sheet metal glued onto hobby foam and hand-sewn directly onto the glove and torso suit. There is full body arm and hand movement and at no time do you feel like you are gonna cut yourself. The aluminum is extremely light and the entire piece weighs about a pound. You can put it on and take if off in less than 5 minutes and is firmly strapped to the torso via hidden velcro straps.
Add a Comment