Most Recent Photo

Series

Character

Year Completed:

2019

Construction Difficulty:

Easy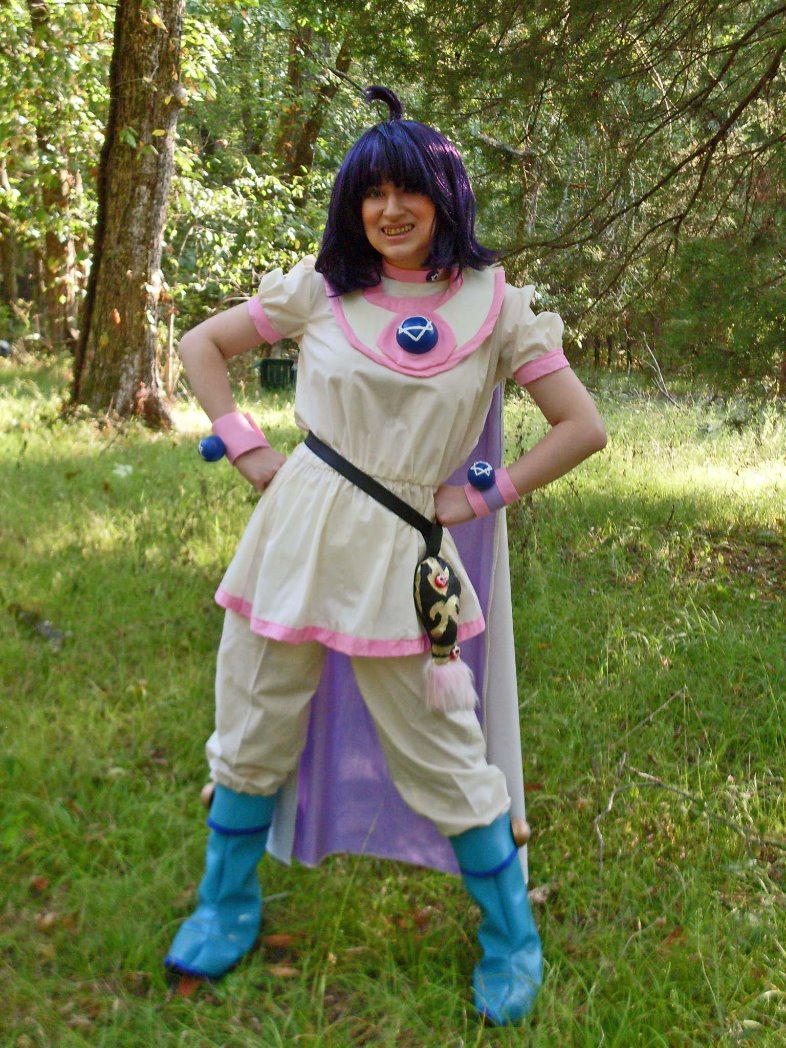 About this Costume
Construction Details:

The shoulder piece thingy (I'm not sure what it's called) was patterned by me and made with foam, cotton, and a plastic ornament that I spray painted. The white star was painted on with acrylic.

The cape is made from some lilac and eggshell cotton and was made following McCall's M7645!

The tunic is made from some cotton and was made following See & Sew pattern B6473, with some minor tweaks.

The red gems on the Seyruun crest were made just like the choker gem. The crest was patterned entirely by me and made with trial and error. I used some faux leather and gold Christmas fabric I had lying around. This was my first time sewing with leather and it was interesting.

The gold gems on the boot covers were made from a plastic ornament I found at Hobby Lobby and spray-painted gold. The boot covers are made with a beautiful aqua-colored vinyl with bias tape on the ends. This was my first time sewing with vinyl and I loved every minute of it!

The choker was made with my usual pattern, but with cotton instead of ribbon since I wanted it to be sturdy enough for the gem.

The bracelets were patterned by me and made from some leftover materials. The cotton was hot-glued to the foam for a smoother look and the ends are secured with velcro. The gems are some wooden knobs I found at Joann's and were painted with several coats of acrylic paint before I added the stars and sealed them.

Personal Thoughts:

I love Slayers so much!!! If I ever need a good laugh or am depressed, I watch it! I love all the openings in the anime, and "plenty of grit" and "give a reason" are my favorites! Amelia is such a sweet, optimistic girl (she's so similar to me), and I love how she aspires to be an ally of justice, plus her relationship with Zelgadis is just too sweet! While gathering references, I noticed that ALL of the characters have different little aspects throughout the manga/novels/anime seasons, so I picked the elements I liked best! (such as in seasons 4-5 of the anime & the novels Amelia has stars on her gems instead of pentagrams like she does in the first 3 seasons & Premium) Hopefully there'll be more Amelia costumes to come!!
Wig Details
Wig Brand

Wig Name

Original Color:

Purple Black Fusion

Styling Time

3 hours

Wig Quality Rating

5 / 5.00
Styling Notes

I fluffed the bangs, cut them, and made the ahoge with the cut pieces. The ahoge was hot-glued together and sewn to the crown of the wig. The hot glue was colored with a Sharpie to help it blend in better with the wig.

Wig Review

The wig is so soft and fluffy! It's one of my most comfortable wigs ever!
Add a Comment