Most Recent Photo

Series

Character

Special Variation:

Star Guardian Skin

Year Completed:

2017

Construction Difficulty:

Normal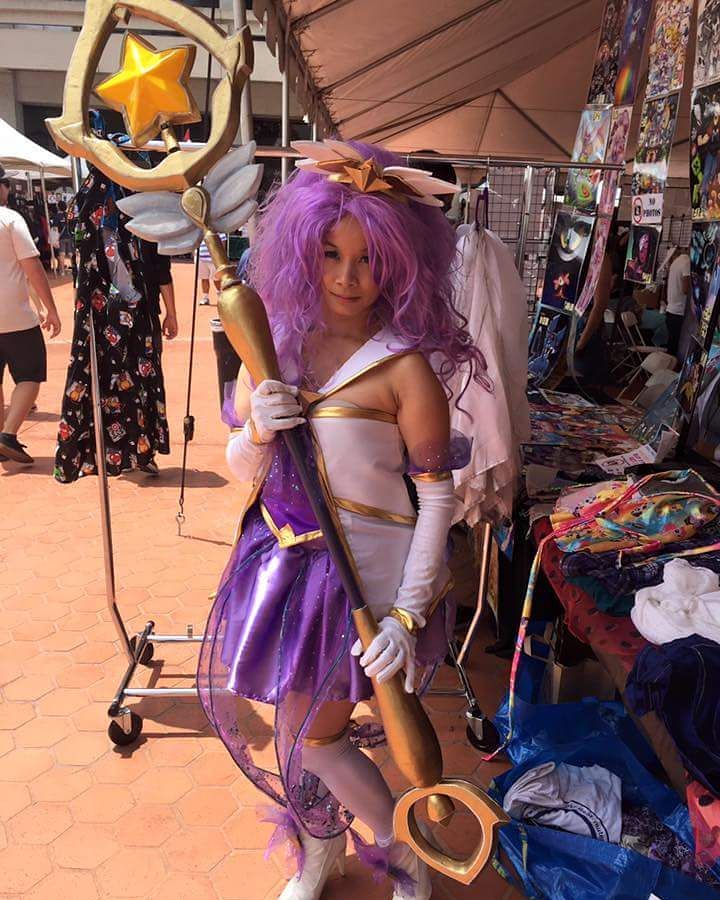 About this Costume
Construction Details:

I commissioned my friend Mandu Cosplay to make the wand and I worked on the rest of the outfit.
n
nI cut up white thigh highs and added gold trim around them. I added a diamond in the middle.
nI used my old white boots from my Faye Valentine costume for this outfit. I created embellishments for them using papermache stars and fabric.
n
nI used a lot of papermache stars I found at Hobby Lobby. I used two for the shoes, one for the tiara, and one for the brooch. I painted them with gold and let them dry then covered with mod podge. I used purple glitter/sequin chiffon for all frilly parts behind the stars (I found this fabric at Joanns) I used that fabric for my Sheryl Nome costume as well.
n
nI created a skirt but added four tails. (which i need to fix because its annoying as bees in your ear when walking) The four tails have TONS AND TONS OF rhine stones glued to them. Both front and back sides. They also have wiring to make them stay in shape.
n
nThe top is created in two pieces... this is a part that I'd like to fix. It doesn't fit appropriately BECAUSE it is in two pieces. I might cut it up for a future shoot and make it just one piece.
n
nThe tiara is a headband covered with gold spandex, foam wings and a glow jewel from Disneyland to make it light up.
n
nThe wig is the same one from my Felicia cosplay.. because Janna always has messy hair.. I didn't think a normal pony tail would suffice so I used a big wig instead.

Personal Thoughts:

OMG IT'S SO PRETTTTYYY AND SAILOR MOONIE. I thought of making this to get pictures with my dog together.. needless to say this never happened.. Sadness...
Add a Comment