Most Recent Photo

Series

Character

Special Variation:

Crownsguard

Year Completed:

2017

Construction Difficulty:

Difficult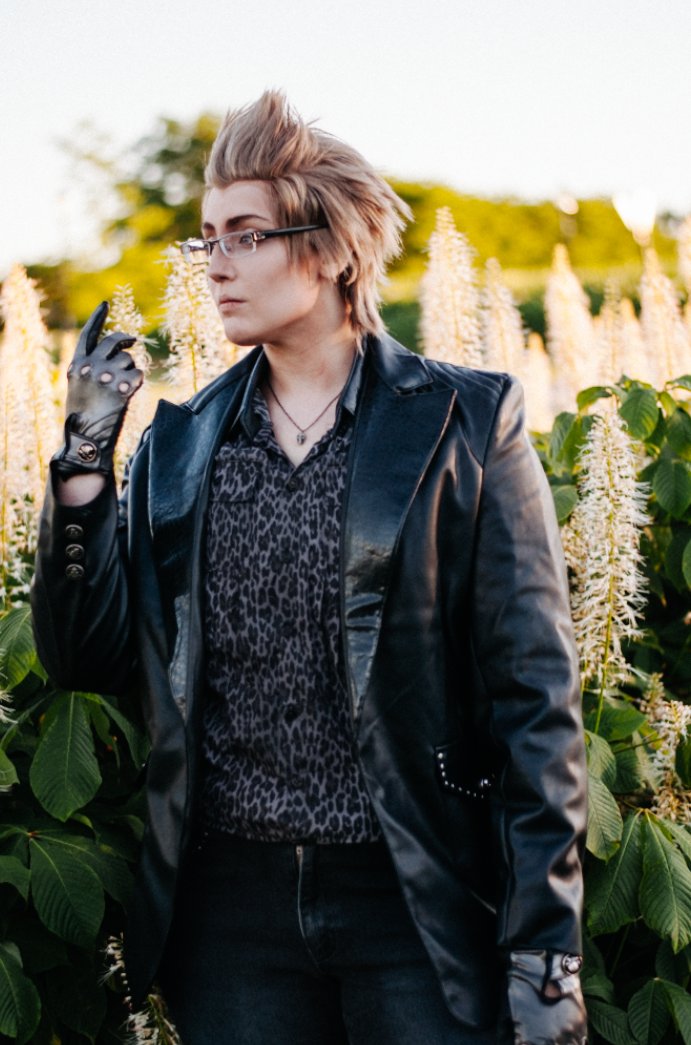 About this Costume
Construction Details:

(I will probably be replacing the pants with handmade ones soon)

SHIRT: I ordered Spoonflower fabric made by the lovely Melvinopolis Cosplay, and hand-patterned the quirky parts of the shirt while using a normal men's yoke shirt pattern for the base. I had to hand-pleat the 'bib' area in the front before attaching it to the rest of the shirt pattern, and hand-turned a long thin tube of the fabric to create the two loops that hold down the epaulettes on the shoulders. I created a faux turned-up sleeve to attach to the ends of the sleeves, and painted a skull on the back. There's also piping in the back seam of each sleeve because Ignis is so extra that I don't know what to do with myself.

PANTS: I bought a pair of black-wash jeans, cut up each side in one line, and paneled in a strip of pleather for his stripe accent. I tore the pockets off the back and patterned new ones based on his render, including crocodile-pleather flaps and skull buttons. I attached nailheads to the pockets.

SHOES: I bought crocodile Italian-style shoes from eBay (one of the more expensive parts of the costume) and painted/sealed the bottom with red leather paint.

GLOVES: I bought a pair of black gloves, cut the entire back of each hand off, and used the cut-off part to pattern on silver spandex. I had to individually face and topstitch the knuckle holes for stability and cleanliness. I sandwiched one layer of batting and another piece of spandex at the bottom of the gloves, and topstitched the half-arch decorations in before trimming off the excess. I then sewed the silver back onto the black palms of each glove, and created the vent and faux clasp after it was all back together. The gloves pull on all in one piece so that the button doesn't get strained with use.

Personal Thoughts:

Aaaand he's up.
Wig Details
How was the wig colored?

Diluted paint

Styling Notes

Added 1 full pack of wefts to the back
Add a Comment