Most Recent Photo

Series

Character

Year Completed:

2017

Construction Difficulty:

Normal

Awards

Best in Show at SabotenCon 2017 Masquerade

Costume worn at: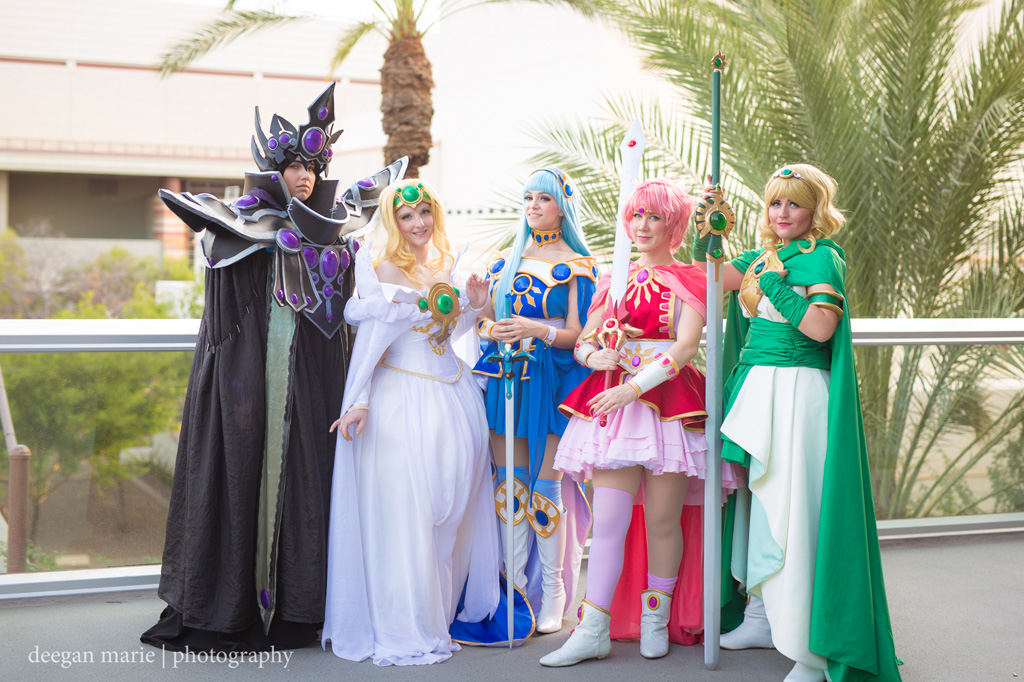 About this Costume
Construction Details:

I drafted all my own patterns for this project. The pink dress underneath has 3 tiers of gathered circle skirts finished with a rolled hem. The pinafore on top is matte satin lined with taffeta. The skirt is also a circle, with knife pleats. I custom made all the gold trim so that it would only show on one side. The waist cincher is a two-toned taffeta and is made with boning channels and back grommets/lacing, finished with custom made gold bias tape.

For the front and back pinafore and waist cincher detail, I cut out the gold pieces with Heat 'N Bond and pressed them to the red satin, then satin-stitched in gold around the edges.

For the pink gems, I cast them all in EpoxACast 690, my favorite clear casting resin from Smooth-On. I added pink pigment to the resin and backed them by gluing on pink metallic scrapbook paper using Super Instant Epoxy (also Smooth-On). I then glued them onto my project using E600, for a flexible hold.

For the bracers, I tried a new method. I made the basic shape out of craft foam, covered them in Epsilon Pro (also you guessed it, Smooth-On product) and sanded it. They close with Velcro. I hand painted them with acrylics and glued on the resin gems. In the future, I don't think I would use this method with wrist bracers since they need so much flex, and while the material does flex, it has visible creases and did get damaged when I dropped it.

For the tiara, I took a think plastic headband, and reshaped it slightly with a heatgun. I put the resin gem on a piece of foam covered in Worbla to create the setting, and added flatback pearls, assembling it all with Epoxy.

For the shoes, I used some old white boots, added the gold bias tape, and the gem to the front. I mad the setting for the gem with a piece of craft foam covered in worbla.

Stockings are from We Love Colors!

My husband made the Hikaru and Umi swords. The blades are poplar, the handles are PVC pipe, with details added sculpted from Freeform Air and Worbla. I cast the gems for them from EpoxACast 690.

Personal Thoughts:

Having a full magic knights group has been a dream of mine for a long time! I made Fuu's final armor back in 2010, but I was bummed that no one ever joined me for a full group. LunarLyn expressed interest in being Umi, and from there we recruited more members. I had the hardest time finding Hikaru, and for these costumes, I really liked her design, so I switched from being Fuu to being Hikaru.

To complete the group, we convinced our Moonie friends to come to SabotenCon! RoxyRyoko joined us as Fuu, and Jester'sLabyrinth and PrincessofherWorld (no stranger to being a couple since they were also our Uranus and Neptune) were Zagato and Emeraude. I have a handful of friends who all wanted to be Umi, including KittyPrincessKie!! I knew she also had Primera the fairy on her cosplay list for YEARS so I figured we could work her into the group too for more friends and more fun!

We decided to do an epic, tragic skit for the masquerade at SabotenCon 2017!
Wig Details
Styling Notes

I cut a ton out of the wig, added volume by putting in curlers and heating with a blowdryer, set up some spikey sections with hair spray, and sewed on several layers of wefts to create the braid. The braid also has wire braided into it to give it some body.
Add a Comment