Most Recent Photo

Series

Character

Special Variation:

Christmas figure

Year Completed:

2017

Construction Difficulty:

Very Easy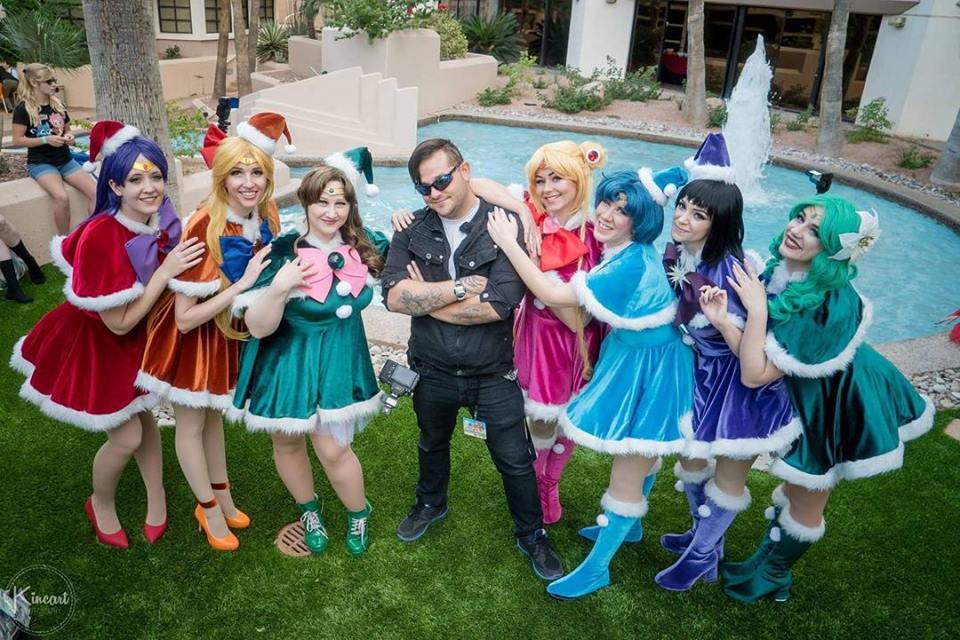 About this Costume
Construction Details:

Construction notes: I wanted to keep these simple to ensure the costume was stress free and everyone could get it done easily! I started with McCall's 7313 View C as the base for the dress. It was easy since it's made for knits, and doesn't need princess seams, darts, or a zipper! I quickly realized the skirt, once shortened, just wouldn't have the fullness we need for these costumes. So I ditched the skirt and drafted a circle skirt. We all used stretch velvet from various stores. My turquoise stretch velvet is from Fabric.com, and I highly recommend it! It was nice and thick and well priced. The dress is finished on top simply by serging and folding under for a hem once. I also sewed elastic into the waist seam to keep it fitted. 2" white fur trim from JoAnn was sewn on the bottom edge.



The cape is interfaced and fully lined, and the fur trim had to be gathered on the inside edge to fit the curve, and sewn in carefully before being sandwiched into the lining. The fur trim on the cape was probably the hardest part. It closes with a hook and eye, and the bow attaches on top with a pin back. I made a new smaller bow for this version from a shantung-like fabric (not really sure; it was unlabeled remnants) using a modified SparklePipsi pattern. The brooch is the same resin brooch that DayDreamerNessa made for our classic Sailor Moon costumes. The boots are also the same! Tiara is from Catzia's. Wig is my trusty Arda Inigo in Midnight Blue that I've been using for Mercury for years!



The little Santa hat was also fun! It's basically a wedge shape with a single seam up the back. I put interfacing and felt partway up on the inside to help it stand up. Where the tip folds down, I also tacked it so it would stay visible from the front. The pom poms on the hat and dress are hand sewn on.



Underneath, I am wearing my white pettipants and petticoat from Malco Modes. 100% recommend! More or less, I made my costume first as the model and everyone made theirs off of mine.

Personal Thoughts:

I have wanted to make a Christmas character costume forever, and finally got around to it! I knew I wanted a full group of the 5 inner guardians, and I am so happy it all came together! I initially recruited Troublemaker Cosplay to be Moon and Lunar Lyn to be Venus. From there, Khainsaw offered to fill the open spot of Jupiter. Our original Mars cancelled the day before, so Troublemaker Cosplay and I tag teamed the rest of outfit while Q-ki made her dress, all that night before our photoshoot! It was kind of nuts and sleep depriving, but worth it! I also made Moon's gold heart brooch. Photos by Courtex Studios and Madonia Photography.
Add a Comment