4/11/19 - We're continuing to fix errors related to the server migration, but we see some people able to upload photos again. If you see a page display an error, you may want to refresh it once or twice, as there seems to be caching enabled on the server side.
Most Recent Photo

Series

Character

Special Variation:

Princess Lulu episode 4

Year Completed:

2015

Construction Difficulty:

Costume worn at: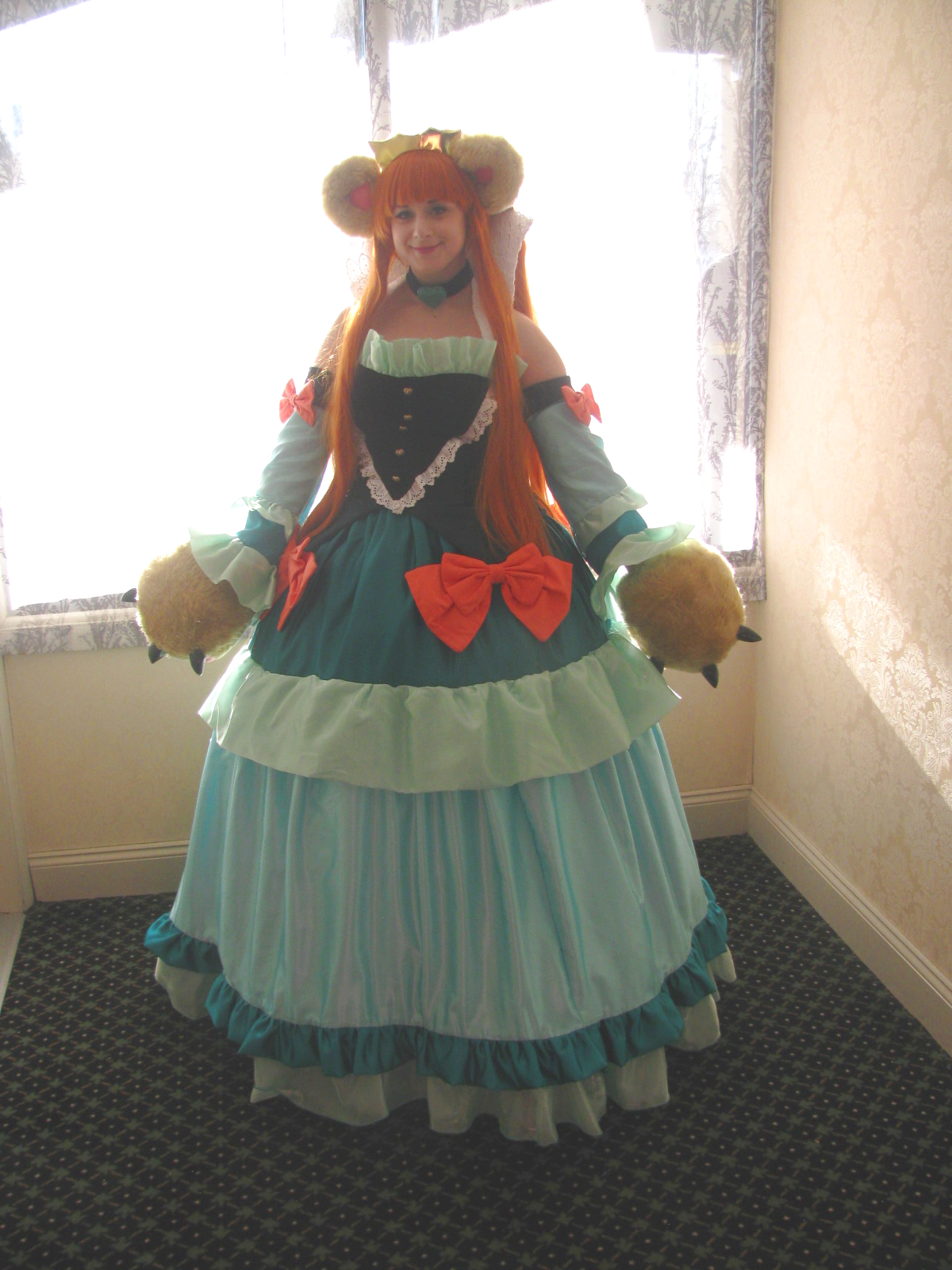 About this Costume
Construction Details:

Wig: is 2 wigs. One is the bouffant and the other is the base wig. I cut and styled the base wig. Bouffant is held on by a bridal hair comb.
n Crown: gold card stock put on a head band.
nears are fake fur and fleece and craft foam with tabs on them to hold boby pins to keep them on my head.
The dress is made of 3 different pieces. One is the top, made with green valor, black velvet and white eyelet lace. Second was the sleeves that stay on by stretch black velvet on the tops and lastly the large skirt. The skirt is made with an elastic top and the shirt part goes over it also holding the bows on. (bows have pin backs to detach them for keeping them neat and not wrinkly)The choker is black stretch velvet with a resin heart (2 pieces that I combined to make the 3d heart) I cast and panted with translucent mint-colored glass paint. All the pieces were done with no patterns and 2 different gathering techniques (gathering foot and floss method) Soooo much ruffling!! Collar is thick interfacing with a layer of white chiffon and then strips of venise lace layering on top to create my own kind of patterned fabric (to give some texture). Gloves are made like a plush toy, but with space in the middle to put my hands in. Elastic on the tops. Squish bean pads are made from pink fleece and hand sewn on. Lastly the claws were made from sculpty light. Sanded, primed, painted with black gloss paint and a clear top coat. I made loops on the bottoms of the claws (making them look like buttons) So I could anchor them to the paws by hand sewing them on and then E6000 them down to make sure they don't come off.

Personal Thoughts:

This costume took around 100 hrs to complete. A task I took on for more of a therapy aspect. Dealing with the sudden death of my beloved father in September was difficult.The weeks following, I stayed in my room and worked on this costume. It was a better way of dealing with it for me. I was a fan of Yuri Kuma Arashi, watching it weekly as it came out in the winter of 2015. The art work and style is what I loved the most. When I was done, I wanted to cosplay princess lulu. Didn't know when, but put it on my dream cosplay list. Once my dad passed, I felt even more of a connection with Lulu in episode 4 to the point of I need to do this now. So, I started right on it to wear to Another Anime Con in New Hampshire, so I would also have something impressive and meaningful to wear for judging. It was a labor of love.
Add a Comment