4/11/19 - We're continuing to fix errors related to the server migration, but we see some people able to upload photos again. If you see a page display an error, you may want to refresh it once or twice, as there seems to be caching enabled on the server side.
Most Recent Photo

Series

Character

Year Completed:

2014

Construction Difficulty:

Easy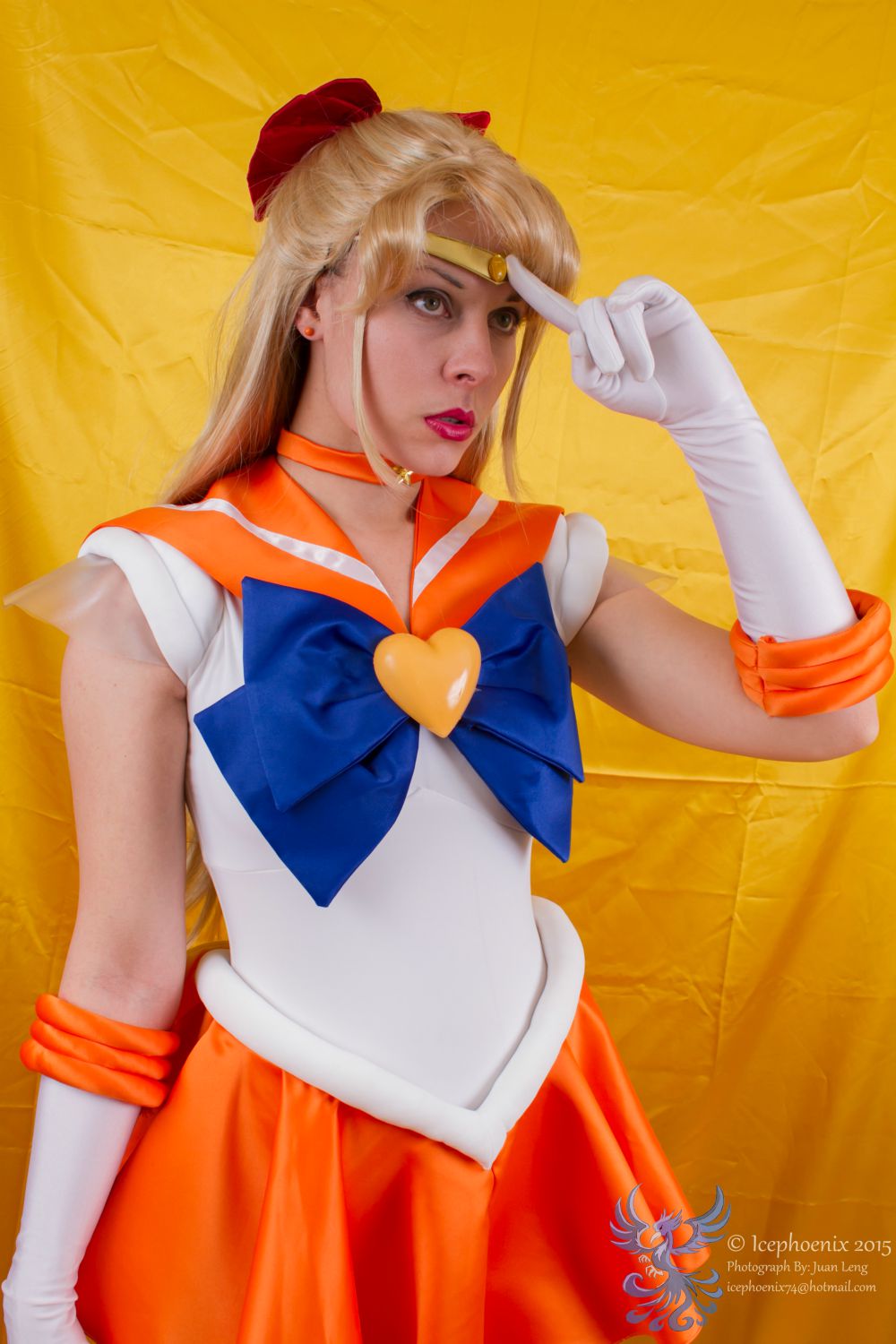 About this Costume
Construction Details:

Fuku:
rnThe fuku is white spandex…a very high end spandex that costs an arm and a leg. It is also doubled up for modesty. The fuku looks like a swimsuit with a series of snaps all over it. 1 for the collar, 2 larger snaps for each bow (front and back) and 8 around the hip curve for the skirt to attach to. I used the same pattern for all my other fuku's. Everything is overlocked serged on the inside for a clean professional look.
rnThe clear sleeves are made from frosted vinyl.
rn
rnCollar:
rnSame collar pattern I use which is one I drafted years ago. I still have never altered this pattern because it works the way I want it to. One ribbon was sewn on for the single Super stripe.
rn
rnBows:
rnI used the same satin as the skirt and collar. It's peau de soie. I used blue and yellow to create the bows and stabilized them with heavy weight interfacing.
rn
rnSkirt and Hip roll:
rnThe skirt is made up for 2 drop circles vs. the 4. The reason for this is because Peau de Soie is very thick and heavy satin; 4 drop circles would make this thing look like a tutu. I wanted something more subtle and elegant. The 2 circles work really nice and give it a pleated look. I used a narrow hem foot to hem the bottoms. The hip roll is sewn right onto the skirt. The 8 snaps are also sewn to the back underside of the hip roll so it can connect to the fuku.
rn
rnGlove toppers, Choker, Brooch and Earrings:
rnThe glove toppers were cut on the bias, sewn along the bottom, turned inside out and 3 channels sewn in. I stuffed each channel with craft batting. They sit over a pair of white gloves. The same white gloves I use for my other scout costumes.
rn
rnThe choker is a strip of the satin sewn into a tube then turned inside out, pressed and some Velcro squares sewn on the back for closure. A single star rhinestone is on the front of the choker.
rn
rnThe brooch is a heart Christmas ornament. An acrylic fillable ornament painted from the inside. Instead of gluing it onto the front bow I glued a piece of craft foam to the back and added a brooch closure. I have also made a circle brooch so the bows can be used for Super, basic and Crystal.
rn
rnShoes:
rnBase pair of pumps painted with M. Graham acrylic paints. The ankle strap is leather and snaps in the back. They were also painted with same paint as the shoes.
rn
rn
rnWig:
rnI use a New Look Alicia XXL in 24b/613. I steamed the bangs to get the curl. I really like the layers that add body to the wig!
rn

Personal Thoughts:

Sailor V was the first sailor scout and represents love and beauty. It's always tricky to pull of Sailor V as she has a certain look and feel to her that really sets her apart for the other scouts. I always loved her vibrant colors and it really makes her stand out among the other scouts. Orange is not an easy color for people to wear and pull off nicely, so finding the perfect orange was crucial in this design!
Wig Details
Wig Brand

Wig Name

Original Color:

24B/613

Wig Quality Rating

4 / 5.00
Add a Comment