Most Recent Photo

Series

Character

Special Variation:

Manga Epilogue

Year Completed:

2015

Construction Difficulty:

Difficult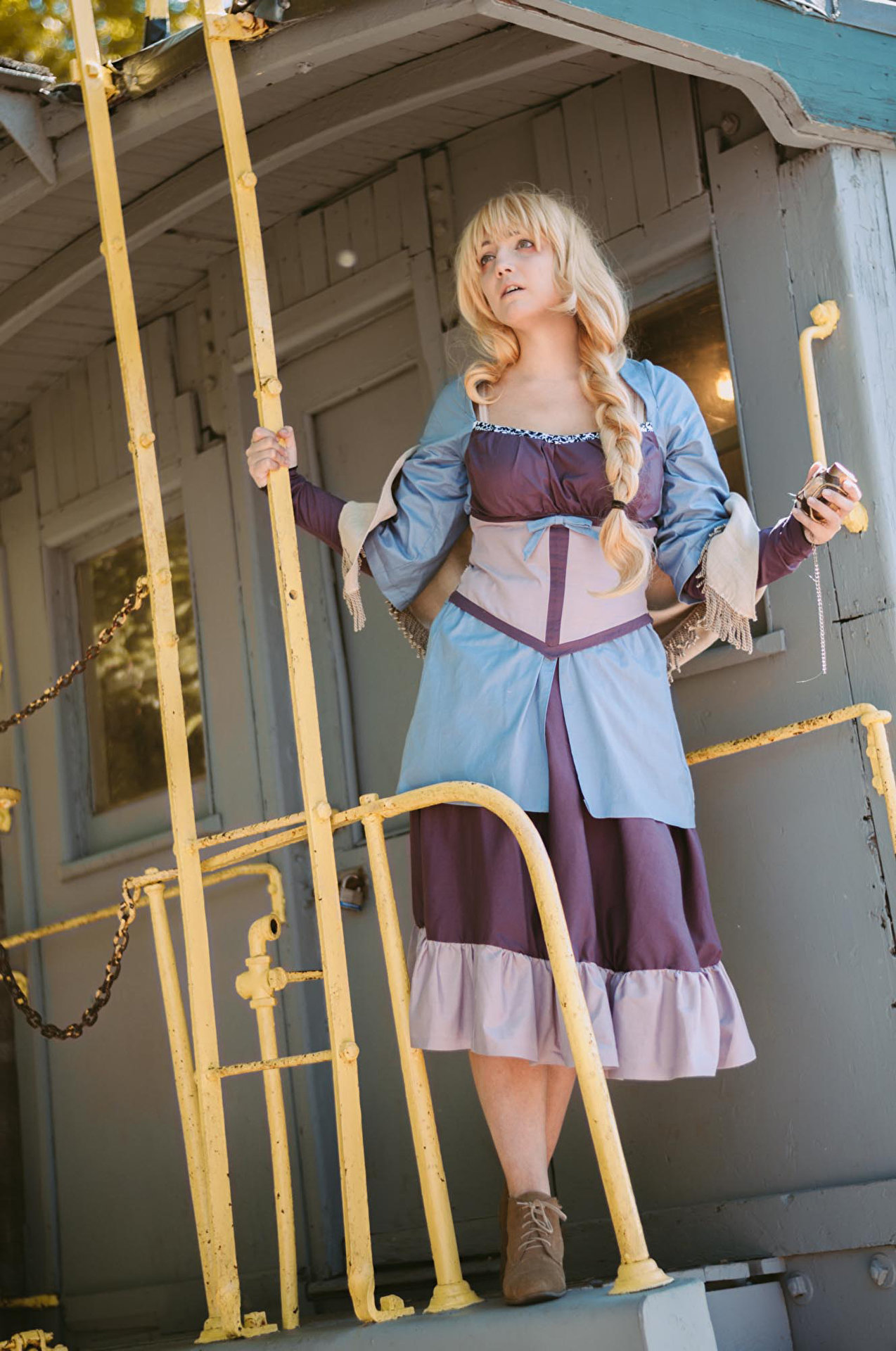 About this Costume
Construction Details:

I bought the materials for Rosette way back in 2011 or 2012, knowing I wanted to make it eventually, and when I brought them back out in 2015, I definitely made some interesting fabric choices. The costume is constructed entirely out of broadcloth, which would not be my first choice these days, but I made an extra effort to make my construction as clean as possible.

I started by sewing a blue shirt out of a generic princess seamed pattern, and once finished, I drew around my bust with chalk. I cut out that part, laid it flat, and cut a purple panel about twice as wide as that piece. Then, I used a gathering stitch to make the 'ruched' effect, and stopped when the panel was about the size of the original chunk that I cut out of the shirt. I paneled this back into the shirt along with the toile-patterned v-neck.

The corset was hand-patterned, and I paneled in all of the color pieces to give the effect of being a boned corset, but it's nice and soft to keep the costume comfortable.

The skirt is actually two separate elastic-waistband skirts—the long one with the ruffled bottom, and the second one with the split in the front.

Chrono's (I assume) Native American shawl is made out of textured linen and professional-grade fringe from JoAnn's—when I opened the fabric I had bought in 2011-2012 and looked, I was appalled that past-me had made the decision to make the shawl out of broadcloth and the crappy fake-suede fringe, so I tossed it and re-invested in the good stuff. The shawl constitutes over half the total costume cost, but it's worth it.

The wig is a Luthien from Arda, with quickly-styled bangs and tied in a loose braid. I deliberately made myself look ill with makeup, with some red and purple under my eyes and a bit of blue on my inner lips, because clearly I like to make myself cry over this manga.

Personal Thoughts:

Settle in, because I'm about to get sappy and wordy. Chrono Crusade fell within my first year or so of being into anime, in 2007. I'd just started college, and a new friend told me I would love the series. In lieu of watching the anime, I read the manga (much better, in my opinion) and I distinctly remember getting to the last page in volume 8, closing the book, and bursting into tears. Chrono Crusade has arguably been my favorite series consistently for 8 years now, lasting even through way bigger phases, like being into Homestuck or Attack on Titan. It might even be my longest fandom, aside from Kingdom Hearts. I also hold the Most Obsessed title here on ACP—not sure if I should be proud or ashamed LOL

I realized recently that I read Chrono Crusade during the year I was 17 (turned 18 halfway through). Based on some manga canon early on in the series (Azmaria talks about having known Rosette and Chrono for 6+ months when they first meet Satella), I realized that despite Rosette starting off in volume 1 at age 16, she was almost certainly 17 or possibly even 18 by the time they invaded Pandemonium on Christmas Eve in the final chapters of the series. When I realized this, I found that I had a unique opportunity in front of me: I could cosplay Rosette, at age 25, eight years after Chrono kisses her goodbye and promises to return to her. So, I made the decision to pump out this cosplay in March of the year that I'm 25 years old, so that I am quite literally cosplaying an age-accurate Rosette, 8 years after saying goodbye to the series, to honor the epilogue which takes place in March 1932.
Add a Comment