Most Recent Photo

Series

Character

Year Completed:

2014

Construction Difficulty:

Costume worn at: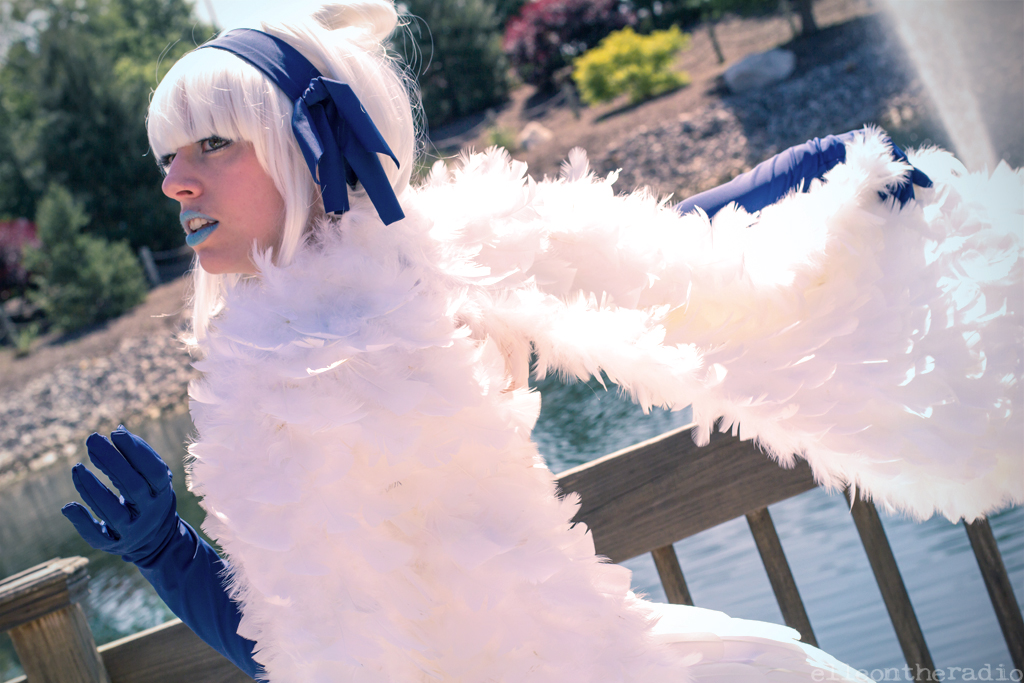 About this Costume
Construction Details:

Most of the fabric parts of Angel are stretch knit (white) and lycra dance wear (gloves/hairband). I bought a pound of white turkey plumage feathers and a pound of hen rounds, half left wing and half right wing so that my the sides could appear symmetrical.
rn
rnThe bodysuit is made using a modified swimsuit pattern with a clear vinyl modesty center to prevent malfunctions. I will be switching that out with skintone dancewear because sweat happens and vinyl traps heat! The waist up is covered with mostly plumage and a few carefully trimmed and neatly aligned round feathers attached with fabritak. I DIDN'T LOSE MORE THAN FIVE FEATHERS PER CON. Fabritak is amazing! The same method was used for my ankle cuffs except I only used the fluffiest pieces of plumage to account for stretching.
rn
rnI created my own pattern for the panniers since patterns for those don't seem to exist anymore, it's and elastic waistband with casing, cotton panels, ribbon casing, and steel hoop boning.
rnThe skirt is lined cotton with snap fasteners. Each feather was meticulously placed and glued down in an overlapping fashion. I truly did try sewing them down at first but the feather stems were way too thick, so I will once again sing my praises of fabritak as it did the job perfectly.
rn
rnThe "wings" were the easiest part! I cut them out felt fabric and used clear elastic to make discreet backpack style straps. Most of my plumage ended up on these babies, and it was surprisingly the easiest part of the costume!
rn
rnThen the shoes presented their own interesting challenge. I picked the ugliest light blue foam shoe to use as a base and created craft foam pieces covered with fabric that were attached to said foam shoes. Before attaching the individual pieces, I painted them using a light blue fabric paint and did the strange lines with a paint marker. These shoes are so ugly, but they're also very comfortable!

Personal Thoughts:

Angel is not a nice character. She's selfish, vindictive, manipulative, and mean. But damn if I don't absolutely love her. I thought about making this for about two years before I finally decided to just go for it and buy two pounds of feathers. I don't regret it at all!
Wig Details
Wig Review

This wig has the perfect blunt cut bangs that I did not need to alter at all! I was also happy to find that the netting didn't show through like most light colored wigs tend to do. It's very thick and full and worked perfectly for this costume.
Add a Comment