Most Recent Photo

Series

Character

Year Completed:

2006

Construction Difficulty:

Difficult

Awards

Best Group Craftsmanship

Costume worn at:

Videos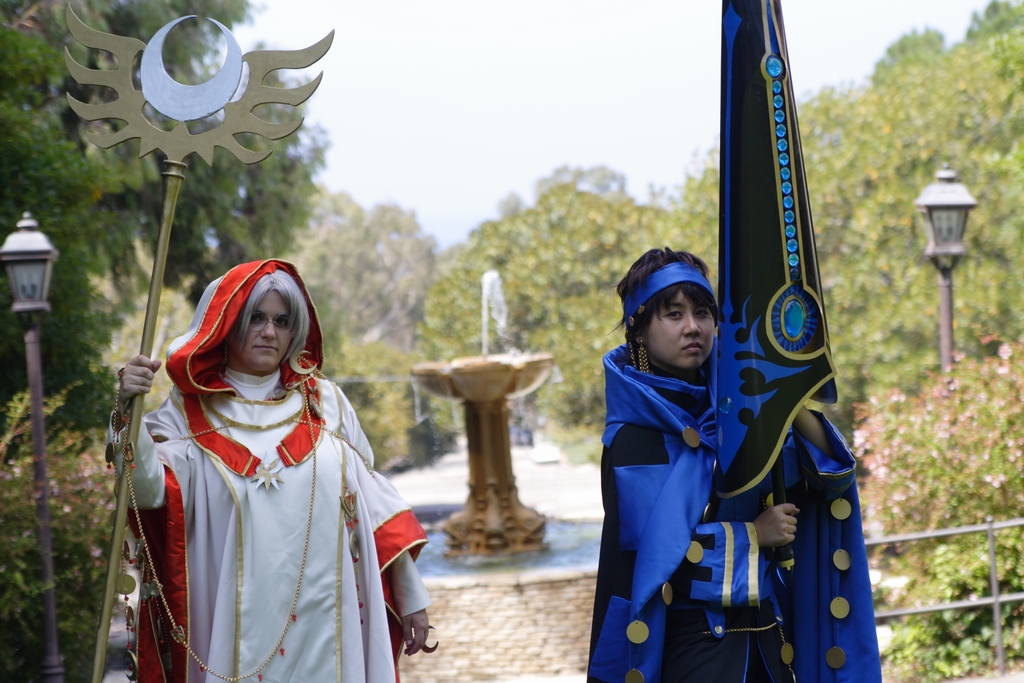 About this Costume
Construction Details:

Coins: All assorted coins were laser cut from sheets of acrylic then painted gold. Each coin had a hole cut into them for sewing purposes.

Head piece: This was a very simple scarf type design that I trimmed with the coins.

Tunic: I forget the pattern I used for this but since it's sewing for a man, it's very rectangular in cut. The blue trim was handsewn on since I didn't want to have top stitches on the pattern.

Cape: The pattern for this cape when laid out looks like a giant maxi pad (LOL!) I matched the trim on the tunic to the cape and again hand sewed it on so that I didn't have top stitches. All coins were also hand sewn in.

Belt: Again a very simple design that had gold embellishments hand sewn to it.

Lance: I made the core using a frame work that attached to a dowel so that the outer shell of the lance could attach onto something. For transportation purposes I made it able to break down toward the middle of the weapon.

I bought sheets of 0.01in thick plastic film that was available at a local plastic shop. I cut the film to shape then used painter's tape to tape off regions that would need to be gold or black to prepare for spray painting. I always painted on the side of plastic I would have on the inside so that the outer shell could keep the natural shine of the plastic film. The blue patterns were cut from a thinner plastic film that was first spray painted blue before cutting. The pieces were then glued to the outer shell.

The gems were all cast out of acrylic using metal measuring spoons. I usually tapped the spoons decently hard on concrete to pop out the gems. There are many molds out there you could use as well. This was my first time dabbling in casting so I improvised. The same plastic shop that I bought the film from also carried an AWESOME mirror film. All resin cast gems had a mirror back put onto them. The tip egg shaped gem I cast using a light bulb. It came out perfectly but was a single use mold LOL!

Personal Thoughts:

Touya was not only super dashing in his outfit but he wore a magnificent cape with epic lance to boot! Couldn't wait to try my hand at another crossplay! Only consider this difficult because of the lance!
Add a Comment