Most Recent Photo

Series

Character

Special Variation:

Travel Outfit

Year Completed:

2014

Construction Difficulty:

Difficult

Awards

2nd Place in Masters at Phoenix Comicon

Costume worn at: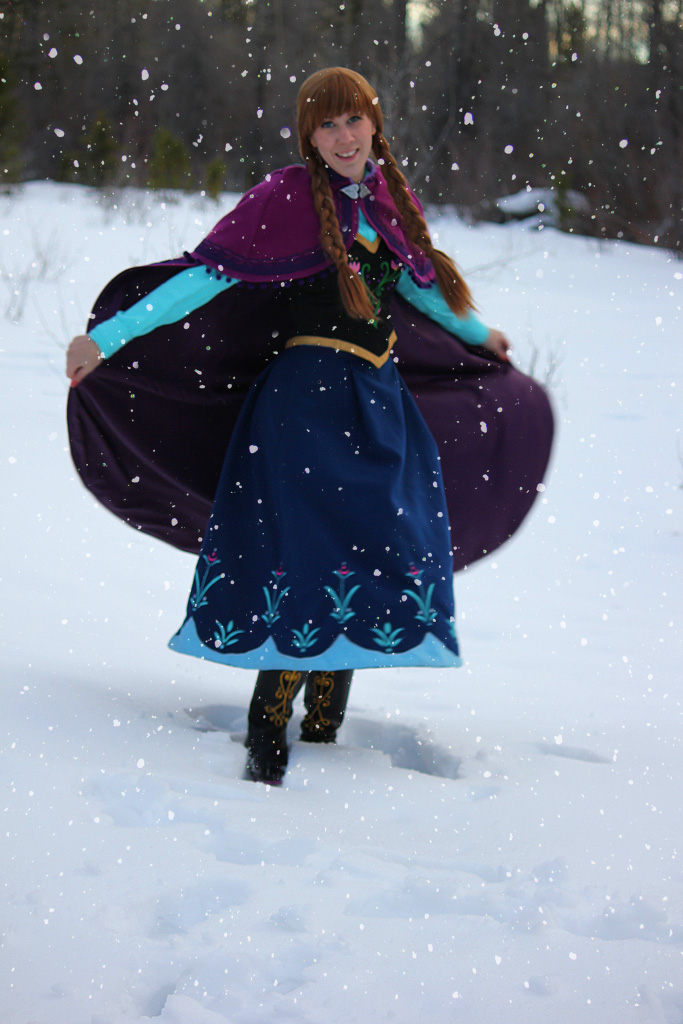 About this Costume
Construction Details:


I used references from the film and parks to program all of the floral designs using Embird software. Then, I saved the files to an embroidery machine and embroidered them directly on the fabric. The difficult part is that some of the larger designs had to be pieced into to 2-3 sections before embroidering.

BLOUSE
I started with McCall's M6035 pattern for the blouse, and sewed it out of the wrong side of the stretch satin from JoAnns. It's the only thing I could find in the right color, but it's SO shiny! (great for park version tho!) so I used the wrong side. This pattern runs way huge, so I sized it down and basically just drew out different sleeves. You can't actually see buttons down the front, so I have snaps hidden underneath. I've heard other cosplayers use Velcro, but I keep Velcro as far away from my satin as possible!

If you are smart, you'll make sleeves with a placket, but I was tight on time and did a closed sleeve. It's a little bit hard to get on and off, but the easiest cuff to sew! I made the sleeve a little wider and gathered it in. In the film, her sleeve doesn't look gathered, but it didn't work so well in real life making the sleeve that tight. (again, looks like the park too)

BODICE
I have a bodice sloper pattern that already fits me - I added on straps to it from Simplicty pattern 5582 (a Renaissance bodice). The bodice is made from black twill, fully self lined and has boning sewn into the seams. I know some cosplayers use velvet, and it's beautiful, but one of my least favorite fabrics to work on. Plus I didn't want to embroider on it! I sewed boning channels into the lining and filled them with plastic boning. I wish I had put more boning channels in. That helps it sit better.

The bias tape I made all on my own. I found this gorgeous faux silk with a texture to it. First time I made it 3/4" wide...it's a bit too wide, so I'd say go 1/2" or 5/8". I used the stitch-in-the-ditch method for most of it, and hand finished arond the neckline because it has so many curves. Tutorial on how I did the mitered corners coming soon!

The back closes with a zipper. I tried to use an invisible separating zipper (You can get them from thezipperlady.com), but I just couldn't close it by myself, blind. So I used a regular separating zipper, sewn on the same way you sew an invisible. So it's not too noticeable. Each piece had to be hooped and embroidered separately. The design on the front is actually 3 separate ones put together! Lining it up is tricky.

SKIRT

I usd Vogue pattern V8287. I had to hunt it down online since it's out of print, but it's perfect - it already has the 2 pleats in the front and back like Anna's. As best I can tell, there are little knife pleats. I've also seen cosplayers use half circles, and I think that looks great as well, eliminating the bulky side seams. A circle is much too full, in my opinion. I have an invisible zipper hiding in the center back seam as well. (You could also hide it on the side)

I did my math and decided that there were 10 of each design embroidered at the bottom (or at least, that's what works for my skirt) You might choose more or less depending how full your skirt is. I used a ruler and marking pencil to mark the center of each of these designs before hooping and embroidering.

Once I had the skirt and emboridered, I used paper to pattern out the lighter blue trim design. This is trickier than you think because it's curved at the bottom. In hindsight, I would say do this before embroidering and use the scoops as a guide for placing the embroidery. Once patterned, I cut it out of a light blue flannel. I sewed it on and finished the edge by actually sewing the trim to the inside of the skirt and flipping it over. Then I topstitched the top of the blue trim. I finished it with a satin stitch. Make sure to sew slowly and carefully around these curves. Using Heat 'n Bond Lite to hold it in place before sewing helps tremendously.

CAPE

The pattern pieces for the capelet look like this, and the cape is just a circle with my neckline cut out! I nabbed a mandarin collar from the blouse and enlarged it a bit. I used the same faux wool as the skirt, but in a berry color. I realize it's a bit dark, but I just loved the fabric texture and color too much to pass it up. I haven't seen anything else like it. I spotted lavender fur from JoAnns to line the collar (same stuff is also lining the hat).

First I sewed on the pom pom trim (from Hancock fabrics) in while hemming with a double zig zag stitch at the same time. Use a nice topstitching thread so it stands out! Note that it doesn't start all the way at the neckline, but a little lower. I debated between a more burgundy color or purple, and decided purple complimented the berry cape fabric more.

I did all the trim and detailing in felt. Felt matches the fuzzy texture of the cape fabric pretty well, and the edges don't fray. I patterned out the curved scallop design in paper first. I ironed Heat 'n Bond to pieces of the felt, drew the designs on the paper backing, and cut them out. Then reverse for the other side before ironing down the finished pieces. I also stitched over them. if you look at the designs from the The Art of Frozen, it's a straight stitch all around in the same thread color as the trim.
Tip: If you are going to sew over it, use Heat n Bond Lite. If you aren't, use Heat n Bond Ultrahold. Lite will not hold it permanently, and you can't sew through Ultrahold without it seriously gumming up your needle.

The cape is lined with lining fabric from JoAnns - Anna's is more red, but this deep purple was the only thing that looked pleasing!

BOOTS

I don't remember where I got these black boots; they are recycled fro an old costume. Look for low heeled boots or riding boots. I used floral spray to color the heels, though it's not as bold as I'd like. I initially printed and cut a stencil, then painted the boots with gold acrylic. I decided to upgrade and try embroidery. I embroidered it onto scrap black polyester fabric, cut each piece out, melted the edges a bit with a lighter so they wouldn't fray, and attached them to the boot with combination of Heat 'n Bond Ultra, handsewing, glue, and prayers.

WIG

The first wig I used (darker one) is a Leia in Dark Copper Red from Arda. I added the white weft and styled it. I wasn't a fan because the fiber was too stiff, the color is way off, and it is too large for my head (kept slipping). So, I ordered a $20 wig from Ebay and like it much better! Closer in color, wig cap fits perfectly, already wefted, and softer fiber made it much easier to wrap teh ends. I did a little video on how I braided it and wrapped off the ends with hair fiber.

CLASP

The first clasp I used is just a clasp from JoAnns. The second, larger one is made from Premo Sculpey. I warped a heart shape cookie cutter, cut it out, baked it, sanded it, carved in the designs, and then painted it before sewing it to the cape.



Personal Thoughts:

Jumping on the Frozen bandwagon...yup. OK, I saw the movie, and the pom pom trim did me in. (not to mention the amazing movie and soundtrack!) When my friend Taylor mentioned wanting to be Elsa, we knew it was meant to be!
Wig Details
How was the wig colored?

white weft sewn in

Styling Notes

This wig has a pigtail part already. I ordered a separate pack of white wefts from Arda to sew into the wig.

Wig Review

These wig caps are huge! The Leia is nice and thick, but too thick and I had to thin it out a lot. The fiber just sticks out straight and awkward where it is thinned at the bottom. I wish the fiber were softer. Also, the wig has shorter strands on the side that are difficult to hide.
Add a Comment