Most Recent Photo

Series

Character

Special Variation:

Plugsuit

Year Completed:

2013

Construction Difficulty:

Very Difficult

Awards

Honorable Mention at Japan Expo USA 2013, Best Master Workmanship and Best in Master Class at Anime LA 2014

Costume worn at: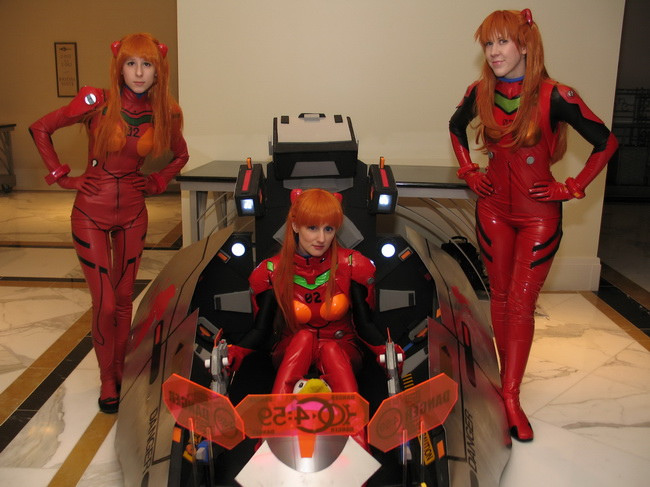 About this Costume
Construction Details:

OK READY FOR AN ESSAY?rnrnI did a write up with progress photos here:rnhttp://www.nyunyucosplay.com/?page_id=1265rnrnI started with the Green Pepper Ice Skating pattern and a pair of leggings - and HEAVILY modified it, drawing on lines to improve fit and add seams, then cutting it all up to make a pattern. There is probably a better base you could use, but this is what I had. Fabrics are: red: 4-way stretch vinyl from Spandex World, black: wet-look spandex, green: super thick sparkly upholstery stuff, blue: 4-way stretch matte spandex.rnI did several mockups to get the really tight fit. Some pieces were hand sewn to really get them in place. It closes up the back with an invisible zipper. I used piping filler to add some texture to the collar. I used the stretch applique method to add the red onto the sleeves.rnrnI sewed the suit using a chain stitch (straight stretch stitch) with polyester thread and wooly nylon - it's very stretchy and the seams are secure! I made the leg stripes by filling in spandex tubes with craft foam and hand sewing them on. The backpack straps were made similarly, but with vinyl. The feet are completely sewn shut with a wedge shoe slipped inside.rnrnCheck out Crash Culture's easy stretch glove tutorial - gloves were easy! No fancy gussets needed for 4 way stretch. The bangle on the glove is made from upholstery foam inside vinyl. I picked off actual orange buttons and glued them in. Plugs were made with Premo Sculpey and cookiee cutters (tutorial on my site/DA).rnrnI had lots of help on the hard plastic pieces and did them many times over until they were perfect. My boyfriend built a vacuum forming setup and we worked on these together. The backpack, boob cups, and shoulder pauldrons, and neckpiece are all made from vacuum formed plastic (either styrene or ABS, depending on the piece). Building the bucks/cutting/sanding/painting took so much time, but it was worth it! Everything is so much more durable than craft foam or other materials I could have used. Vacuum forming is a lot of work and mess but AWESOME. The reds are just a regular Valspar from Lowe's, but the orange boobs are Engine paint that took awhile to find! There are a bajillion snaps all over this thing to make the pieces removable but stay on.

Personal Thoughts:

I've had Asuka's plugsuit on my list for at least two years. I'm finally taking the dive!
Wig Details
Wig Brand

Wig Name

Original Color:

Dark Orange

Wig Quality Rating

4 / 5.00
Styling Notes

Trimmed the bangs and pulled sections up to put the synch clips on. The top is nice and thick so I didn't need wefting to do any of this. I used the Cospa sync clips from Hobby Link Japan.

Wig Review

This wig is GORGEOUS but I marked it down because the cap is super small. Buyer beware if you have a typical to larger size head. :( My head is not that big and I've NEVER had this problem before. I can't pull it up in front of my ears because the front of the wig won't come far enough down.
Add a Comment