Most Recent Photo

Series

Character

Special Variation:

White Blazer

Year Completed:

2013

Construction Difficulty:

Easy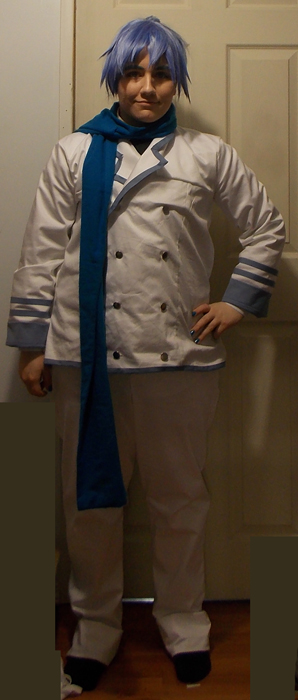 About this Costume
Construction Details:

Made with white sateen. The blazer is fully lined and all eight buttons are functional. I hate fake buttons on blazers with a raging passion.

I used Peel-n-Stick to attach the bias tape the first time around - DO NOT USE THIS IF YOU INTEND TO GO BACK AND REATTACH THE BIAS TAPE PROPERLY LATER OMFG. They mean it when they say that it's permanent! I had to throw out all of the bias tape and start over because when I got it off the blazer I ended up having it totally tangled and gross. Even after soaking the blazer in detergent, it's still sticky. YUCK.

I couldn't decide if the pants had a crease in the middle or if that was another seam. Even the Dreamy Theatre PVs are inconsistent with lighting, and parts that I KNOW are seams in the blazer sometimes look like the crease in the pants. So I decided to be eccentric and go with seams for the revamp! This also took in the pants a bit, which was sorely needed, as the first time around I made them HUEG and they kept falling off of me.

I also took the blazer in at the sides so I need to remake the sleeves.

Personal Thoughts:

This was a super quick decision to wear to Otafest Aurora's gala. I made the first version in three days on little sleep, but I'm revamping it for Aurora 2013!
Wig Details
Wig Brand

Wig Name

Original Color:

Slate Blue

Styling Time

1hr

Wig Quality Rating

4 / 5.00
Styling Notes

Cut and styled super-quick the first time around! I think I cut it a bit too short, bleck
Add a Comment