Most Recent Photo

Series

Character

Special Variation:

Group

Year Completed:

2012

Construction Difficulty:

Normal

Awards

Runner up Original Design @ Ohayocon 2012

Costume worn at: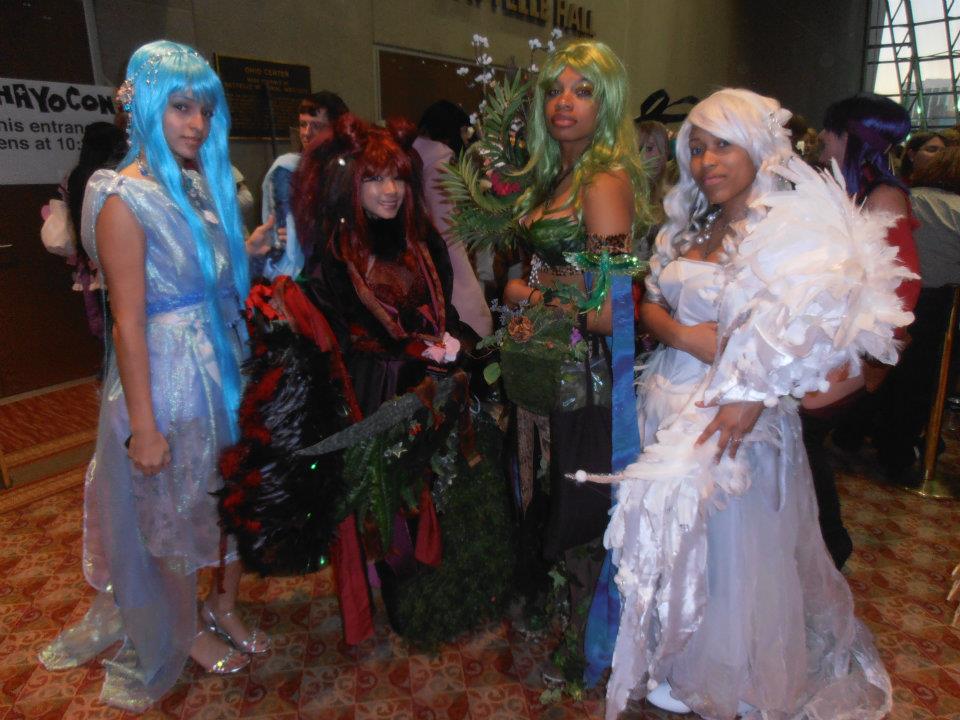 About this Costume
Construction Details:

I created three outfits and then I helped with the fourth. I based each outfit on plain elements. Watching Avatar: The Last Airbender gave me a lot of great ideas.

Fire: This was my costume. I decided to have a longer tail than the rest of the girls. I choose the main colors as dark and not the tradition orange red yellow. I butchered an old Halloween red horned wig. I didn't like the color so I sharpy dyed it about four shades darker with black. I designed extra feathers and bells to go in my hair for the aesthetic of crackling embers.
My outfit was a basic kimono bird wing design with multiple layered obi. I used black feathers with tinsel for my wings with draped scrap material.
I decided to use tights on my legs with an intricate design to emulate burnt wood or the sort. I like my boots. XD

Wind/ Air: I decided a corset for the top. It has two sections that lace up. I used a super long multi-tiered skirt to make it more along the lines of clouds. Air doesn't really have colors (unless Pocahontas says so) so I went with shades of gray. I made an illusion necklace for scattered clouds. I used the Arda Wig Claudia in Silver or Pure white.. can't remember, and added a garland of pearls with extra tulle for "wind".
The wings were made of pure white turkey feathers, extra white material (costume satin), and pom poms with rhinestones.

Water: This costume I wanted real WATER in it. The wings and the tail have real water in the pipes. I don't think I could have real fire in Fire's outfit. Sadly... ANYWAYS. Water's design was based off of Poseidon and Ariel from the Little Mermaid (Disney version). I used organza and sequined fabric. I added beaded fish to the side of the dress and an extra beaded wrap to go around the waist. The top sleeve parts are also ribbon tied.
I used glass beads and seashells to make the headdress and jewelry.
The wings were actually made of table cloths so they would flow more than Air's design. I didn't want to use the same material for all wings. The bone/meat portion of the wings actually have piping and water in them. Kinda helped them bounce when walking.

Earth: I helped with beading the top and the wings. I helped attach the tail. All pieces were gathered and helped put together. With leaves

Personal Thoughts:

I wanted a group. I asked my friends to model for me. My own friend got excited and decided to make her own matching outfit. I still said I would help her out if need be. :D

A personal goal was to not buy anything. LOL I had to buy a few things for water though. I had to play with that one a lot.
I kinda succeeded. All these materials used to make these outfits were bits and pieces of older scraps or parts of stuff I didn't use anymore. Either way I only really spent a minimal of 40 on extra pieces.
Add a Comment