Cosplayer NyuNyu
> Costume of Olivier Milla Armstrong (FullMetal Alchemist: Brotherhood)
Most Recent Photo

Series

Character

Year Completed:

2012

Construction Difficulty:

Difficult

Costume worn at: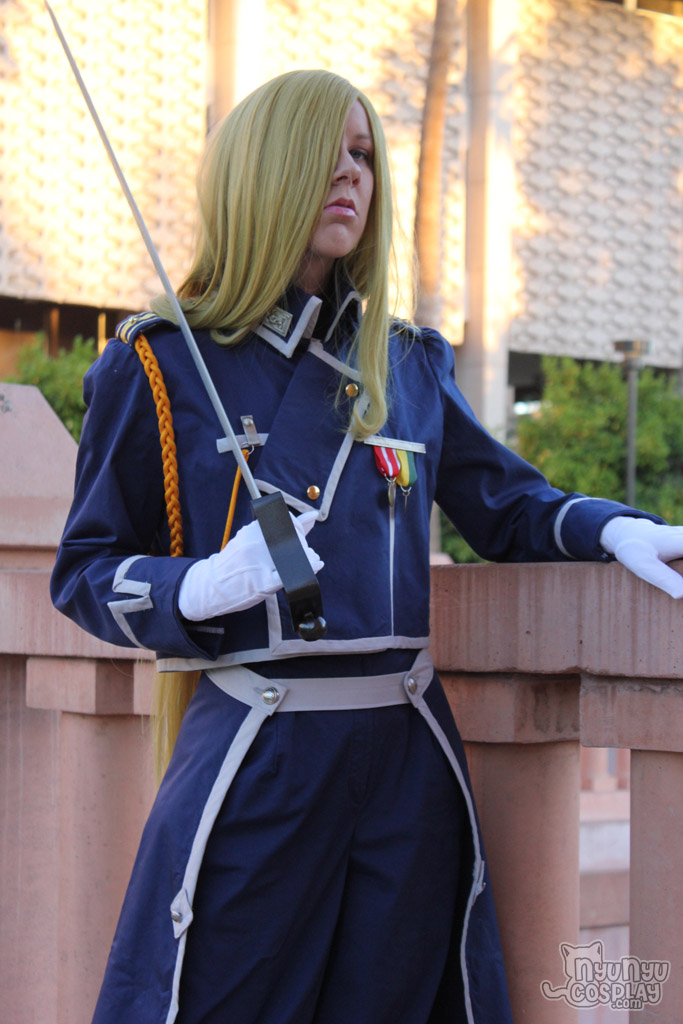 About this Costume
Construction Details:

Military uniforms are not the easiest thing to make!

I made a short sleeved turtleneck for underneath from black spandex fabric. The jacket was the most difficult - all of the blue is a nice twill. I realize it should probably be wool, but I am from Phoenix, so this is more practical. I pretty much drafted it myself. The trim is done in matte grey bias tape, as I can't stand the shiny vinyl everyone else uses. The pins on the collar are official ones my friend bought for our group (that hasn't happened yet...) I just changed the backings to military style ones. I custom made the ribbons for her medals. The gloves and gold cord were from a Parade store. The buttcape was the easiest part to draft and make, and buttons closed around the pants waistband. I really hate my pants and plan to remake them. I am really proud of my second ever zipper fly, but they are so HUGE. Her pants ARE huge, but they are just so unflattering that I plan to remake them fitted. =/ The boots were tough to find, but I did finally snap up some black riding boots from an Ebay seller. I made a vinyl piece padded with craft foam, and attached that to the top of the boot with velcro.

Sword was a gift from my boyfriend. The blade is wood coated in fiberglass resin, and the hilt is PVC pipe and plexiglass. I did draw out the flower design that was carved in and painted the sword, but that's all I can take credit for. What a sweet gift! He also made the ribbon holder and punched out my medals.

Personal Thoughts:

I'm glad I made this costume even though she is super out of character for me! I feel super badass. BRIIIIIIIIIIIGSSS!
Wig Details
Wig Brand

Wig Name

Original Color:

Honey Blonde

Styling Time

30 minutes

Wig Quality Rating

5 / 5.00
How was the wig colored?

N/A

Styling Notes

Mainly I just added the curlie cues to it with hot water/hairspray and set the part with hairspray. This was a pretty easy wig to style. The hard part is keeping it nice during the day because it's so LONG!
Add a Comment