FOR SALE ( Only)
Minimum Price: $400
Will fit a size 6-8. Everything is included (including shoes and wig and spear), except for the black thigh highs as I do not have them anymore. The spear needs a little fixing up as it got damaged slightly in transit.
Most Recent Photo

Series

Character

Year Completed:

2012

Construction Difficulty:

Very Difficult

Awards

Second Place Master Craftsmanship Anime Boston 2012 Hall Cosplay Contest

Costume worn at: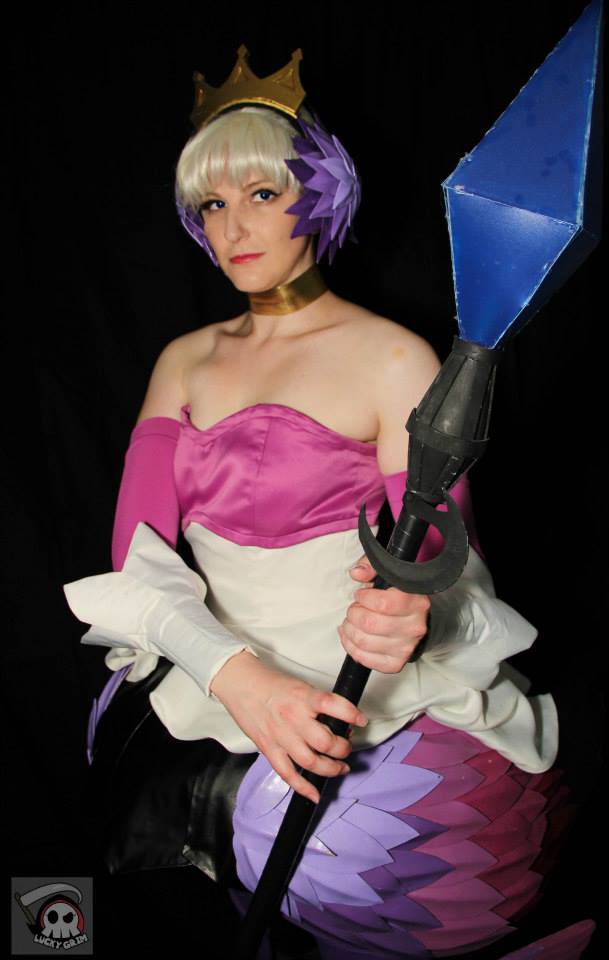 About this Costume
Construction Details:

All of the armor and feathers were made from craft foam, shaped over a gas stove. There were over 200 individual pieces of craft foam on this costume! Each piece of craft foam was painted with modge podge, then a few layers of acrylic paint, and then a layer of modge podge mixed with a little gold (for pink colors) or silver (for purple colors). The shoes were also covered with craft foam, and painted black.

The petal skirt was make from pleather, and underneath was a three circle hoopskirt. Each layer of the hoopskirt was make of two layers of wire covered in electrical tape, and then stitched into black grosgrain ribbon.

The bodice was made of white peau de soie underlined in twill for support. I made an underbust corset which shapes the bodice (which is not boned) and supports the skirt and wings.

The earmuffs and crown were mounted onto a headband that I covered in black fabric, and is not attached to the wig. I first tried gluing snaps onto it and attaching it to the wig, but it did not have enough structure-the headband really fixed this.

The arm petal things are made from two layers of the peau de soie, with interfacing in between, and attach with an invisible zipper. The armsleeves are made from a pink spandex that I was lucky to find in a similar color to the pink contrast on the bodice.

The base of the prop was made by a friend of mine, who mounted the hardware onto the top to support the crystal, and the bottom to support the bottom piece. She also rigged the LED strand that lights up the crystal; the hardward is hidden in the top cone, which is made out of a simple clear plastic cone I found at Michaels. The switch sticks out through a hole in the cone, and is very inconspicuous. The bottom of the staff was made from paperclay.

The wig is a base wig which has a stubbed ponytail and an odango bun, surrounded by a braid made from hair extensions.

I think that's pretty much everything-if anyone has any questions let me know!


Personal Thoughts:

My first solo craftsmanship award!
Add a Comment