Most Recent Photo

Series

Character

Year Completed:

N/A

Construction Difficulty:

N/A

Wig styled by

Prop made by

Costume worn at: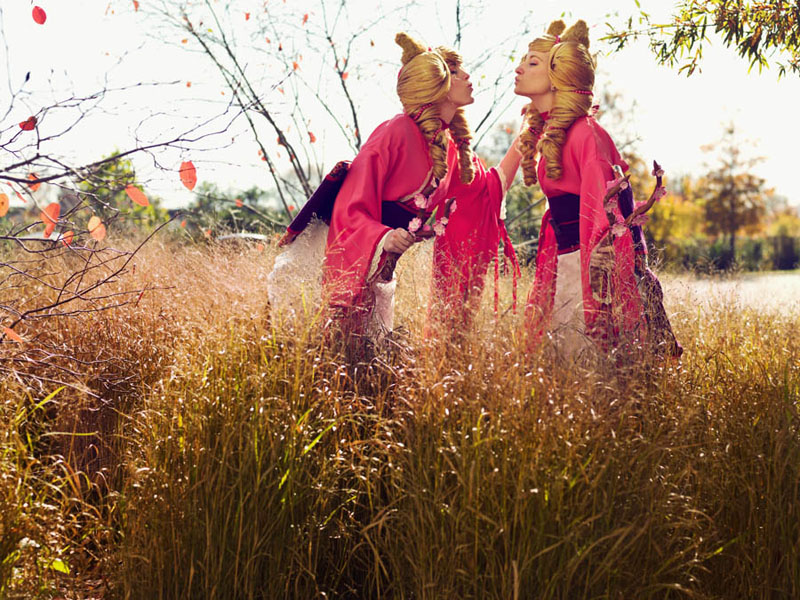 About this Costume
Construction Details:

The costume was done by myself and man did this baby take awaile. The kimonos were just a regular kimono pattern from simplicity and are fully lined with red polyester cling-free lining and everything else was made from a deep pink rayon. When Koi and I went fabric shopping, we decided that the deeper pink just looked better with our skin tone then the lighter (more accurate) sersion of the fabric. And I feel like the photos look much better since we dont look so washed out (like the lighter pink would have done). Bias tape was used around the edges and the scalloped trim on the sleeves and collar was some old trim that Koi found and I was wable to use on the kimonos :D Our socks were initially made by me but after a while we switched to a pair we bought. The zori we made by reusing some old sandals we had. the apron was just a simple apron pattern we modified to get a better shape and then we each hand sewed the ruffles onto the apron.
Wig Details
Styling Notes

for all wig details see Koi-ishly XD she made them. for details you can see her deviantart tutorial- http://koi-ishly.deviantart.com/gallery/#/d3aebi1 or her tumblr entry- http://koi-ishly.tumblr.com/post/6187883038/ive-done-a-progress-info-sheet-of-this-before-at for details and progress photos of the wigs
Add a Comment