Most Recent Photo

Series

Character

Year Completed:

2011

Construction Difficulty:

Awards

Judges' Award (Ohayocon 2011)

Costume worn at: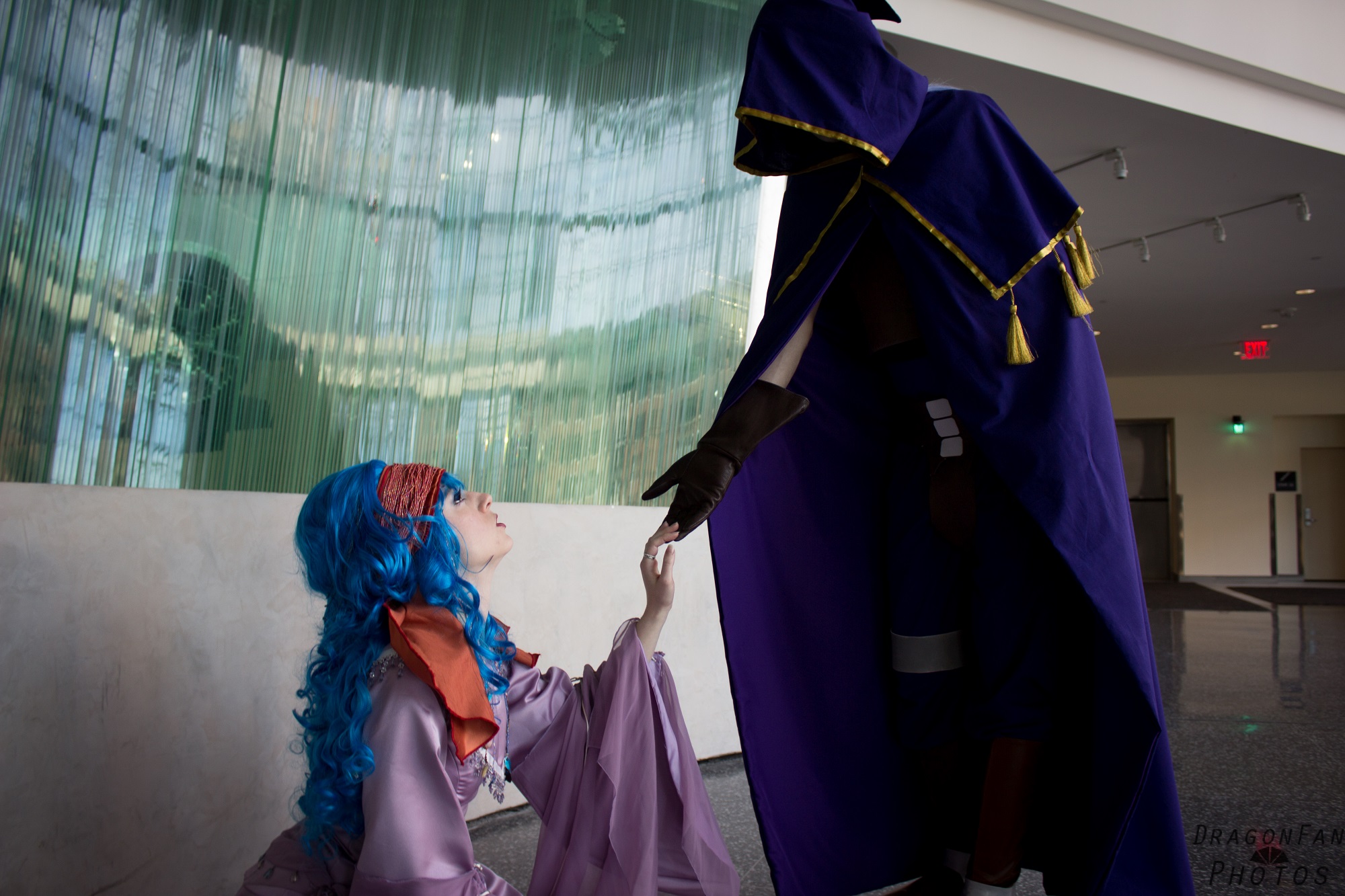 About this Costume
Construction Details:

I always have one "big" costume that I work on gradually with no deadline, and this one was finally complete after two years of on and off work!
Lots and lots of purple satin, folks. The bodice is a modified sleeveless dress pattern, the rest was all me because this dress is crazy and not exactly practical. The whole thing is lined, the skirt includes a slip to keep the underside of my embroidery safe. The beaded trim on the collar is hand sewn between two layers of silk bias tape. (I would like to add that silk makes BEAUTIFUL bias tape for anyone who is insane like me and makes their own.) In order to keep the collar in place with all those freaking beads, there are snaps on the underside that secure it to the shoulders.
The embroidery took FOREVER. I was a dumb-dumb and thought that silver metallic thread would look so great, not taking into consideration that metallic thread tends to shred as you pull it through the fabric. I don't know what I was thinking, but I'm pretty proud of the result. For those of you wondering what the heck it even is, I wanted the transportation portal's design on the back of my dress but pictures of that do not exist on the internet so I played Chrono Trigger until I got to Zeal just so I could draw the design so I could embroider it. While I was there, I decided to draw the emblems on some of the tapestries in the Zeal palace, which translated to the beads I glued to my shoes. Yes, it took a while, and yes, it was absolutely worth it.

Personal Thoughts:

I did not alter Schala's design for dislike of the original art, but rather for love of the character and for that particular part of Chrono Trigger. I'm going to be honest, I was really nervous about presenting my interpretation of Schala to the cosplay community because I knew I was taking a lot of liberties. The amount of love and appreciation I got was humbling and uplifting. I could not have asked for a better turnout. I wanted my Schala to reflect what I think the princess of an enlightened era should be--elegant, mysterious, and expensive. I took a risk and I am proud of my results.
Wig Details
Styling Notes

Styling this wig was challenging, but not as difficult as it may look. I really wanted an excuse to use a beehive style wig, but I had to tame the bouffant a little bit by sewing it down on itself. In the spirte, Schala has beautiful, long, curly hair that does not look like it is in a perfect ponytail so I decided to base my wig off of that. I wefted a few rows of blue hair and sewed them into the bottom of the wig before curling them with a dowel rod, a hair dryer, and lots of Got2B Glued hairspray. The bangs are threaded with swarovski crystals and held in place with fabritac. I strung the beaded falls with various colors that contrasted and complimented the color scheme of the costume and attached them to a bridal veil comb before sticking them to the sides of the wig. The headband pulls the hair back just how I wanted it, giving it a look like it could be a half ponytail, but not really.

Wig Review

Don't be like me and make a beaded collar for a costume with a long, curly wig. You will wreck your wig up. I've had to replace the wefts a few times because I insisted on a beaded collar.
Add a Comment