Most Recent Photo

Series

Character

Special Variation:

Priestest Garb

Year Completed:

N/A

Construction Difficulty:

Easy

Awards

Best in Show, Tokyo in Tulsa 2010 and Judges Choice, Tokyo in Tulsa 2010

Costume worn at: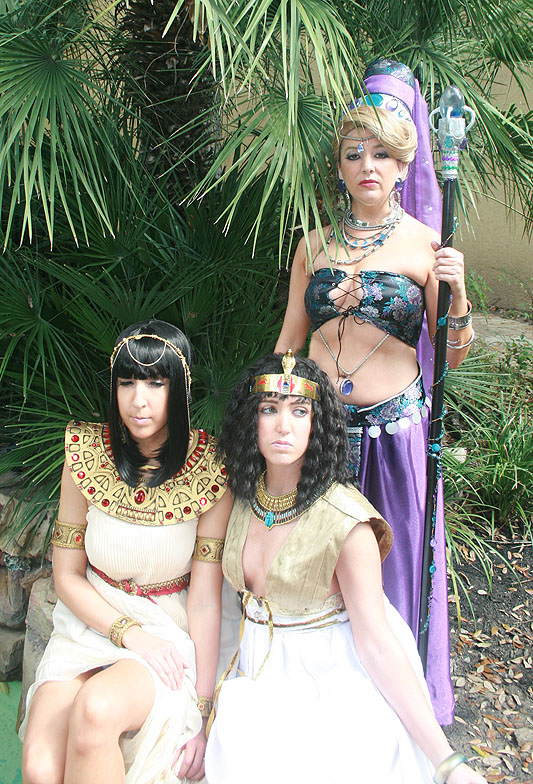 About this Costume
Construction Details:

The outfit I chose to make had not color photo's so I took artistic license with colors and chose purple and teal. The hat was made using fosshape that was sewn into to needed shape. I then fused the brocade fabric onto it. The veil was frosted chiffon, the edges were finished with a rolled hem. I used glitter glue to embelish the veil as well. The gem's in the crown, forehead and stomach drape as well as the larger ones on the staff and the ear rings I resin casted myself. The smaller beads on the staff were store bought. Most of the jewelry was store bought then modified to look like the reference picture by painting or restringing them. I used a femme fatale from cosworx for the wig and styled in the "side swoops" using freezing spray. Due to the weight of the hat and veil I sewed it directly to the wig. The top and skirt were custom drafted and sewn by using using serged seam's and lining where appropriate. I overlaid the skirt using the purple frosted chiffon to get the flowing outline of the reference pic. The belt was made using fosshape covered with brocade and lined as well. I embellished the belt using silver braid attached using fabric glue and silver coins sewn onto the lower edge. The staff was made using 3/4" PVC pipe. I painted it black, then using paper clay I sculped the top piece of the staff. I using wire core's for the claws then sclupted the paper clay around them. Once dried the clay was sealed using gesso then painted using rub n buff. I casted the egg in two halves and using a tooth pic bleeded in the pigments to give it a flamming look. I sealed the top piece and egg using spray resin.
Wig Details
Wig Brand

Wig Name

Original Color:

blonde
Add a Comment