FOR SALE (Costume Only)
Minimum Price: $80
My measurements are 34-27-36 and I'm 5'4.
Most Recent Photo

Series

Character

Special Variation:

Final Battle Costume (manga)

Year Completed:

2012

Construction Difficulty:

Awards

Judge's Award at Phoenix Comicon 2010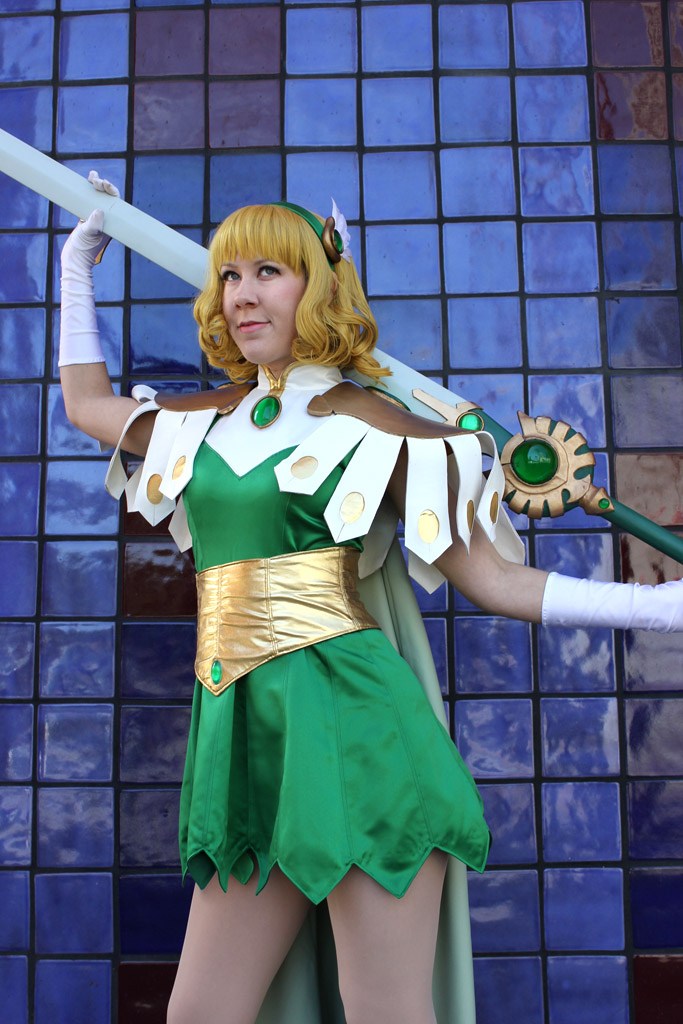 About this Costume
Construction Details:

I worked pretty steadily on this for 2 months and it was a huge challenge. The hardest part was as you can imagine the sword. It was only my second time making a prop with fiberglass resin. The remade sword was my first time working in wood.
The wig began as a shoulder length wavy wig. I had to cut in and curl bangs. I trimmed the wig shorter and curled the ends with heavy duty hairspray, curlers, pins, and a blowdryer.
The tiara was made twice. The second, improved, version is a headband base covered with a tube of green satin fabric. The gold pieces are sculpted from Paperclay, which was sealed with Mod Podge and sanded before being painted with antique gold Rub 'N Buff. The wings were made from feathers carefully trimmed into shape and everything was glued with Epoxy to the headband. Tip: Make your feathers more durable by coating them with Mod Podge!
The first version of the shoulder pauldron armor was my first experiment with Fosshape, which is an interesting but not entirely amazing material, considering the high cost. I shaped it around a foam form with a steamer. Then it was covered in a gold metallic spandex fabric. The strips hanging down were made from two layers of upholstery vinyl. It attaches with industrial strength velcro. The remade armor is 3mm craft foam, backed with fabric, and coated with a glue mixture. Then I wet sanded it to a smooth finish, finished it with the same Rub 'N Buff, and then coated it with floor wax. It is my own take on this tutorial. I don't like these either and plan to remake it out of a hard plastic!
The dress took a long time! I began with just a bodice and drafted the pattern myself through trial and error. Many seams were added for the white section and mandarin collar. The gold metallic trim had to be cut and handsewn before being carefully machine sewn. It's made from an emerald green dull satin and white bridal satin. The dress is fully lined in matching broadcloth – much of which had to be handsewn in. The skirt is actually made of 15 pieces sewn together! All the seams were carefully topstitched to lay nice and flat. The back opens with an invisible zipper and hook and eye closures.
The gems on the costume were all made from various plastic shapes I found, cut with a dremel and painted, with the exception of the neck gem, which is metal. There are Christmas ornaments, ping pong balls, earrings, and snack containers in here. The remade gems are all cast in clear cast resin, and backed with metallic scrap book paper. This made a great improvement!
The cape is about 1/3 of a circle, gathered at the top. It hooks into the armor and is self lined Casa crepe. Horsehair braid is hidden within the bottom hem to help the cape keep its shape more. Only in one illustration is it a lighter color than the dress, but I liked this contrast so I went with it.
The gauntlets are made from craft foam – same method as the shoulder pauldron armor above. They are also held onto the storebought/modified gloves with a bit of velcro.
The boots are boot covers built from white vinyl and glued down over a pump. Luckily, the artwork has a seam down the middle, so this was perfect!

The sword was the biggest part of the project. FIRST VERSION: I had never made a sword, so my friend Fuu helped me get the project started. First, I did the math to figure out how tall the sword should be in relation to my height. Then I enlarged and printed out a lifesize image of the sword to use as a pattern. It began as a PVC pipe base (I don't recommend this; use wood instead) with insulation foam over it to fill out the bulk of the blade. The foam was then sanded and carved into a rough shape. We used a cheap white foam lying in her garage, again I don"t recommend it, because resin may eat it. So, I covered the whole blade in masking tape before covering it in fiberglass cloth and resin. After this were many bouts of filling (with wood filler, body filler, Paperclay…) and sanding until the surface was smooth. The detail on the hilt was done carefully in craftfoam and paperclay. The handle was made thicker with a cardboard tube. Everything was coated in resin for durability before painting. The gold is antique gold Rub "N buff, and green and grey gloss spray paints were used. Matte grey can be preferable for a blade because metallic coats exacerbate every mistake if the surface isn"t perfect. Also, I felt the gold should stand out on the costume and not silver on the sword, so grey was the best choice!
SECOND VERSION: I kept the hilt from the first version, and replaced the gems with clear cast resin ones. I did some touch up detail filing/sanding, and gave the whole thing new paint. The blade was remade out of wood with much help from Sam. Sam figured out the mechanism to break the seven foot sword into 3 parts so I can actually transport it. It was made from pine. I figured out the proportions, he cut out the basic shape for me at his studio, and we carved and sanded the shape out. Then I had to spend a lot of time with wood putty, primer, and sandpaper to get it smooth before giving it a matte grey coat and assembling the prop altogether. I am very proud of this new sword!!

Personal Thoughts:

Why do I torture myself!? MAGIC KNIGHTS!!!
Add a Comment