Most Recent Photo

Series

Character

Year Completed:

2010

Construction Difficulty:

Easy

Costume worn at: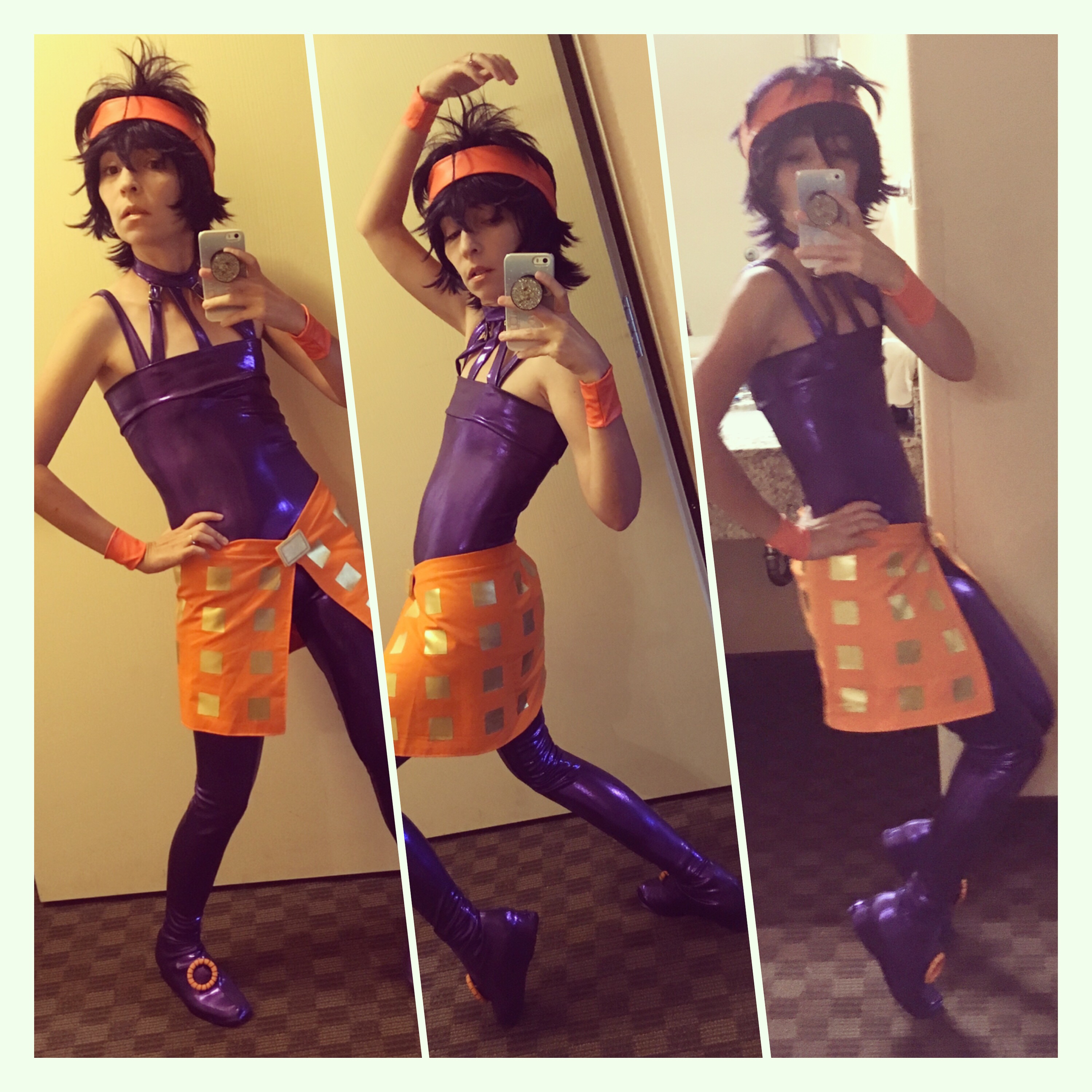 About this Costume
Construction Details:

Completed September 2010 MOAR JOJO COSPLAY. The main fabric used for this costume was a four-way stretch metallic spandex that I found at the local Sewing Studio. It called to me with its sparkles and gaudy sheen. I much prefer the purple and orange color variant to black and orange, because I adore the color purple, and to me black and orange just screams 'Halloween'. The 'jumpsuit' was very easy to make, there was just one piece of fabric used for the entire bodysuit, plus the band for the topmost part and all the straps were separate pieces. It was mostly serged together, and also zig-zag stitched together on the machine for the smaller straps and finishings. The straps were handstitched on carefully to the cooresponding pieces. The collar piece snaps in the back. I used an orange vinyl for the butt skirt, armbands and headbands. Probably my least favorite part was having to apply all the wacky designs to the skirt piece, it took forever! I had to layer up the gold paint about 5 times for it to be opaque enough, though the black went on much easier. I think next time I try something like this I'll just applique as usual. I basically made myself a stencil and went to town using some very thick acrylic-based paints. The belt was made from scratch with leather and painted, the 'buckle' is made out of Paperclay but is purely decorative, as the belt actually snaps in the front. The headband is just plain weird in that it is actually branched out into three separate headbands, using stretch vinyl for this really helped so it would fit nice and snug and not fall off. I bought some loafers and made shoe covers over them out of the metallic spandex to blend into the main outfit. I then simply added the ring and strap accessory, which is pretty pointless but there's always pointless accessories with JoJo characters. The wig was purchased, I had to dye it using the Sharpie and rubbing alcohol mix method so I could make it a darker shade of purple to match the main fabric. The wig was then styled just a bit to imitate Narancia's slightly mussed hairstyle. I thought it was important to make sure I got that incorporated into the costume because it gives character to Narancia.

In 2019, this costume got a revision because all of the pieces with the orange vinyl literally died (got sticky and started to 'bleed' orange onto other things, yikes), and I still love wearing this costume and with the new anime adaption, I decided to give it an upgrade!

Personal Thoughts:

JoJo has quickly become one of my loves. Part 5 was fun to read because I'm Italian, and the characters are Italian and the setting is Italy. Narancia is a lot like me, too (we are both terribad at mathematics and dealing with numbers, we love music, and we are sometimes indecisive and get stressed easily), and he was the shortest one in Passione so it made the most sense. Oh, and his stand is Aerosmith, and Aerosmith is totally awesome in my book.
Add a Comment