Most Recent Photo

Series

Character

Year Completed:

2008

Construction Difficulty:

Easy

Costume worn at: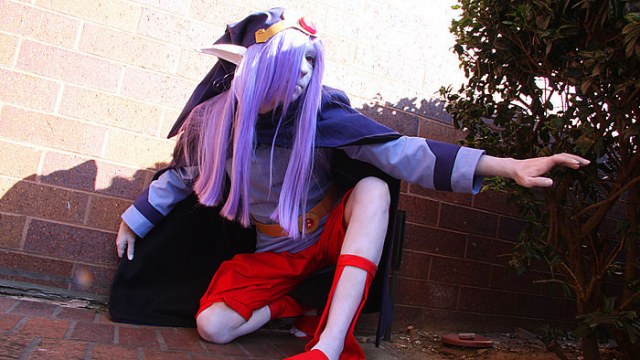 About this Costume
Construction Details:

Completed September 2008

Vaati is my favorite character, but I put off cosplaying him for over a year. I went with the color scheme from the official art, not the in-game sprite - the most notable difference is in the sprite his skin is pale blue, and in the art it's a very subdued shade of purple, almost white or greyish. The fabric selection took some time, as I wanted colors that looked good together and were accurate to the art, and Vaati has some strange shades going on. The cape is fully lined, and all of my seams are finished using my serger. I custom-blended make-up colors to match his very light purple skintone. Sandals were pattern drafted from scratch and I tried my best to match how they look in the art. Pants, tunic and cape were heavily modified patterns, adjusted to match his clothing. Custom-drafted pattern for Minish cap. Athena-chan casted the resin gems, which I backed with foil for the belt and Minish Cap. Ears were custom painted to match the color of the body make-up. Used real leather hide to make the belt. The wig was custom dyed and cut to the right length for Vaati. I was very conscious of where his hair, tunic, and cape ended in the art and did my best to replicate the lengths ending in the right place to my body proportions, and the belt being low on the waist like his is. Basically, a simple costume with alot of tweaks to make it accurate and fit properly. The most time-consuming part was the applique around the sleeves, which I did a satin stich around the border of it by hand (I've since learned to do this on machine, lol). It took time but I love the result, though it's a minor detail and even I forget it's there! This was also my first time ever dealing with body make-up, and since I rarely even wear cosmetic make-up it was a challenge to get it to look good, and I had some help from my friend Andrea (IchigoKitty). Thank you Andrea! :D

Personal Thoughts:

This costume is always interesting to wear, I seem to get a lot of hugs when I'm cosplaying Vaati! I wish I could wear it more often - in fact, I have yet to wear this costume in Florida, where I live, mostly because of concerns with the humidity making the make-up crack.
Wig Details
How was the wig colored?

Katie Bair's Wig Dye

Styling Notes

Wig was a violet Ivy wig dyed to be less of a radiant purple and more of a subtle tone with blue dye from Katie Bair's Wig Store.
Add a Comment