Most Recent Photo

Series

Character

Year Completed:

2013

Construction Difficulty:

Difficult

Costume made by

Wig styled by

Prop made by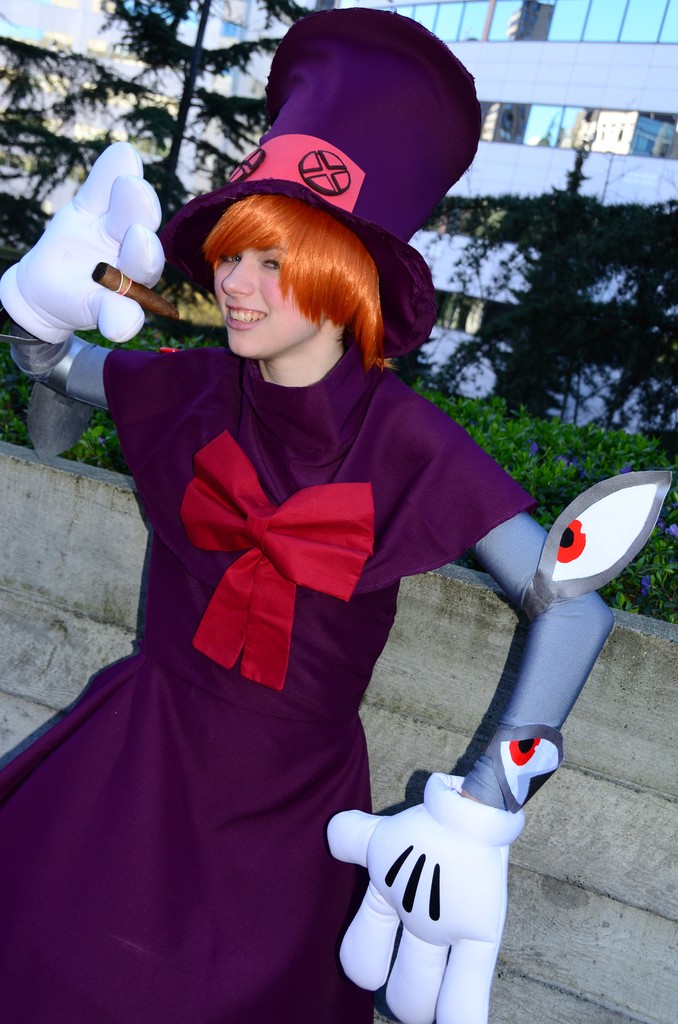 About this
Construction Details:

The hat was crafted with posterboard, craft foam, thick wire and fabric. I followed a mad hatter tutorial in hopes to get a unique shape like her hat is, and halfway succeeded, but definitely plan to remake it in the future. I had my friend Anna help me pattern the top collar bit and I even added the big red buttons to the back that are only really shown in game. The dress is two pieces, and the skirt was the most time consuming as my friend and I slaved on the kitchen floor on the hottest day of summer trying to pattern it out to match the size/shape of my hoopskirt. The white 'scallops'/lace shapes at the bottom were all cut out and individually sewn, then all sewn onto the dress. This was probably the most annoying and tedious part as there were about thirty of them, but at least I got the look I was hoping for! My boyfriend Earthbounder gave me the idea for the cartoony looking feet; big round slippers covered by two pairs of black nylon tights/thigh highs so that the detail of the slippers was hidden minus the rounded shape I wanted. The gloves were just Mickey Mouse gloves off Ebay, and I bought some silver-grey spandex/lycra for the 'arms' and then for my first try at the Argus eyes, I just used craftfoam and attached them with velcro because I was in a hurry. For Sakuracon I remade them with Wonderflex, however, I lost one in my hotel room so I just went out with four Argus eyes instead of six to avoid looking janky with just five or none. My favourite part is the cigar I got to carry around; my friends bought me a real cigar that we smoked halfway down so that it looked used and more of the shape of Peacock's. I wore a binding shirt underneath it all which was very warm and uncomfortable but more believable (plus I couldn't get the dress on with my bra, haha). I eventually plan to invest in the black sclera lenses or at least some big creepy black lenses but for now I'm a little lost on what to do for makeup so I did just what I knew. I really love this character and plan to remake parts of it until I'm completely satisfied!

Personal Thoughts:

Peacock is such a lovable character and there aren't nearly enough cosplays done of her! I wanted to cosplay her and do my best to make it as accurate as possible without the sacrifice of my limbs.
Wig Details
Wig Brand

Wig Name

Styling Time

N/A
Styling Notes

I'm actually unsure of whom I bought the wig from as it was just a medium orange wig I bought off ebay for a Misty cosplay several years back! I just took out the ponytail to wear it for Peacock. My first time wearing Peacock at PAX I just wore my boyfriend's old Scott Pilgrim wig.
Add a Comment
Photos
This costume is still waiting to be approved by ACP Staff.