Most Recent Photo

Series

Character

Special Variation:

Celestial Armor

Year Completed:

2012

Construction Difficulty:

Very Difficult

Costume worn at:
This Costume has been retired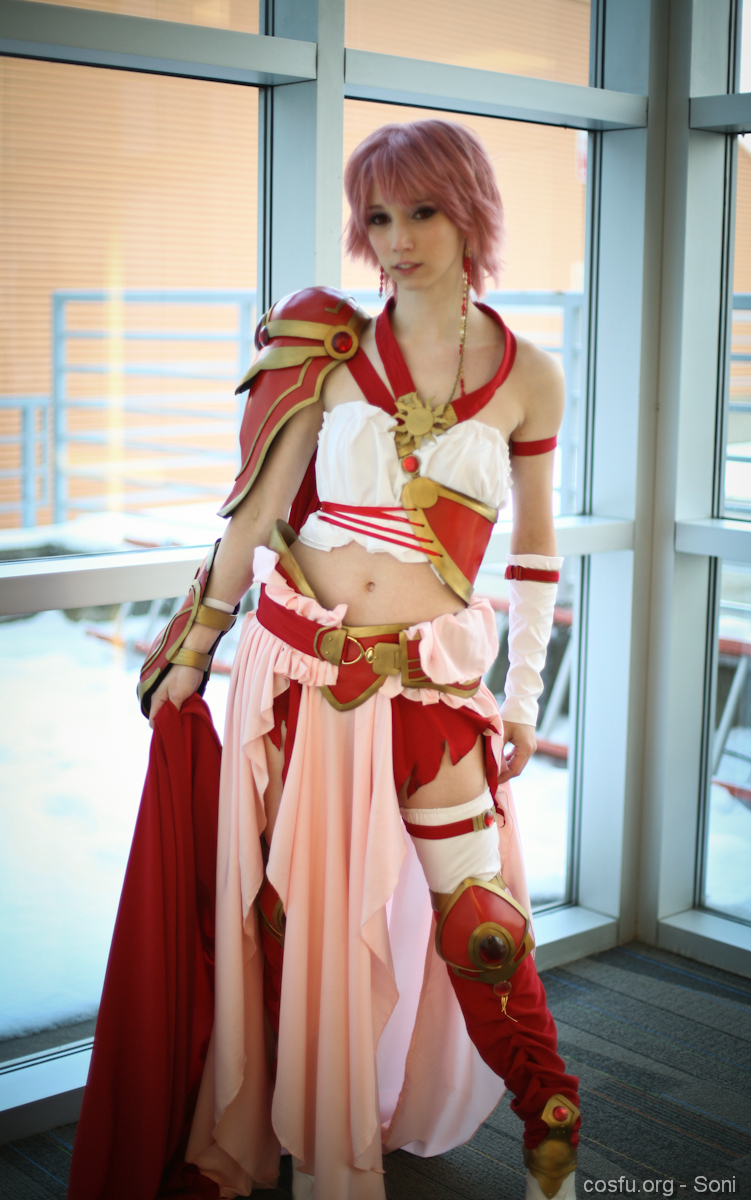 About this Costume
Construction Details:

So for all the material portions of this outfit Tiff and I opted to make our tops with a white posh lining, the skirting a custom dyed light pink and light blue posh lining, and the underskirt and my cape the rich colored blue and red baby silk. Not much really in construction on these parts, just a lot of draping. The main piece of this costume is the armor. Oh Gawd! I'm so thankful that my brother was around to help brainstorm the construction on these. All the armor pieces are made out of fiberglass covered in bondo. For the flatter base pieces I was able to get away with using a thin cardboard, similar to cereal boxes but in large flat sheets, that were just cut to the desired shape and then covered in 2 or 3 layers or paper mache. This was just to make them a pit stiffer and help to keep their shape for when I fiberglassed them. The round pieces though were carved out of pink insulation foam and then covered in painters tape. I used painters tape because the wax on it allows easy peeling for when getting rid of the pink foam base. At first though I tried using plain masking, but it stuck to the fiberglass when I took the pink foam out. So lesson learned there. I advise anyone who does any fiberglassing or bondo-ing to stay in a VERY ventilated area that has a controlled temp. Too much heat and the chemicals in the fiberglass react too quickly, so 15 minutes of work time turns to 5 minutes. Not fun. And too cold can cause curing problems and what not. The bondo doesn't have as extreme side effects due to heat or cold, but working in a controlled environment helps. After applying the bondo there was a lot of sanding. Then multiple layers of paint were applied. Red vs Blue on the grass anyone? All the gold details were made out of craft foamy that was just glued on top and painted with multiple layers of gold acrylic paint. And then another first happened… Resin Jems! Tiff and I went through a lot of experiment batched with these jems to get them the way we liked. Resin casting is easy, but making or finding the molds and then releasing it from the molds can be extremely difficult.

Personal Thoughts:

I really dislike making armor since it takes forever to get to the end product. And if it doesn't work the first time you can't just backtrack, you have to start from the beginning. But I love Magic Knights Rayearth and I've always been attracted to this specific artbook image. I'm glad I did it, but I doubt I'll be doing much armor in the near future *fingers crossed* (Featured in amazing fanvideo by ackson at Ohayocon 2011 http://www.youtube.com/watch?v=oG-f_sUknLA)
Wig Details
Wig Brand

Wig Name

Styling Time

30 minutes
Styling Notes

I actually bought this wig when cosworx first came out with the scruffy wigs all that time ago. Since this was a scruffy XL I had to razor everything down and fluff it up. The braid is just a single extension added and braided in with a gold clasp.
Add a Comment