Most Recent Photo

Series

Character

Special Variation:

Neo Princess

Year Completed:

2007

Construction Difficulty:

Normal

Wig styled by

Awards

Best Accessories - AnimeSouth 2007

Costume worn at: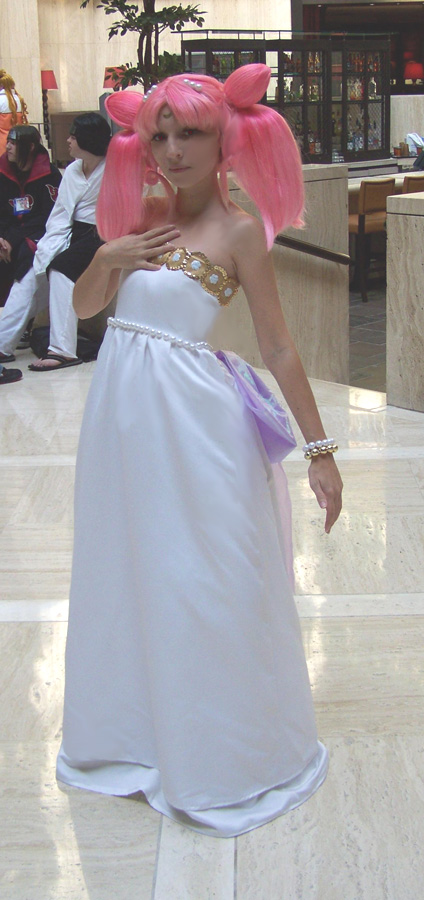 About this Costume
Construction Details:

Completed December 2007

Wig styled by SpaceInvader, costume, jewelry and wings made by me. I did some creative license on the detailing - I enjoy beading, so I did some light hand-beading around the circles that were appliqued to the dress, and for the detailing on the shoulder caps. The main dress is made out of Casa satin, I patterned it out myself. The main gown portion is gathered and is styled as an empire waist. I hand-sewed on large golden craft beads around the waist. The shoulder caps were drafted and then made out of Casa satin, I used batting and hand beaded over it to create an indented look. There are three pieces used to make the shoulder caps - basically, just two circles and a rectangle. The 'spikes' are made of craft foam. The caps attach with fashion tape. Wings are made with a copper tubing frame, and the 'guts' of the wings are made of chicken wire covered in batting. The feathers are from turkey and are hand-trimmed individually to be sharp pointed. I used a feather boa for the top of the wings, and downing feathers for closer to the top, the same look as on a real bird. The wings attach with a built-in harness. The pearl barettes were made by gluing together three large crafting pearls and attaching them to barettes - they clip onto the wig.

Personal Thoughts:

The wings are incredibly painful to wear. This costume was pretty hard to move in, I had to sacrifice a few things on the costume as it is (like making the skirt portion not as wide or detailed as I'd prefer)to try and make it more comfortable. This is something I may re-make in the future.
Add a Comment