About This Event
Event Date

12/15/2012

Volunteer Access

This event is finished, no volunteers needed.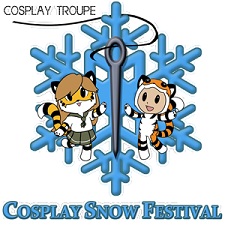 Description: RIT Cosplay Troupe is hosting a winter cosplay festival celebrating cosplay and the coming snowy season. This mainly came from the community's call to have more cosplay events around Rochester, especially during the winter months. Another way of putting it is we are hosting our very first cosplay convention.We would like to try and emphasis winter based cosplays and the sharing of knowledge within the craft. Cosplay combines many aspects of both art, crafting, along with performing.

We are creating a large cosplay meetup environment with a dance at the end of the day. We will be having Panels and Games along with a masquerade/cosplay contest. We are looking into getting some guests as well. If you support this event by coming you are showing us that you want more and will be able to put on more that are bigger and better.

So tell your friends, and spread the word. I look forward to seeing you December 15th!
Location: The Festival will take place on December 15th from 10 am until 11 pm. It is located on Rochester Institute of Technology's campus inside the SAU/Campus Center

Website: http://www.rit.edu/cosplay/snowfestival
Volunteer Info: If you would like to help out as a staff volunteer.
http://www.rit.edu/sg/cosplay/snowfestival/volunteer.html

Those who do 2 shifts of Panel and or Staff work will receive a full admission refund. (A single shift of Staff work is 2 hours.)
Recent Videos
The following videos have been linked to this event.