About This Event
Event Date

03/23/2012

Volunteer Access

This event is finished, no volunteers needed.

Series Linked: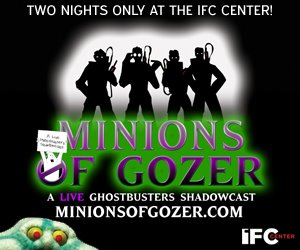 Description: While honoring traditions built by Rocky Horror fans across the world, the Minions of Gozer bring a twist to the art of the shadowcast, with a show chock full of all the Ghostbusters moments you?ve never actually seen but always wanted to. Like the time that Egon tried to drill a hole through his head. The undersea, unexplained mass sponge migration. And even Louis Tully?s high-speed workout. No scene is too big; no unseen scene is too big! The Minions of Gozer are ready to entertain you!
Location: IFC Film Center
Volunteer Info:
Recent Videos
The following videos have been linked to this event.