4/11/19 - We're continuing to fix errors related to the server migration, but we see some people able to upload photos again. If you see a page display an error, you may want to refresh it once or twice, as there seems to be caching enabled on the server side.
Cosplayer Thia
> Costume of Jade Harley (MS Paint Adventures / Homestuck)
Most Recent Photo

Series

Character

Special Variation:

God Tier

Year Completed:

2011

Construction Difficulty:

Easy

Costume worn at: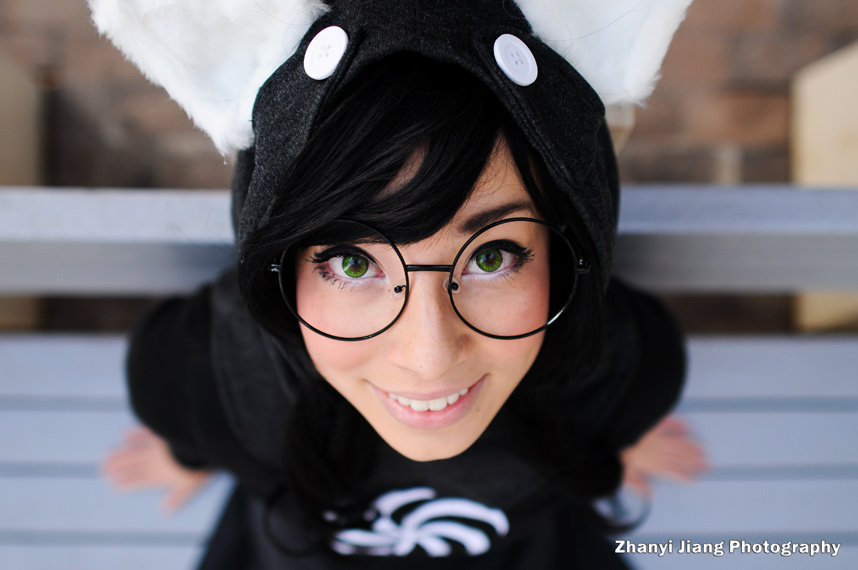 About this Costume
Construction Details:

The top is made of black fleece; the space symbol is appliqued on. I loooove applique.

The hood and skirt are made of a charcoal grey sweatshirt knit that I found in the NYC fabric district. The hood took a lot of trial-and-error patterning in muslin, and I owe a big help to tumblr user everyonesahero's tutorial! It drapes really well and I'm very happy with how it came out.

The ears were really simple; they're just faux fur glued onto a craft foam base and attached to a black headband, worn under the hood. The ones in these pictures are actually a replacement made at the last minute because I realized on the way to the con that I had forgotten my original pair!

I bought the glasses online and knocked out the lenses to avoid glare in photos; the green contacts I already had. The tights are actually over-the-knee socks from Sock Dreams and are the perfect light/dark grey stripes. The shoes were Dorothy costume shoes bought from a Halloween store; I ripped off the small bow on the toe.
Add a Comment