Most Recent Photo

Series

Character

Special Variation:

Shadow Princess

Year Completed:

2013

Construction Difficulty:

Difficult

Awards

Best in Show - FanimeCon 2013

Costume worn at: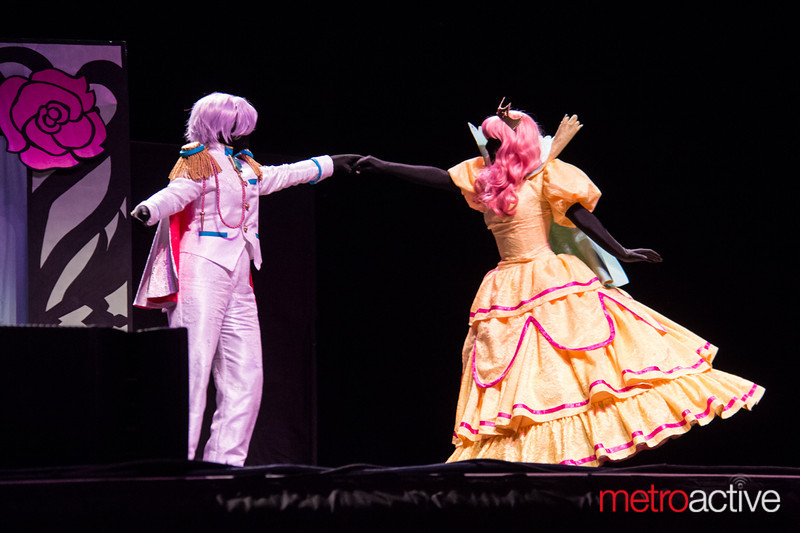 About this Costume
Construction Details:

So, I've had many conversations with many of my friends about Disney princesses. The conversation inevitably ends with me saying, "I'd love to be a princess one day, but I just don't like ANY of Disney's designs... I just want to be a princess in a ridiculous cupcake dress!"

After a while, I realized this was probably never going to change. The design is always too boring, a style I don't like, a color I don't like, or a princess I'm not crazy about. But I wanted my cupcake dress! My friend Sumikins had made Utena's manga uniform variant for Katsucon the year prior, and it got me to thinking... "Wait, didn't Utena have a princess dress in the shadow flashbacks?"

Yes, yes she did! And it was JUST the perfect combination of pretty, ridiculous (i.e., pretty ridiculous), and cupcake. I immediately had my heart set on this dress, though I didn't know exactly when and where I would want to debut it. I expressed my feelings to Sumikins about how I'd finally found "my" princess that I wanted to do and she got SUPER excited and said if I made the dress, she'd be Dios with me! After much plotting, debating, and consideration, she reluctantly asked me to make the dress for Fanime 2013, which, at the time, was only 2-3 months away, which left me with significantly less time than I typically have to plan and collect supplies, much less do both of things on TOP of making a whole new (large) costume. CHALLENGE ACCEPTED.

I immediately started looking around for the fabric and wig I wanted. Luckily, I had been thinking about a regular Utena cosplay for some time and had already picked out Arda's rose pink for the color. The Luthien was perfect to trim and style into the shadow princess variant, so picking out the wig was quick and painless!

I had originally wanted a yellow rose jacquard/brocade fabric for the dress... But after I looked for 2-3 weeks and didn't even find anything REMOTELY close to what I wanted, I started to get worried I wouldn't find anything I liked. Sumikins suggested if I couldn't find a textured fabric I liked, I should make my own... By doing a lace overlay on top of a flat fabric. I wasn't so sure how I felt about that idea at first, but when I saw JoAnn's Casa Collection was 50% off, making the fabric only $4 a yard (plus my employee discount), I realized there was no way in high heaven I'd find a deal better than that on the ridiculous amount of yardage I needed. (12 yards of each, by the way... And I used every single bit of it!) With that, I had my biggest hurdle out of the way. Once I had my yellow beast on the way, I hurriedly collected the rest of my materials; fuschia rose brocade, which I cut into strips and hand-made the bias tape for the entire dress, about 20 yards of it! (Just took one yard of the brocade to make that much too, whew!)

I patterned out the bodice of the dress by Frankenstein-ing a few patterns I already had together, enlarging the sleeve to almost the size of a decent skirt, and altering the bodice to be two pieces instead of one for ease of washing and to get the bottom half of the bodice to match the fit of the custom corset I made to wear underneath the dress.

I already had an A-line Civil War hoopskirt I'd used for Shaman Nina, so to make the top of it fuller, more cupcake-like, I bought 25 yards of netting and hand gathered it into a few layers of tight ruffles onto a wide waistband. Once I had my "cupcake topper" completed, I started the fitting and layering of all my skirt pieces.

The skirt is in two pieces, the top piece being the part with the petals/scallops, and the bottom being a full skirt with a large center ruffle and the shorter ruffle at the bottom. For each and every piece of yellow in this costume, I first cut out the satin pieces, then I laid lace over each piece, pinned it as well as I could, and basted all of it on the edges. I ironed each piece with its lace before any sewing so I could make sure everything laid nicely once it was complete.

I simply top-stitched all of the bias tape in place and finished the bottom of the ruffles by facing them with matching ribbon, since I liked the look of that much more than simply serging it then turning it under.

The collar has peltex super stiff interfacing inside and the collar and cape are both lined with a beautiful mint colored silk-textured taffeta. I hot-fixed and E6000'd rhinestones across the top instead of doing an eyelet because I wanted to dress it up (no pun intended) a bit.

The crown was made from a simple piece of Worbla. I cut out and figured the shape with some posterboard, then after I cut out the Worbla piece, I used puff paint to put all the raised designs on it, and a few extra rhinestones for some extra OOMPH, using Sumikins' Mytho crown as inspiration. I also made the prince's crown so we would both match.

Fun fact: The fuschia rose brocade I used for my bias tape is also used in light pink for the inside of prince Utena's pants and sleeves, and in red for Dios's cape lining! Tokidoki Loki and Sumikins each made their own outfits.
Add a Comment