4/11/19 - We're continuing to fix errors related to the server migration, but we see some people able to upload photos again. If you see a page display an error, you may want to refresh it once or twice, as there seems to be caching enabled on the server side.
Most Recent Photo

Series

Character

Special Variation:

Magical Girl

Year Completed:

2011

Construction Difficulty:

Difficult

Costume worn at: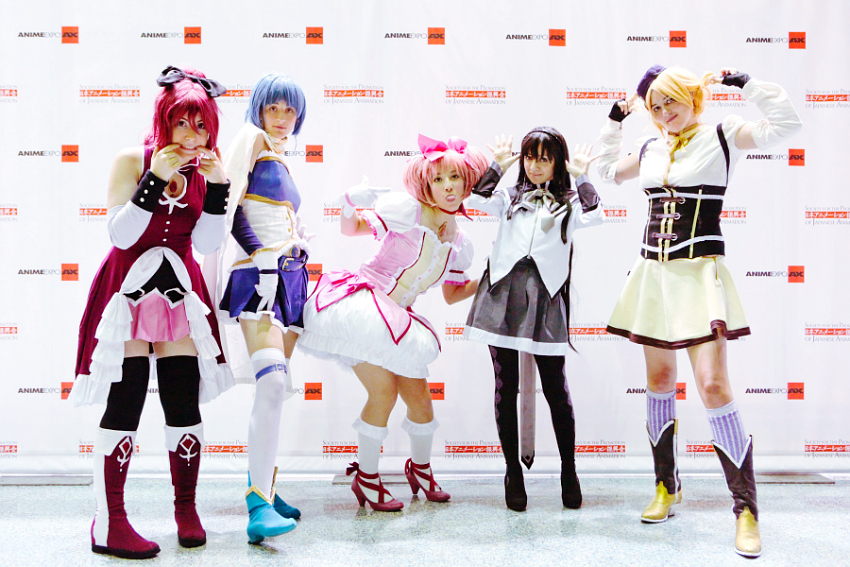 About this Costume
Construction Details:

The dress was patterned from scratch. Pretty much everything is cotton or cotton sateen. The bodice is 6 pieces with the heart cutout in the back. The zipper is invisible and hidden in one of the side seams. The sleeves are one of my favorite parts of the costume -- I'm really happy with how they turned out with the poofiness and the layers.

The skirt took a lot of math to get the right proportions, and is more or less a circle skirt with 6 petal pieces cut out. The trim is bias tape and the white details are painted on. The bows are removable for ease of storage/washing.

The underskirt is cotton sateen and is gathered at both the top and the bottom with ~5 petticoats stuffed in to create the cupcake shape.

The hairbows have clips attached to the underside so they clip directly into the wig above my ponytails. The neck bow is cotton and snaps on in the back. The socks were bought and I added a ruffled trim to the top. The shoes were black heels that I painted to match the maroony-red of her outfit; the ribbons are glued into the shoes and tie in bows at the back. I altered an existing pair of gloves into the proper shape and topstitched on the pink trim.

The soul gem was made by the wonderful kitsch, who did all the gems for our group! It's resin cast on a gold-painted clay base and attaches with spirit gum.

For more shots of this costume, check out our Madoka Magica cosplay music video: http://www.youtube.com/watch?v=QWp4YR3R1Hk

Personal Thoughts:

I wore this with an amazing group at AX 2011 and we filmed a cosplay music video, which you can watch here: http://www.youtube.com/watch?v=QWp4YR3R1Hk

I fell in love with Madoka Magica right away and knew I had to cosplay from it. Madoka's character really resonated with me and her design is just adorable. This costume is one of the more complex things I've done just in terms of all the little pieces, and while it was definitely a labor of love I couldn't be happier with how it turned out.

Add a Comment