Most Recent Photo

Series

Character

Special Variation:

Beetle Ball

Year Completed:

2012

Construction Difficulty:

Difficult

Costume worn at: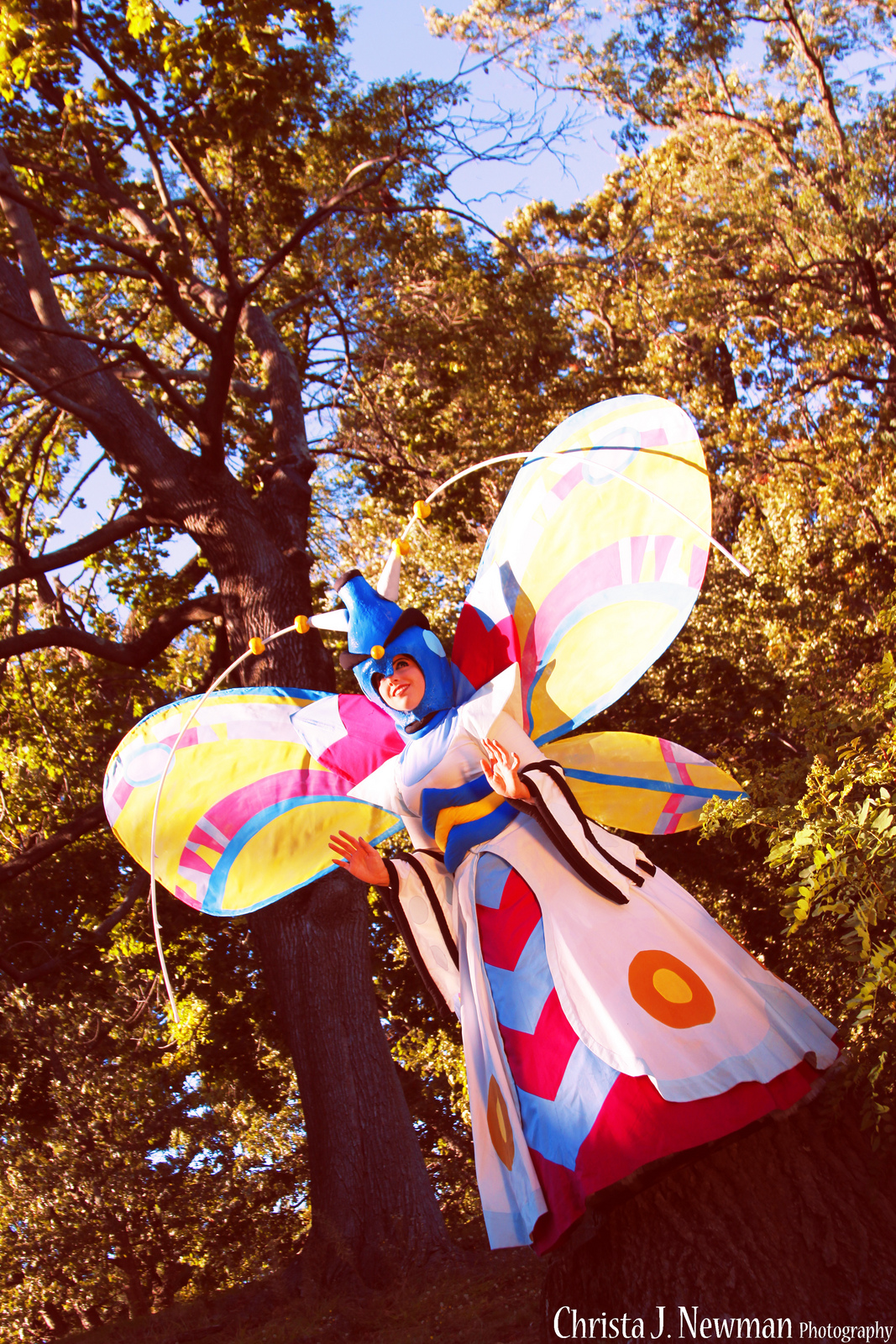 About this Costume
Construction Details:

I learned quite a few things making this costume. Namely, a padded waist cincher will never ever look good, big wings need a big harness, and a con in August is a bad idea to wear this many layers.
I'll start from the bottom out:
The costume is worn with four petticoats: a bridal petti that was given to me, a short petti from leg avenue, another short petticoat I made, and finally the petticoat I made for Yukari worn over that. I wanted the dress poofy and bell shaped but not as big as Yukari, so my cage skirt was not going to work.
Middle skirt: a self drafted gored skirt with chevrons. Made out of cotton from Jo-Anns. The chevrons go all the way around the dress. They don't all show but it looks cool anyway.
Overskirt: white cotton twill from Jo-Anns with a scalloped facing and appliques. It fastens with a big snap at the waist.
Shirt: The bodice zips up the back. The sleeves were the biggest pain in the ass. The sleeves have thick home dec piping in them that would not fit under my machine so I had to completely sew them by hand. They were very fidgety and I ended up redoing them a couple of times before they came out right.
The waist "cincher" if you want to call it that is just cotton stuffed with batting and it snaps onto the bodice in the back.
The pink and blue wings are cotton with boning in them and are sewn onto the bodice.
The large wings are 12 gauge wire covered with starched white poly sheer and painted with diluted acrylic paint. They slide into slits in the bodice and into a corset I am wearing under the dress. They also snap and hook onto the bodice itself in order to keep them sitting up high.
The helmet is what scared me the most. I ended up making it structured over an old bike helmet. There is a heavy wire structure for the antennae attached to the helmet. Over that I build the main shape out of fosshape. Then I coated the fosshape with about 7 layers of plasti-dip so it has a rubbery finish. The antennae themselves are thin pvc pipes and the added decorations are styrofoam covered in paperclay and fabric stuffed with batting.


Personal Thoughts:

This is a very big costume for me because as long as I can remember in my cosplay career I've said I wanted to make it. I watched the movie many times as a child and when I started getting into cosplaying making this costume seemed like a feat I would never be able to achieve. Now that I am in grad school, barely going to cons and hardly making costumes any more I felt I owed it to myself to at least complete one dream costume. There was only one condition: I would only wear it to Dragon*Con. So I sucked it up and started it and bought tickets to my first Dragon*Con. I can't wait to debut it!
Add a Comment