4/11/19 - We're continuing to fix errors related to the server migration, but we see some people able to upload photos again. If you see a page display an error, you may want to refresh it once or twice, as there seems to be caching enabled on the server side.
Most Recent Photo

Series

Character

Year Completed:

N/A

Construction Difficulty:

Normal

Costume worn at: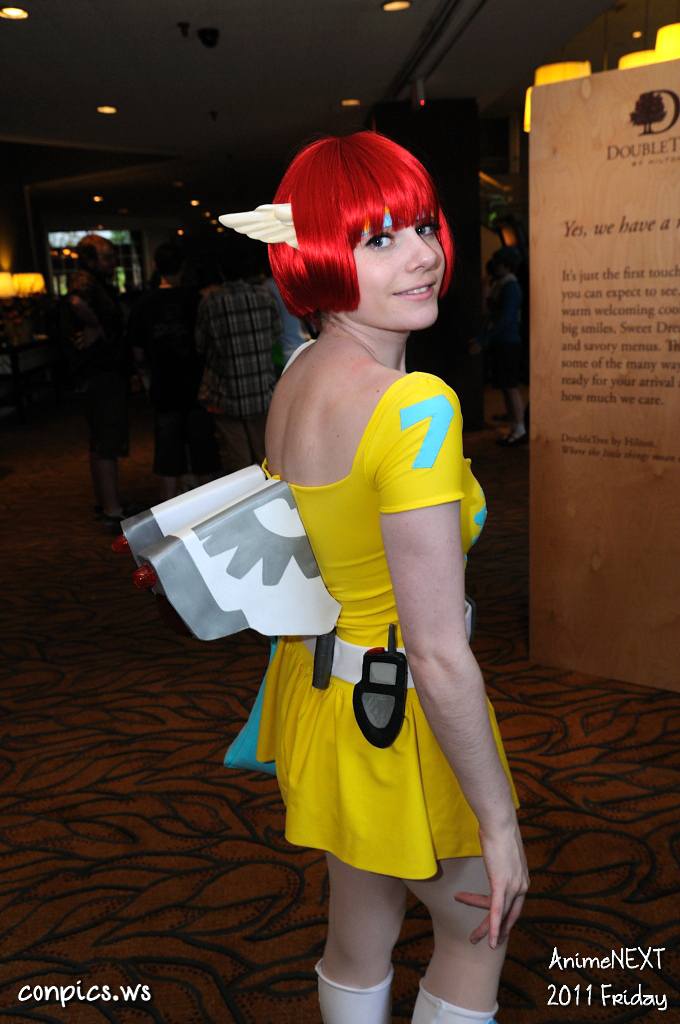 About this Costume
Construction Details:

The messenger bag I knocked out in an evening. It's blue milliskin with leftover yellow cotton sateen as the lining, and foamie "interfacing" so it has a bit of a puffy look to it.
The jet-wings were kinda tricky to figure out. I ended up drafting a pattern for them in bristol-paper first, then transferred that onto foamie. 6mm strips were used to "seam" the shape together, as well as house the lights. The tiny lights are two halves of a dismantled Mountain Dew Code Red chapstick, and the bigger ones are safety lights. They're very light-weight and attach comfortably to my dress via velcro. Though I will be placing them up higher on my back in the future.
The head-wings are 6mm and 3mm foamie, handpainted to look like they have some dimension. They stick into the wig via bobbypins attached to the back.
I'm quite proud of the dress, even though it was a lot of trial-and-error to get it to fit and look just right. The numbers and the crest are machine-sewn on.
I had made spats in the past, so that experience helped me out with making boot-covers this time around!

Personal Thoughts:

The superamazingwonderful Chris Sanders was kind enough to design this outfit! He came up with this really cute/sexy/cool take on future postal workers (he's a fan of the outfits in Fifth Element which helped inspire this), with a hint of Mercury. I'm a sucker for Greek mythology, so I was in love with this concept from the get-go! There are a couple things I wanna fix up for the next time I wear this.
I'm absolutely honored to have made one of his designs, and I cannot thank him enough for even designing it in the first place!
Add a Comment