4/11/19 - We're continuing to fix errors related to the server migration, but we see some people able to upload photos again. If you see a page display an error, you may want to refresh it once or twice, as there seems to be caching enabled on the server side.
Most Recent Photo

Series

Character

Special Variation:

Ciel in Wonderland

Year Completed:

N/A

Construction Difficulty:

Easy

Awards

Best Performance, 2nd place Masters Performance

Costume worn at:

Videos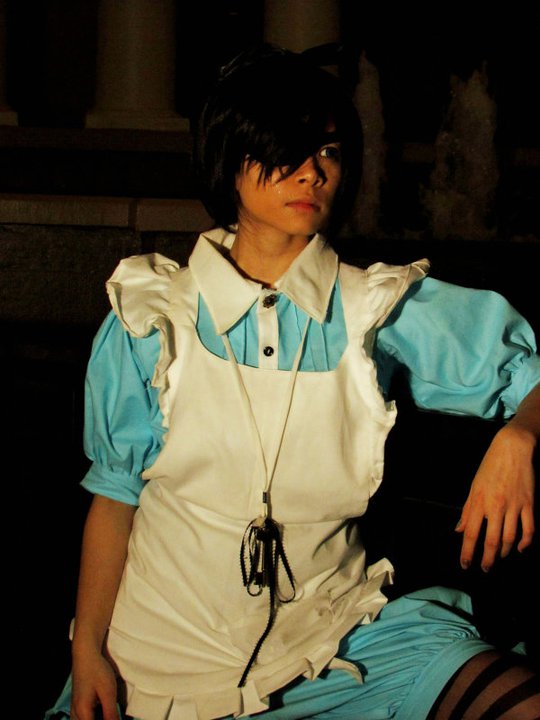 About this Costume
Construction Details:

I purchased the fabric along time ago with BaiAiLi. We debated on the correct color choice for the blue.. it was a tough call.. but we made the decision. The decision was a cyan kona cotton along with white kona cotton. Very breathable and I created a bloomer-like pants with an elastic waistband and ribbon ties for the bottom. Yes they are adjustable and retie-able. I then created the apron without a pattern. I started with drafting the circle bottom of the apron. This is lined with the same kona cotton material. Then I drafted out the little pocket on the left side of the apron. I created the ruffles and added the top once again lined with the same material. With remnant fabric pieces I created the straps for the top piece and ruffles. The shirt was the most difficult part of the costume. Definitely difficult due to the darts on the shirt. I added three lines down the front to mimic the style of his shirt. (I went around at tuxedo shops to look at shirts... just browsing and realized that some shirts are just pinched and sewn. Amused by this idea I used it on this costume). I added interfacing on the collar and an extra eyelet white facing. I used buttons on the front but they don't work. Instead I used snaps for the lack of time. I reused the same Ciel wig with a black ribbon for the hair tie and used existing pair of shoes in my closet and stockings.

Personal Thoughts:

I don't really have pure white and black stockings that I wanted to use. I do have these store bought Alice stockings with spades, hearts, extra ribbons... I didn't feel like it fitted the situation. I had planned on using white stockings underneath my sheer stockings... but I forgot one. So it was just the sheer stockings. I've always had a HUGE interest in Alice in Wonderland. Ever since Black Butler was created I was a fan. When I saw that they made a Ciel in Wonderland my heart lite up with excitement. I had to do this verison of Ciel immediately!!
Add a Comment