About This Event
Convention

Event Date

10/15/2011

Volunteer Access

This event is finished, no volunteers needed.

Series Linked: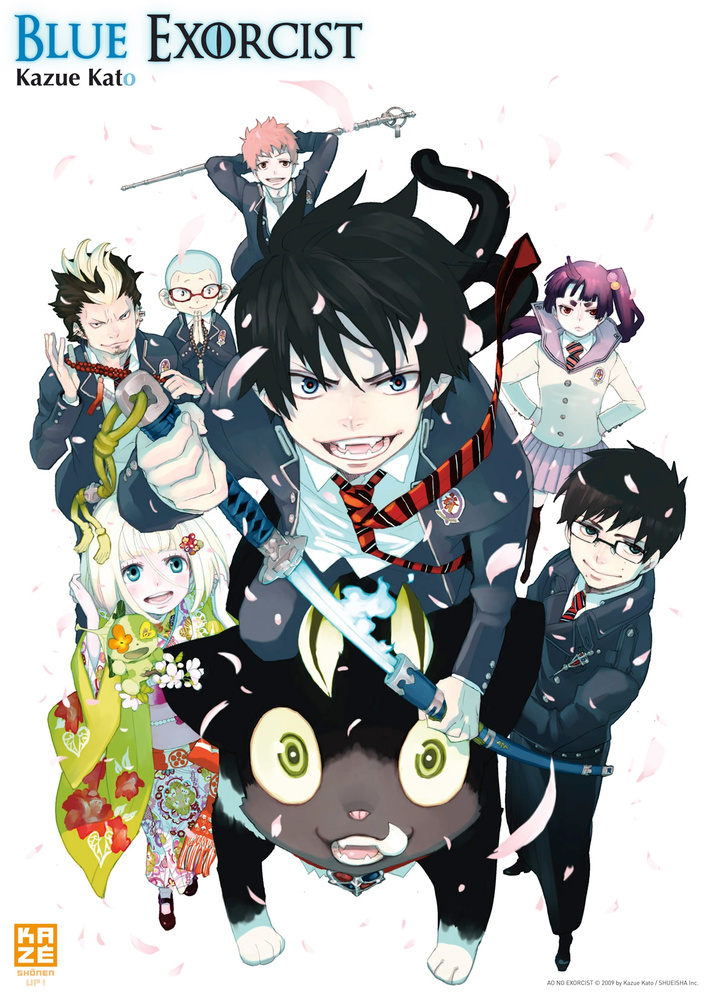 Description: Blue Exorcist makes its US debut on DVD at NYAF 2011, and ACParadise needs help in promoting it! We will be having cosplayers help attendees complete challenges based off of classes from the show (Knight, Dragoon, Tamer, Aria, Medic) to get stamps, which they can redeem for an exclusive item.

There will also be a separate event at the NYAF stage, similar to the one we had at Anime Expo. Attendees will compete in trivia contests and games for more Blue Exorcist swag.

Blue Exorcist x Oreimo
Date: Saturday, October 15 3:30 pm - 4:30 pm
Location: Anime Stage

Kuroneko and Amaimon OTP? ORLY?
Join the cosplayer cast of the hit anime series Blue Exorcist as they sort out their problems on stage at NYAF. Hosted by the characters from the Aniplex Anime series Oreimo, watch as the hosts try to find the solutions between the Blue Exorcist cast members and see what happens when different anime personalities collide. The audience will get a chance to participate in the show with the opportunity for prizes.

Blue Exorcist Cosplay Gathering
Date: Saturday, October 15, 11:00 AM - 12:00 PM
Location: Aniplex/Bandai Booth #1712
Blue Exorcist cosplayers should not miss this chance to be photographed at the official Blue Exorcist cosplay gathering sponsored by Aniplex USA. Come in costume and stay for the entire time for a chance to win exclusive Blue Exorcist merchandise imported from Japan.

Blue Exorcist Stamp Rally
Date: Friday, October 14, 10:00 AM - 1:00 PM
Saturday, October 15, 10:00 AM - 1:00 PM
Location: Aniplex/Bandai Booth #1712
Become an Exwire with the cast of Blue Exorcist. Search around the dealers room and pass tasks associated with Knight, Dragoon, Doctor, Tamer, Aria and get a stamp as proof. Bring back your completed stamp card back to the Aniplex Booth to get a special Blue Exorcist promotional gift for participating!

Blue Exorcist Screening
http://nycc11.mapyourshow.com/5_0/sessions/sessiondetails.cfm?ScheduledSessionID=1BA8CE
Date: Friday, October 14, 4:15 pm - 5:15 pm
Location: 1A18
Aniplex of America presents the hit Anime series Blue Exorcist at NYCC. This screening features the first 2 episodes of the series subtitled. Executive Producer of Blue Exorcist Hideo Katsumata will also be at the screening to give the fans a special greeting. Rin Okumura and his twin brother Yukio have been raised by Shiro Fujimoto, an eminent priest, so it comes as a shock when Rin discovers their biological father is actually Satan! As the border between "Assiah" (the human world) and "Gehenna" (the demon world) is crossed by evil, Rin vows to become the ultimate exorcist and defeat his own father. To hone his raw skills, Rin enters True Cross Academy to train with other exorcist candidates.
Location: The stamp rally will be held at the Aniplex Booth + 3 other locations on Friday and Saturday. There will also be a separate 1 hour event at the NYAF Stage on Saturday, and finally a cosplay gathering.
Volunteer Info: Volunteers will need to be cosplaying the uniformed versions of the Blue Exorcist characters. Time commitment for the booth each day will be three hours. The stage event and cosplay gathering are one hour each. Helping out in all events will qualify you for a badge.
Recent Videos
The following videos have been linked to this event.