About This Event
Convention

Event Date

07/04/2013

Volunteer Access

This event is finished, no volunteers needed.

Series Linked: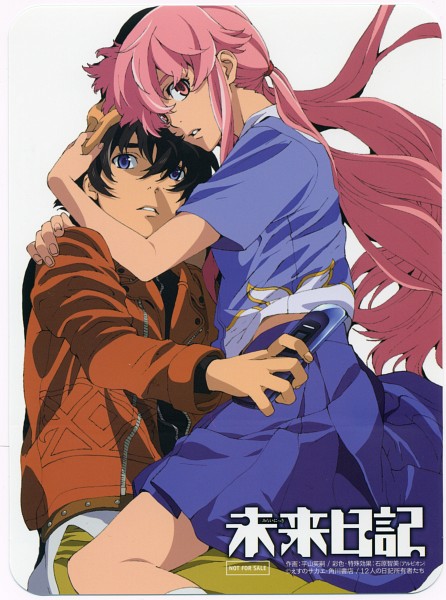 Description: Who wants to play a little game at Anime Expo 2013? The stakes aren't too high - just your lives! FUNimation will be promoting the premiere of Future Diary / Mirai Nikki at AX, and we're going to be hosting a game that needs some cosplayers!

We'll be celebrating the premiere of Future Diary at Anime Expo® with FUNimation so get your schedules ready!
Thursday - July 4th
5:00 pm - Future Diary Autograph Signing with Josh Grelle (voice of Yuki) at booth 401

Friday - July 5th
12:00 pm - Future Diary English Dub Premiere - Video 4
The world premiere of the dub and Q&A with special guest Josh Grelle
Show up at Video 4 about an hour before the premiere of Future Diary, and if you're wearing a special FUNimation.com ribbon that's being given away at the booth, our cosplayers will be there to give you a chance of winning a FUNimation box set! You just have to choose which cosplayer gives you a "Happy End". But be careful, if the one you chose is a "Dead End", then you lose!

Saturday - July 6th
2:00 pm - Future Diary Autograph Signing with Josh Grelle at booth 401
For autograph sessions, make sure you line up early, and only official merchandise will be signed (no fanart, sorry). One item per badged attendee per autograph session. Enforcers will be on standby to enforce these rules



Cosplayers need to have costumes from Future Diary / Mirai Nikki. We are specifically looking for
Yuno Gasai (Blue School Outfit)
Yukiteru Amano (Default with Hat)
Cosplayers will be needed roughly 4 hours each day of the convention.

Costumes need to be completed and photos submitted for review by June 15, 2013!
Location: This will take place at the FUNimation booth 901, with the potential to move to different locations, such as the panel area.
Recent Videos
The following videos have been linked to this event.