Most Recent Photo

Series

Character

Year Completed:

2018

Construction Difficulty:

Normal

Costume worn at: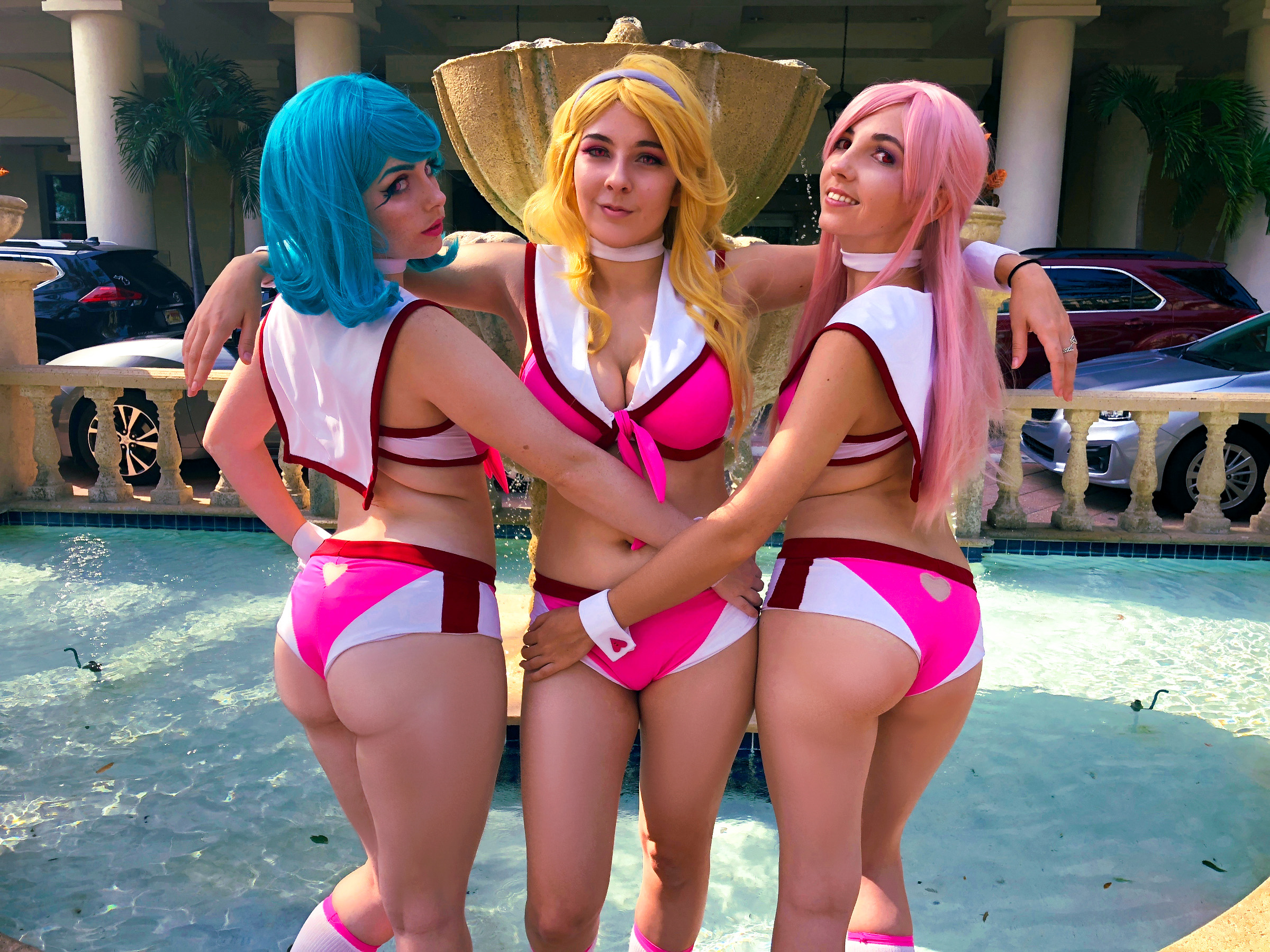 About this Costume
Construction Details:

NOTE: These were made as a team with Dirk (IG: @dirkways), Jake (IG: @jakewaysii), and John (@ironedpatriot). I primarily worked on the shorts and a little bit on the bra so I might be a bit off on how we made all these.

Materials used: Pink and white miliskin spandex from I THINK Spandex House, white knit, interfacing, snaps, buttons, red rit dye, acrylic paint, nude mesh, Walmart bras, boy shorts from Walmart

Ears: Had on hand

Choker: Made by Dirk and John. They took the white knit, made tubes, turned them inside out, and then hand sewn snaps on the ends

Seifuku: Made by Jake with care using I think the McCall pattern?

Bras: Jake made most of them, but I worked a little bit on mine. We started out by covering the bra cups in the pink spandex by sewing it on one side and the stretching it over and sewing it on the other sides. The bottoms we took the dyed red spandex on the bottom and top and put it on by sewing it on one side and then wrapping it around the edge and securing it with fabric glue.

Bows: Made by dirk by making a long shape with pointed ends, sewing it together, and turn it inside out. They also made tubes to be the tie part

Shorts: Again me and Jake worked on these. We used the boyshorts from Walmart to make the pattern with me wearing them and Jake drawing the pattern onto them. We then cut them in half and used it as a pattern. I made the shorts lining using the other half of the shorts as a pattern. Then I sewed the lining to the outside where the leg holes where and from there Jake ended up taking over because I had to go home. They added in the heart cutouts by cuting out the heart shape and then hand sewing in the nude mesh. They also added the waistband to the top to finish the shorts.

Cuffs: Made by Dirk and John. They cut out rectangles with the white miliskin fabric and and interfacing. Then they sewed the the spandex rectangles together. I cut small holes in the middle, flipped them inside out, and slid in the interfacing. John hand sewed on buttons and snaps

Socks: Bought socks from Walmart and sewed the pink spandex in bands to the top. John closed them in the back for me

Shoes: Bought from Walmart and painted with yellow and grey acrylic paints note that they really need to be sealed with acrylic paint

Personal Thoughts:

I love how cute and fun these outfits are!!!!!! I'm also glad that me, Dirk, Jake, and John managed to pull off a group and make these as a team!!
Add a Comment