New Flyers should be in stores this week, and with that new guests announcements!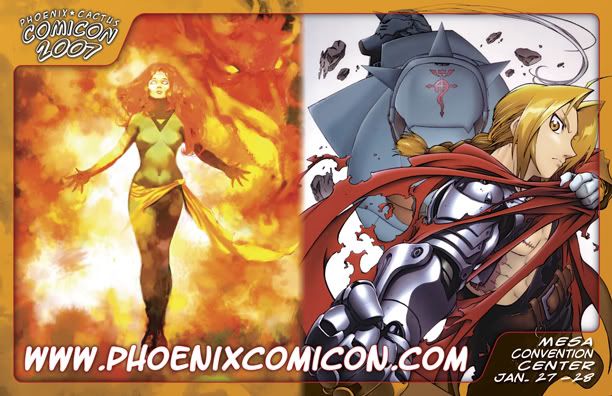 New Anime Guests:
Matt Greenfield
Co-founder of ADV Films (A.D. Vision, Inc.), currently serving as the vice-president in charge of production, Matt Greenfield is pleased to be attending Ohayocon 2007. Having decided back in mid-1992 that he was spending way too much money on anime (back in the days when it was hard to come by) he decided to see if he couldn't make some money off his favorite hobby - it worked!
As a writer, producer and director Greenfield has helmed well over 475 TV episodes and feature films including such fan favorites as GunSmith Cats, Golden Boy, Blue Seed, Martian Successor Nadesico, Gasaraki, RahXephon, Noir, Princess Nine, Dragon Half, the legendary Neon Genesis Evangelion, and the live-action Gamera: Guardian of the Universe and the classic Megazone 23 OVA series. Matt's recent and current projects include Chrono Crusade, Gantz, The Fuccon Family, Godannar and the iconic Macross.
Besides writing and directing, Matt has voiced characters in many ADV titles such as Golden Boy, Samurai Showdown and Sorcerer Hunters. However, his best known acting roles are Hyuga in Neon Genesis Evangelion and Sugishita in Blue Seed.
Amy Reeder Hadley
Colorado cartoonist Amy Reeder Hadley makes her publishing debut with Fool's Gold. Published by Tokyopop, this original manga title tells the story of Penny, a young woman in high school who's fed up with the poor treatment she and female friends receive at the hands of young male heartbreakers. She starts an underground club at her school that's part support group and part activist avengers who are working to reveal the many games the opposite sex can play. But the line between the genders isn't so clearly drawn, and Penny becomes the subject of startling rumors about her and one of the most serious male offenders.
A runner-up in Tokyopop's annual Rising Stars of Manga talent contest, Hadley's relationship with the American manga publisher blossomed into Fool's Gold. Armed with an abundance of talent and a degree in social science, Hadley's debut work shows a grasp of the highs and lows of high school drama.
New Comics Guests:
Phil Hester
Phil lives in rural Iowa with his wife and two children. He began working in comics while attending The University of Iowa. He graduated with a BFA in drawing with minors in sculpture and painting. He has worked for nearly every comic book publisher in the last 15 years and is coming up on his 300th published comic.
Phil's past work includes: Swamp Thing, Detective, The Crow: Waking Nightmares, The Coffin (writer), The Wretch ('96 Eisner Nominee), The Creeper, Ultimate Marvel Team-Up, Brave Old World, Fringe, Rust, Namor, Taboo, The Picture Taker (writer), Attitude Lad, Deadline USA, Negative Burn, Clerks: The Lost Scene and lots, lots more.
His current and upcoming work are as follows: Green Arrow, The Holy Terror, Deep Sleeper, Firebreather and The Operation.
Angel Medina
Angel Medina began his career with Megaton Publications ('Berzerker', 'Megaton') and First Publishing ('Dreadstar', 'Jodah the Hammer') in the second half of the 1980s. He then went to Marvel Comics, where he had runs on 'The Incredible Hulk', 'Warlock and Infinity Watch' and 'The Avengers'. Later on he joined Image Comics with Todd McFarlane, where he was the artist of 'Sam and Twitch'. The series is a spin-off of the two very popular characters from McFarlane's 'Spawn'.
He eventually began focusing primarily on the main Spawn comic, which he has drawn for several years. He has also done the 'Kiss: Psycho Circus' title, based on the famous pop group. In 2005, he was assigned to the Marvel Knights Spider-Man' title with writer Roberto Aguirre-Sacasa at Marvel.
Len Wein
Wein's first superhero work for Marvel was a one-off story in Daredevil #71 (Dec. 1970) co-written with staff writer/editor Roy Thomas. Wein later began scripting sporadic issues of such DC superhero titles as The Flash, and Superman.
Wein and artist Bernie Wrightson created the horror character Swamp Thing in The House of Secrets #92 (July 1971). Over the next several decades, Swamp Thing would star in DC series and miniseries — including an initial 1972–76 series begun by Wein and Wrightson, and the mid-1980s Saga of the Swamp Thing, edited by Wein and featuring early work by writer Alan Moore. He wrote a highly well-regarded run of Justice League of America (issues #100–118) with artist Dick Dillin.
In the early 1970s, Len began writing regularly for Marvel Comics. He succeeded Roy Thomas as editor-in-chief of the color-comics line in 1974, staying a little over a year before handing the reins to Wolfman. Remaining at Marvel as a writer, Wein had lengthy runs on Marvel Team-Up, The Amazing Spider-Man, The Incredible Hulk, The Mighty Thor and Fantastic Four, as well as shorter runs on such titles as The Defenders and Brother Voodoo. In 1975, he and artist Dave Cockrum revived the Stan Lee / Jack Kirby mutant-superhero team the X-Men after a half-decade's hiatus, reformatting the membership. Among the characters the duo created were Nightcrawler, Storm, Colossus, and Thunderbird; Wein had additionally created Wolverine earlier, with artists John Romita Sr. and Herb Trimpe, in The Incredible Hulk. Wein plotted the next two X-Men stories with artist Cockrum. These issues were then scripted by Chris Claremont, who subsequently developed the series into what became, with Spider-Man, one of Marvel's leading franchises.
Returning Favorites:
Todd Nauck
Creator WildGuard, artist 52, Friendly Neighborhood Spider-man, Teen Titans Go!, Superman, Young Justice
Steve Rude
Creator Nexus and The Moth, artist Batman, Superman, Captain America
Also Just Announced, but not listed on our flyer:
Andy Kuhn
Andy Kuhn has ten years experience as a professional comic and horror artists. Past credits include Easy Way, a four issue crime story published by IDW and numerous horror/crime comics including 10 with Keith Giffen, Zombie Tales and Cthulu Tales for Boom. His work includes runs on Batgirl, Marvel Adventures, Spider-Man Unlimited, X-Men Adventures, Digimon, The Joker: Last Laugh, and Young Justice. Andy Kuhn and Phil Hester created Firebreather published by Image and optioned by Paramount Pictures for a feature film. Ion addition to continuing work on developing Firebreather in a new six issue Monster Fight series, Andy is currently the artist on Marvel Team-Up with writer Robert Kirkman and is working on future projects for DC Comics.
Jay Fotos
Returning guests Jay Fotos is a colorist for Todd McFarlane Productions in 1998. Since then, he has worked on Curse of the Spawn, Spawn: The Dark Ages, Spawn the Undead, Sam and Twitch, and Cy-Gor. Currently, Fotos is working with Nat Jones and Joshua Ortega on Death Dealer from Image Comics along with working on Clive Barker's The Great and Secret show, 30 Days of Night: Spreading the Disease and the much anticipated '68 coming out from Image comics Jan 4th.
Tony Parker
Tony Parker is an award winning artist and illustrator. He has been in over 100 RPG books and magazines, 130 CCG cards, as well as indie comics and book covers. He has worked on many internationally known and award winning properties, including Conan, Warhammer, Mutants & Masterminds, and Robert Heinlein's Starship Troopers.
Rob Osborne
Rob Osborne is the writer-artist of the award-winning graphic novel 1000 Steps to World Domination. Osborne also authored the critically-acclaimed graphic novella Sunset City: For Active Senior Living. He has worked as a writer, editorial cartoonist, graphic designer and illustrator, and as readers of 1000 Steps know, he aspires to conquer the world. Osborne studied graphic design and illustration at the University of Arizona. An Arizona resident for over twenty-five years, Osborne now lives and works in Austin, Texas with his wife and two dogs.
This is only the beginning, look for more announcements this month, the return of our touring Art Contest, Tickets as prizes at your local gaming & comic shops and much more!
And don't forget
Online Registration is now Available!
Ticket prices are as follows:
$25 for Friday Preview Night* & 2 days
$20 for a Saturday Only Pass
$15 For a Sunday Only Pass[/size]


*Preview night is only available to 2 day ticket holders.


$8 for our Gaming Programming


(2 day and 1 day ticket holders will still be able to participate in the gaming program track, but purchasing a gaming ticket will not give you access to the vendor room or other programming)
We offer the most affordable ticket price of any comic or anime convention in Arizona!