Hello
I came along here through google when looking for a costume featuring a girl in a red dress =) and tried the cosplay search here, too, toured through Flickr.
There's a cosplay coming up, and I have a red dress that I wonder if it could be used.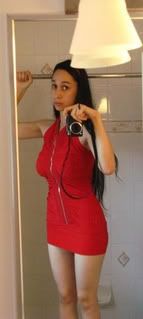 Is there a character or anyone I could dress up without damaging/altering/retouching the dress? Any accessories?
My ideas
if there's no specific character:
-a sort of yakuza girlfriend
-waitress
-nurse
-cat girl (Tokyo Mew Mew-style ears, tail?)
Mmmh :3
I picture a fan or parasol, but there's a good chance that I'll be commuting about two hours; on a train and bus that may crowd.
**Cosplay is the coming weekend.
So unprepared.
If there's something simple I could do (school girl?) let me know.
Thanks =)