.... no not to fix my teeth.
I'm a naruto fan. Most of the time I see it cosplayed I see tacky chrome headgear. Honestly after watching 170+ eposides... I've never once seen a glare off a headband, much less a reflection. Metal yes... chrome... No. and that stick of metal seems to conform to the forehead in the show a bit better than the cheap headbands I've seen.
Anywho.. I decided that I'm going to go as Jiraiya for atleast part of the year, if for no other reason, because I know I'll get dragged to an Otaku Booty meet ATLEAST once.
Now Jiraiyah has a big frikking piece of metal on his head... and it's distinctive. It doesn't look like some little thin chrome dish to me.
So let's get started crating shall we? My weapons of choice... paperclay and fiberglass resin.
Well.. I found no paperclay:( I did find some Crayola stuff that seemed simmilar, but is foambased..... And alas, I have "Model Magic"
I started by rolling out a few spikes. the diffrent sizes don't matter so much as the fact that the angles and roundness of the tip are the same. You can level them off to the same height when they dry. (Also pictured, some assorted plated cabochons I found in the bead section that I'll use for rivits.)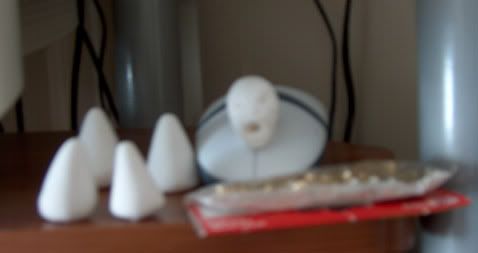 The I took a sheet of tin-foil and rolled out a flat layer of "Model magic" on it. I then cut it out with a hobby knife to the genral shape with some predetermined measurments. I added some depth to the center to of the clay so when I put it on my forhead it would dome out a bit. i placed it on my forehead and bent it down to fit. You can see pictured where I added two more pieces to bulk up the sides a bit. (My god, I just could not crop enough of my face out of this picture. I photo horribly) Also not the nakin. I put that in there so that as my forehead sweat that it wouldn't moisten up the clay more. It actually bonded a bit to the clay and helped it keep it's shape while drying.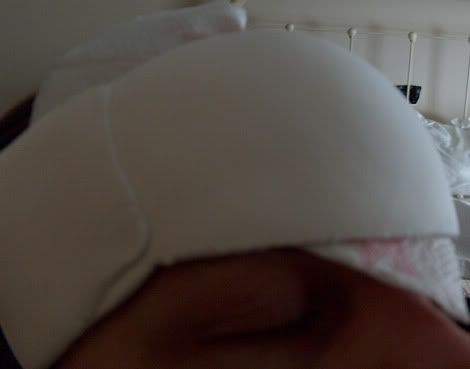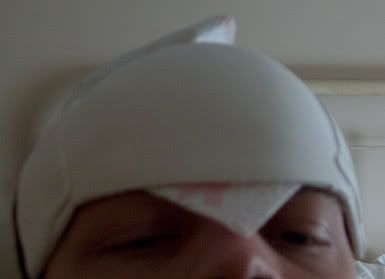 Now this is where I realized I was short on Model magic. Which is good because I forgot to pick up some cheap brushes for the fiberglass too.

Also not that it stretched a little. when it's dry I'll recut the shape. I still need to round out the sides a bit, and then add a seccond flat layer on the outside to get a smooth surface.
more in a bit. I'm gonna run to the crafts store.