I'm gonna kinda throw out some advice for making Lulu's costume and feel free to shoot any advice my way if you did something differently (or you think i should change something.)
I'm going to throw this out there before hand: I was intending to make Lulu's belt skirt exact and i really did try. I had a hell of a time finding materials in my area let alone all the belts i needed. I got 90% donated to me from family/friends so i just went along with it. In the end it kinda worked out in my favor and the pics really aren't the best of it. I do have some minor things i need to fix on it but in all actuality this skirt took over 3 months to make with many hours involved in it. I need to add some belts in a couple places but that's about it (I hope @@ lmao).
In any case here goes
This first image here is how it looked like over a month ago. Basically belt skirt is as follows:
A-line skirt to the floor of canvas with two pieces of buckram covered steel hoop boning (
http://corsetmaking.com/category/hoop-boning.html
). I bought all my boning for my corset from there as well. Cut two pieces of the hoop boning to w/e your bottom hem length is , wrap both pieces together in electrical tape, and sew into the bottom hem. The belts are all sewn on with yarn and zip ties in a couple areas. It took a VERY long time but i dont have any problems of belts falling off or weight. Sure it -is- heavy but i can move around in this like an actual ball gown. It's crazy. Don't mind the spots where you can see the canvas..i'll be covering those eventually. You can use fabric glue/yarn/w/e you want. Jonetsu (from cosplay.com)offered this advice to me on how to make the skirt and i did alter a few things than what she did. I added yet another hoop of boning (done the same way as i mentioned above) just 5 inches higher. I just wanted something else to help balance all the weight and honestly it probably wouldve been fine w/o it. I'm just paranoid. I have this skirt stored in a tote and have taken it out weeks after being in the tote and it pops right back into the circle it was when i made it. It's wonderful. The top of the skirt is held up by one very thick belt and it sits right at my waist. I can adjust how tight i need the skirt and all that stuff without ruining the skirt itself. The corset was made completely by me with Jonestu's tutorial on how to draft a pattern. She has this info open to the public and i figured i'd try it. I've never tried making one before and it was really fun and tedious as most sewing things are. I learned quite a bit. It was about 3 days (before and after work) to get the pattern like hers. I feel super proud of that. It's two layers of canvas and top is microsuede. If you have more questions on this feel free to ask.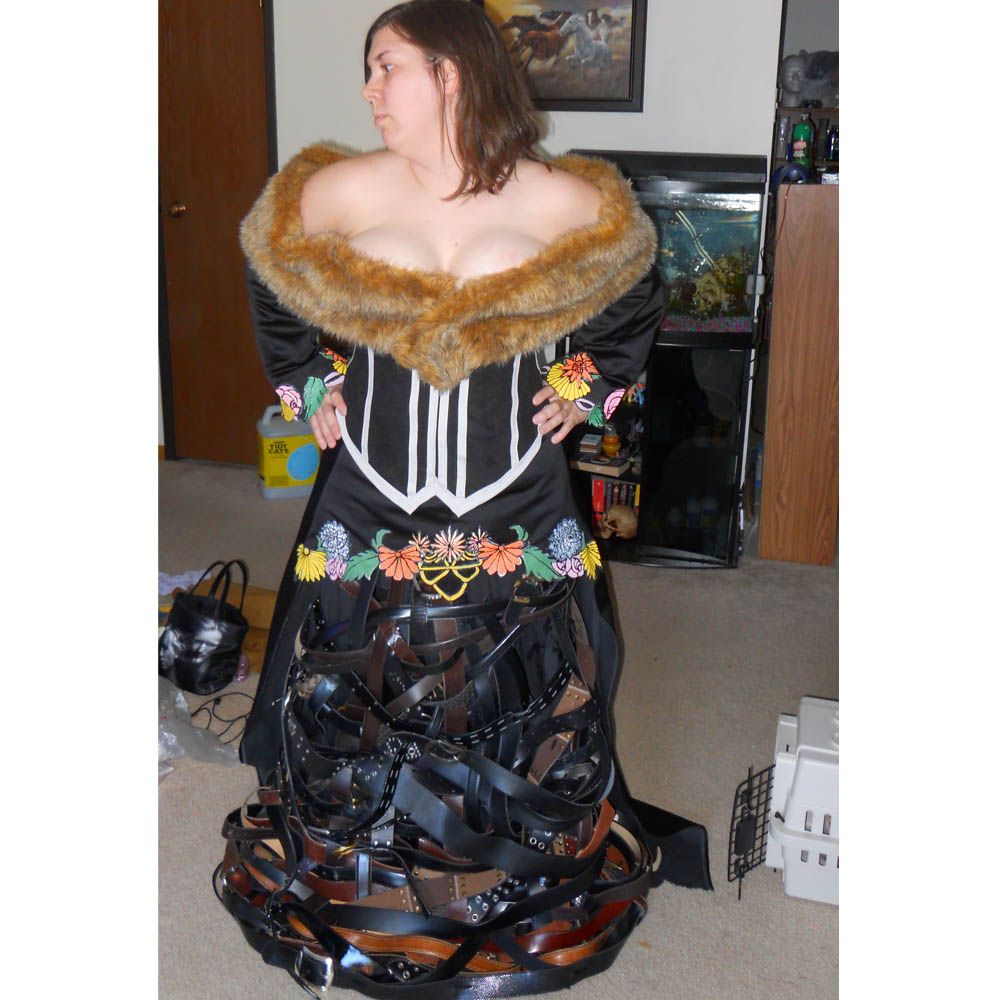 This next image is of the back and all the details were done by hand. I spent a solid 1-2 months working on this and the corset. I made a stencil from posterboard for the details. I made only half of the detailing for each part of the costume since all of lulu's detailing is a mirror image. I can post more pics of that if someone needs to see those as well. I then used a quilter's pencil to trace around the posterboard cutouts i made. I then went over it with a painters marker/fabric paint and slowly built up the layers and colors i wanted. I felt that giving lulu's design more color than it has (yes her design does have color) makes it pop a little more than it already would. I was kinda hoping for less color but in the end i was actually pretty happy with it. I hope it's not super intense. I stuck with 4 basic pastel colors and unfortunately my camera has a "Vibrant color setting" so it probably looks much brighter than it is lol.
The dress/skirt section has canvas underneath with microsuede on top (i used the back of the microsuede so that's what you're seeing). The microsuede doesn't wrinkle as bad either even though i've folded/unfolded numerous times. I used fabric glue inbetween the microsuede and canvas while using an exacto knife to cut out the details and that nice edge
It's held up by a Key hole cut in back where i have grommets in back with some grossgrain ribbon so it ties kinda like a corset a little.
I finally put the velcro on the skirt and yes..velcro. I used Heavy duty velcro (sticky back) and we used the scratchy rough part for the belt skirt. The soft fuzzy side was used for the dress section. We used rivets to hold down the rough velcro section down on the belt skirt and i also went right along the rivets putting zip ties. It doesnt move at all. I thought i'd be hearing the dreadful ripping noises but i even sat, jumped up and down, twisted and twirled with no sounds whatsoever. It was wonderful.
This plushie was made in day. I kinda went "Hay i wonder if i can XD" and i did. I've actually never seen anyone else with this and basically just made half of the pattern, put it on the fold of the fabric, cut out two, and sewed em together. It's made of canvas and fabric paint for the design. I dont have an embroidery machine so unfortunately this is why alot of this is hand made. I'll be carrying Yevon around as my "Doll" as well as a cactaur (i'll be buying that eventually). The jewelry i did buy from Takemyrevolution on Ebay in case anyone was curious
Feel free to let me know what you think or if you have any more questions :3