Wigs like from Amphigory are able to be worn everyday because they look nice, feel nice and can duplicate the texture of hair quite nicely. Costume wigs look like costume wigs. But Amphigory wigs are meant to take heat so in the sun, they can only stand so much, ya know? You can go outside but don't go baking in the sun with a wig on.
But getting a wig wet isn't going to ruin them.
ANYWAY! I finally got enough time to write the step by step thingy!
Okay! I started out with a femme fatale from Amphigory in Perky. It's a really light pink to begin with and for those fans of Shuichi, it's too light so you'll have to color it darker. In this case, I didn't color it because I ran out of time and the cosplayer didn't want to pay the extra bucks.
So yea, the wig is like shoulder length all combed out but it's also really wavy and since I didn't want to straighten all that I was cutting off, I just cut it short and left only some of it wavy.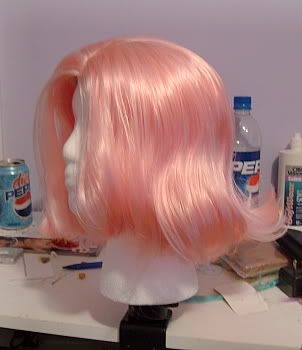 In that picture, it's all wavy but I used my straightener and straightened the top few layers of it, leaving only the bottom really curly. If you leave the bottom curly, when you cut the hair really short in back like a boy's, you'll have that already creating the under flip quite nicely.
Step 1:
Create the bangs. Shuichi has bangs but alas, my wig did not. If you have bangs in the wig you have, life will be infinitely easier for you. If you don't, here's how ya do it. It's in my LJ too so I'm only going to paraphase it.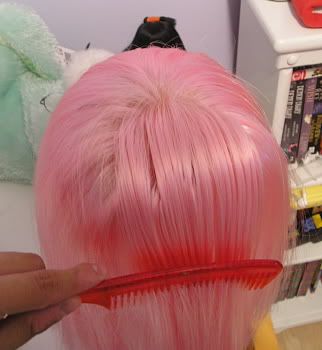 Take the hair and comb it forward. Keep it like that and use a hairdryer to heat the bangs into place. Once they stay down on their own, you can use hairspray to spray it into place and then cut to desired length. For you, Nazomi, I would suggest you cut long and then go shorter and shorter. Like cut at the chin and then continue upwards. I ended up never cutting the bangs like Shuichi in these pics but it's really easy. Just take them and cut the shape into it manually.
Step 2:
Cutting off Length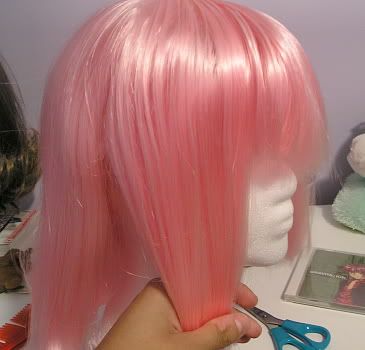 Shuichi has very short hair and it's ruled by the ears. When you cut the parts in front, be sure to pick a spot for your ears to come through. Once you do that, separate the hair on both sides evenly and use something to tie or hold the back hair away from the front.
At this point, all you have to do is cut.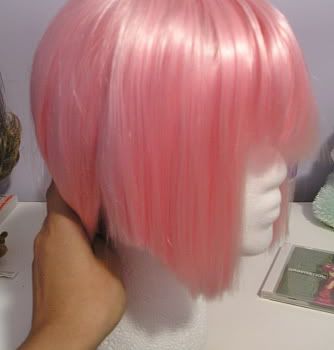 Because I wasn't worried about making a mistake cause with wigs you can always find ways to make mistakes work, I just hacked off at the right length right off the bat. With you, I suggest working your way up to the right length. When you hold the back hair from view, you should see Shuichi begin to form. But as you can see, because I straightened it, you'll notice that it's too straight to have Shuichi's form. His hair is curled under so it has that distinct shape of a face frame. So with it straightened, it won't be able to do that. You can curl it using one of two ways:
Step 3: Curl
If you have a hair straightener like me, you can do it this way. Just take the hair you want curled and pull it through just like you would normally with your hair. It'll shape towards the face and if you get some kinks just do it again and comb it out afterwards. Just spray with hairspray after you're done.
If you don't have a hair straightener, get a curler, hairspray and your hair dryer. Just curl the hair around the curler, spray with hairspray and then use the dryer to create the curl. Much safer than the hair straightener but both can lead to the same outcome of frying the wig into hell.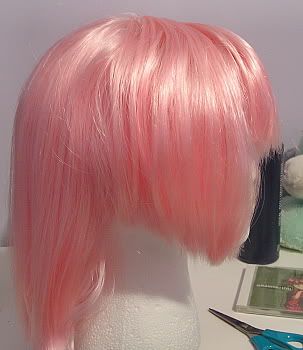 When you're done, you should get something like that. As you can see, it has a shape now.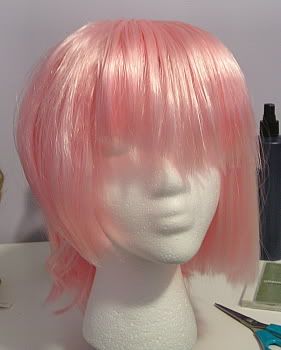 Just repeat that on the other side.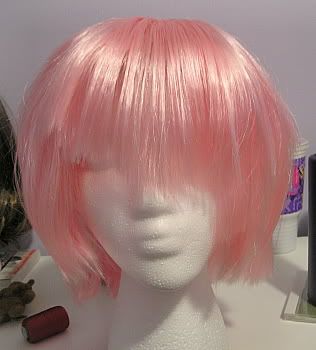 Step 4:
The back is essentially the hardest part on longer wigs like this because they weren't meant to go this short. With Shuichi, his hair is a bob so it'll curl over just like his bangs did but they'll be shorter and eventually, the wig will be cut shorter in back.
What I did was separate the parts that I wanted to curl out from the parts that I just wanted to cut short.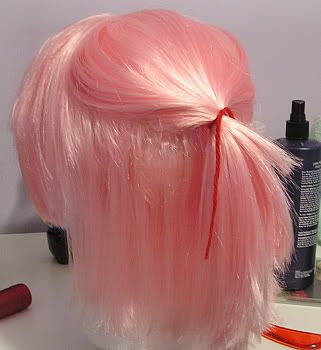 Everything that is hanging down from the small ponytail I put in is going to be cut much shorter so all I did was cut in the shape that Shuichi's hair goes in. Like, I cut it shorter near the ear and cut it in a diagonal line to the back point.
Now, with the curling parts, just cut the hair to the desired length and then curl like you did earlier. Easy!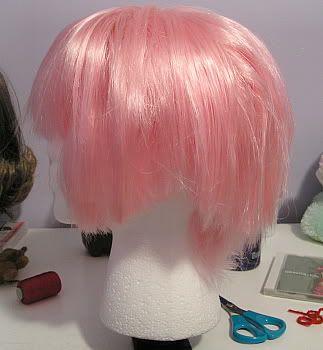 Those were the final pictures I took before the bangs were cut so I'll post that whenever I get the chance. But yea, in the middle one, you can see why I told you to leave the bottom layer wavy.
OH! With the wig and especially the back, I teased it with my fingers. Usually that doesn't work except to make it messy and tangly but I just used it to give it that extra fluff and once you got it looking nice, just spray it with hairspray.
Anyway, if you have questions, just ask.