Most Recent Photo

Series

Character

Special Variation:

Manga

Year Completed:

2006

Construction Difficulty:

Easy

Awards

1st Place - CosplayLab's Cuteness Kills LJ Contest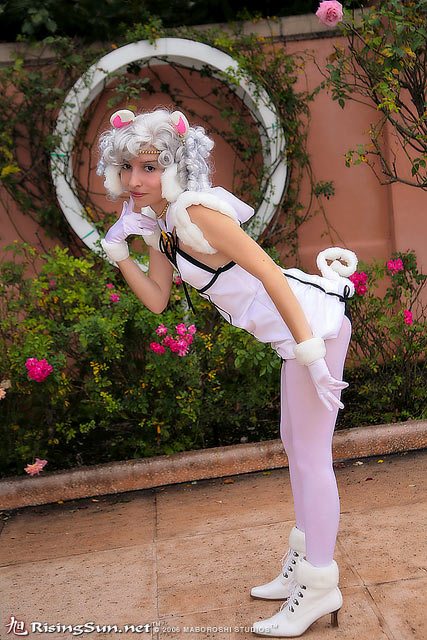 About this Costume
Construction Details:

Completed January 2006

I love Naoko's character designs, and the Stars Season is one of my favorites in the Sailor Moon anime series. I like the manga design for Iron Mouse a bit better though, so I chose to base the costume mostly off of that. This costume was entirely hand-made, no sewing machine was used. The main baby doll was made by modifying an existing pattern for a baby doll style top – I couldn't find an exact match, so this was the next best thing. I altered the pattern to be accurate to the design. The main top is made from white Casa satin and is fully lined. I hand-gathered the top in order to create the puckered look it needed. The cup portions have inserts sewn into them to give them shape. I used bias trim for the accents and to make the bows for the top, too.

The sailor collar was custom patterned from scratch, and was made out of white Casa satin as well to match the main top. It snaps in the front, and I used black bias trim to make the bow and a wooden star was painted for the decoration.

The tights and black bottoms were both purchased items. The tail was made out of faux fur and sewn into a tube shape and stuffed with wire to give it shape, and then sewn directly onto the bottoms.

I made cuffs for the boots, shoulder pieces, and the gloves out of faux fur, as well.

The wig was styled by using a Marilyn wig as a base. I bought curly extensions and dyed them with silver wig dye to match the tone of the wig. I made the earmuffs out of faux fur and sewed them directly to the wig. The extensions were also sewn to the wig. The ears are made out of Model Magic and clip onto the wig. The headpiece was made using golden craft beads strung on stretchy beading wire with a painted wooden star for the centerpiece. This is directly sewn to the front of the wig. I also strung gold beads for the wig decorations and those were also sewn to the wig. Except for the ears, everything you see on the wig is attached right to it and cannot be removed.

Necklace was also made with gold crafting beads and stretchy beading wire and clasps in the back.

Add a Comment